The Turkish government has announced the closure of dozens of media organisations following the failed coup attempt on 15 July 2016, which was launched in order to oust President Recep Tayyip Erdoğan from power.
The Turkish army said 8,651 troops took part in the failed coup, which claimed the lives of at least 246 people with a further 2,000 others injured. Since then, numerous judges, government officials, school teachers, journalists and university heads have been sacked or suspended from their positions in a widespread purge.
On Wednesday (27 July), it was announced that three news agencies, 16 TV channels, 45 papers and 15 magazines will be shut as part of the crackdown. Before the closures were declared, authorities ordered the detention of 47 journalists, just days after warrants were issued for 42 reporters. The wanted journalists were mostly members of the now defunct Zaman newspaper.
Officials also announced the release of 1,700 members of the armed forces, including 149 generals and admirals. The generals that launched the putsch were said to have used 35 planes, 37 helicopters, 74 tanks and three ships.
Erdoğan has declared a three-month state of emergency in Turkey as a precautionary measure to keep tensions under control, whilst vowing to purge state bodies of the "virus" that caused the revolt. The move allows the president and his government to bypass parliament when drafting new laws that could restrict or suspend rights and freedoms inside the country.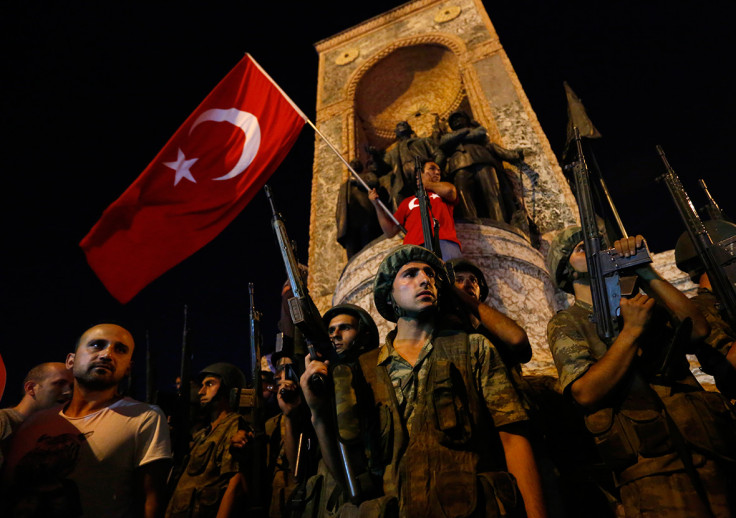 Human rights groups, including Amnesty International, are growing increasingly concerned at alleged human rights abuses of detained troops. Concerns include suspected torture, starvation and rape.
Erdoğan has publicly accused US-based cleric, Fethullah Gulen, of being behind the failed military coup. On Tuesday (26 Jul)y, it emerged that Gulen's birthplace in Erzurum Province in the east of the country will be turned into a public toilet. Gulen has denied any involvement in the attempted coup.