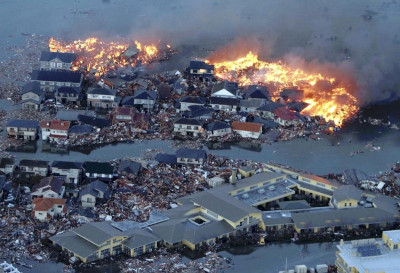 A devastating 8.9. magnitude earthquake hit Japan on 11 March, triggering a massive tsunami that swept cars, ships and buildings away along the northeast coast of the country.
In the Tohoku region, the tsunami unleashed waves that reached up to 40 metres in height and caused a number of nuclear accidents, such as the ongoing level 7 meltdowns in three reactors at the Fukushima Daiichi nuclear power facility.
Tens of thousands of residents living near Fukushima were ordered to evacuate their homes after a state of emergency was declared. Officials from the Japanese Nuclear and Industrial Safety Agency reported that radiation levels inside the Fukushima No 1 plant were up to 1,000 times above normal.
Around 15,842 people were found dead, 5,890 injured and 3,485 missing across the country.
The earthquake was the fifth largest recorded in the world since 1900 and the biggest in Japan in 140 years.
Waves from the tsunami travelled at a speed of 497 miles per hour and struck Hawaii later that day before they reached the other side of the Pacific Ocean, forcing the evacuation of thousands of people from coastal areas of California, Oregon and Washington.
Video footage of the event in Japan showed debris-filled walls of water reaching far inland, destroying houses, cars and ships. Some of the towns affected became piles of rubble. Four trains were reported missing along the coast and a ship carrying 100 people was swept away. Fire also engulfed swathes of the coast in Miyagi prefecture's Kesennuma city, while some 1,800 homes were reported to have been destroyed in the city of Minamisoma, in Fukushima prefecture.
The tsunami created a huge humanitarian crisis in the Tohoku region, where over 300,000 people had been left displaced and there were shortages of food, water and medicine. It also had an economic impact, as industrial production was suspended and the country faced the high cost of rebuilding damaged areas.