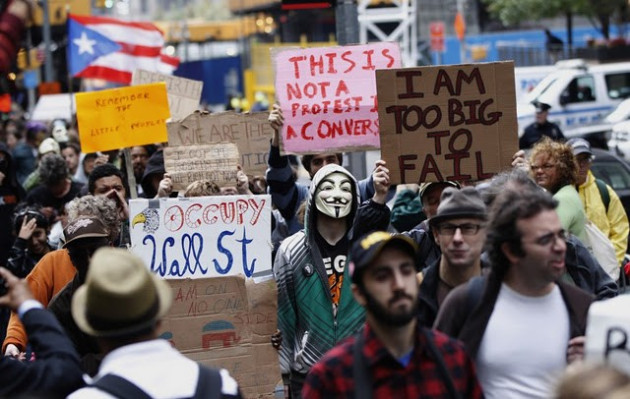 The International Business Times UK takes a look back through 2011 and the Occupy movement's place in it. Exploring how a fringe magazine feature managed to capture the hearts and minds of the world, beginning with the Occupy Wall Street protest before crossing oceans to become a global call-to-arms for the discontented.

How it all Began
Though the root cause of the Occupy movement is difficult to discern, the earliest call-to-arms stemmed from a blog post in Adbusters magazine.
Inspired by the Arab Spring and Spain's Democracia real YA platform, Adbusters' called for all like-minded individuals unhappy with the current global political and economic system to march on Wall Street and mount an ongoing sit-in-protest.
"On September 17, we want to see 20,000 people flood into lower Manhattan, set up tents, kitchens, peaceful barricades and occupy Wall Street for a few months. Once there, we shall incessantly repeat one simple demand in a plurality of voices," read Adbusters' initial blog post. Going on to demand the immediate "ending [of] the influence money has over our representatives in Washington."
The post quickly captured the imagination of several groups, leading to the #occupywallstreet hash-tag trending on twitter. The movement gained significant mainstream attention outside of Adbusters' native U.S. base when the Anonymous collective took notice and publicly voiced its support.
Reiterating Adbusters' post, Anonymous issued the below video on its AnonOps Web site citing a series of undisclosed actions perpetrated by "corrupt" governments and corporations as its motivation for the sit-in.
"Anonymous will flood into lower Manhattan, set up tents, put up peaceful barricades and occupy Wall Street for a few months. Once there we shall incessantly repeat one simple demand in a plurality of voices; we want freedom," said the Anonymous video's computerised voice.
Occupy Wall Street
The opening Occupy Wall Street protest began, as forecast, on 17 September seeing thousands of protesters descend on Wall Street, and as promised, pitch tents and lay siege to the financial centre.
With the movement by design having no leader and the main mass of protesters formulated by numerous groups and individuals, each with their own agenda, the only common feature of each group was the "we are the 99 per cent" slogan -- referring to the movement's belief that the current global economic and political system only caters to the needs of the top one per cent.
Occupy London and Beyond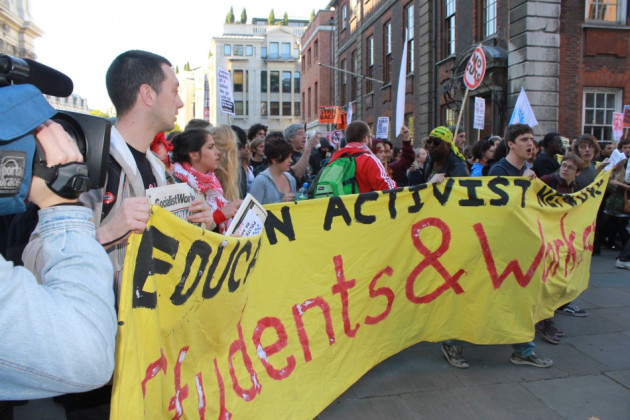 Almost immediately after Occupy Wall Street began, a number of other Occupy protests began to erupt across America. The Occupy L.A, Boston, Chicago, Oakland, Philadelphia and Washington protests garnering significant media attention, with reports of police violence breaking after footage of police officers using pepper spray against seemingly peaceful protesters spread across the internet.
Beyond America a key turning point was the Occupy movement's expansion outside of America. A massive turning point often attributed as a key moment that turned Occupy from an American phenomenon into a global movement, occurred mid-way through October when Occupy Wall Street and the host of groups associated with it, put out a global call-to-arms asking all like-minded individuals to join it on 15 October.
As called for, the Occupy London protest began on 15 October just outside St. Paul's Cathedral.
During its opening hours, police, both mounted and on foot, blocked protesters' path to their intended camp site forcing the protesters to set up camp on the steps of St. Paul's.
Though the Occupy movement had reasonable exposure prior to the emergence of Occupy protests, it was only after the arrival of the new 15 October protests that many Europeans took notice and extended the call for change to a global rather than American-centric demand.
The End of the Revolution?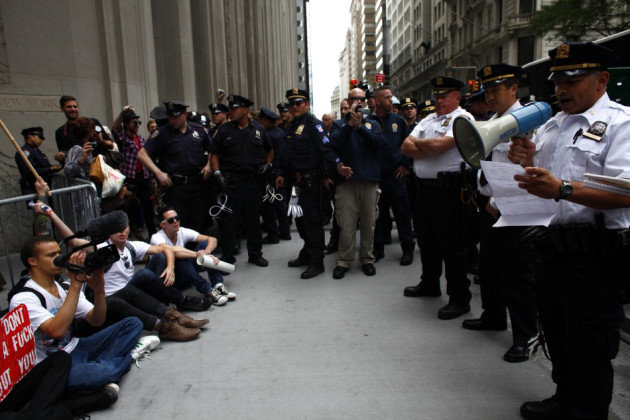 Despite having lasted longer than any general commentator thought they would, the Occupy protests have suffered a slew of set backs in recent weeks, leading to speculation regarding how much longer the movement can survive.
Though the protesters themselves have consistently been reported as peaceful, numerous reports of police violence and attempts to block the Occupy media team's live video feed soon emerged. The reported clashes came to a head later in October when New York police reportedly attempted to forcibly evict the Occupy Wall Street Protesters from their Zuccotti Park base.
Since the clash there has been a constant stream of reported clashes between protesters and police. Most recently the Seattle Central Community College won a court ruling allowing it to evict the Occupy Seattle protesters from its campus. Further reports also emerged late in November that Los Angeles police had a significant proportion of protesters camped outside City Hall, coming close to ending almost two months of occupation and detaining about 300 people. A similar operation was subsequently reported in Philadelphia with as many as 52 arrests being confirmed.
Analysts have in-turn come to question whether the Occupy protests will be able to survive law enforcement's renewed campaign remains questionable. The fact that the movement has no leader and, due to the growth outside of Adbusters' original call-to-arms, no clear end "win" makes it difficult to see when the protesters will leave of their own volition. Additionally the fact that each protest houses various different groups with their own qualms, ideologies and goals makes it even more difficult to predict the future of the Occupy movement.
What is clear however, is that given the size of the Occupy movement and the massive levels of media attention coming its way, Occupy protesters have had at least one key victory -- they've let the world know they're angry and aren't willing to keep quiet about it anymore.
The victory is one that has not been lost on the world. Time magazine already having celebrated the Occupy protesters, listing them as nominees for its person of the year award in both the populist and "angry people" categories.