London Olympics 2012: Adlington Settles for Bronze in 800m, Phelps Extends Olympic Medal Record
Great Britain again forced to settle for bronze as Spain's Mireia Belmonte Garcia and USA's Ledecky snatch silver and gold.
American teenager Katie Ledecky joined the list of young stars at London 2012 after she blitzed her way to gold in the women's 800m freestyle event, nearly breaking the world record in the process. Spain's Mireia Garcia Belmonte took silver, a full four seconds behind Ledecky. Defending champion Rebecca Adlington of Great Britain settled for bronze.
Adlington, who also won bronze in the 400m freestyle, was expected to retain her title at the London Games, with only Lotte Friis of Denmark considered a serious challenger. However, Ledecky's time of 8:14.63, a new American record, was better than anyone could have expected. The other point of note was New Zealand swimmer Lauren Boyle's fourth place finish in 8:22.72, a new Oceanic record.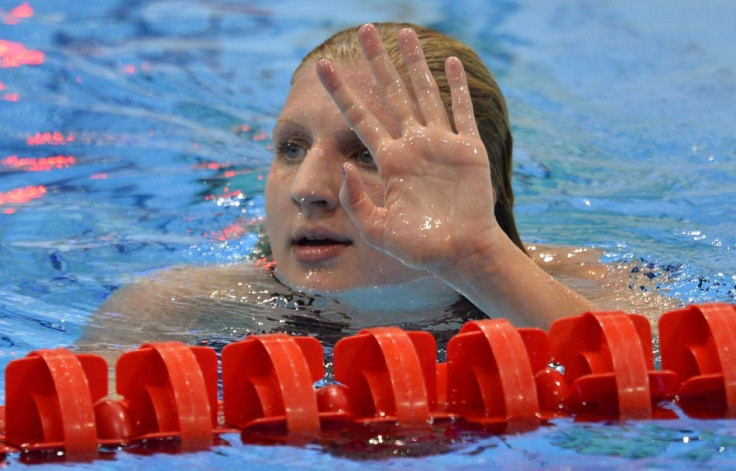 "That was an incredible swim from her [Ledecky]. I think she is only young, 15 or something. I would have liked that time to be a bit quicker, I don't know what happened. I gave it my absolute all - I'm sorry I couldn't get the gold for everyone but I'm still delighted to get bronze," ESPN quoted Adlington as saying in the aftermath of the American's win. The 23-year-old had hoped to become the first British woman to win three gold medals in swimming competitions.
Meanwhile, Ledecky said she was surprised she managed to hold her nerves in check and deliver on the biggest platform of her career so far.
"I just wanted to go out controlled, and then get at it. I've really learned how to train hard and train fast and it's really paid off. It's incredible. I had to calm myself, but I was a lot less nervous for this race than my prelims," the young swimmer explained.
Phenomenal Phelps
Not to be outdone, legendary American swimmer Michael Phelps successfully defended his men's 100m butterfly crown on Saturday. This will be his last competitive event and he has gone out on an absolute high, taking a record 21st Olympic medal in the 100m event. Earlier in the week, he came second to South African Chad le Clos in the 200m. This time, Le Clos settled for second place, and silver.
© Copyright IBTimes 2023. All rights reserved.