US 2012: Mitt Romney Lead Shrinks as Candidates Make Final Push in South Carolina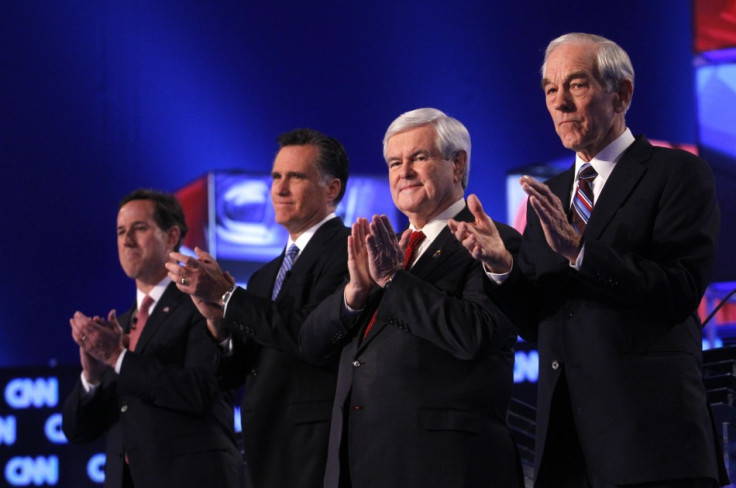 Front-runner Mitt Romney and his Republican presidential pursuers have entered into the final full day of campaigning in the South Carolina primary with the race significantly closer than many had predicted.
Former Massachusetts Governor Romney is looking to fend off challenges to his fragile lead from conservative rivals Newt Gingrich and Rick Santorum.
The entire field, including fourth and final candidate Ron Paul, scrambled for the shreds of support left by Texas Governor Rick Perry who quit the race on Thursday and endorsed Gingrich.
Perry's departure, a raucous Thursday night debate and relapsing questions about tax returns has put Romney into a frenetic race for the chance to face President Barack Obama in November.
On the tax returns, the wealthy former venture capitalist has said he will release them in April, prompting Gingrich to suggest that would be too late when Romney could have the nomination locked up by then.
"If there's anything that's in there that's going to help us lose the election, we should know before the election. If there's not, why not release it?" Gingrich said.
Although, Romney clings to a narrow lead in South Carolina polls - with Gingrich closing in - Santorum still has wind in his sails having been declared the official winner of Iowa.
"I've been fighting for health reform, private sector, bottom-up ... for 20 years, while these two guys were playing footsies with the left," Santorum, a former Pennsylvania senator, said of Romney and Gingrich.
Romney, whose lead has shrunk in the race's closing days, remains the lukewarm leading candidate whose past stances on abortion and other social issues have failed to win the passion of the party's more conservative members.
Gingrich is fighting Santorum for that support, despite stunning new allegations from an ex-wife that he had sought an open marriage before their divorce. That reminder of his multiple marriages and affairs could hurt him, especially in evangelical South Carolina.
Santorum continues to portray himself as the party's true conservative and is trying to ride on the momentum of Thursday's surprise news that he led Romney by 34 votes in the final count of the lead-off Iowa caucuses. Romney initially had been declared the winner.
The latest poll, conducted on Wednesday and Thursday by Public Policy Polling, found Mr. Paul and Mr. Santorum tied for third place with 15 percent of the votes. Former Massachusetts Governor Mitt Romney is in second place with 29 percent of the votes and Former House Speaker Newt Gingrich is in first place with 35 percent of the votes.
© Copyright IBTimes 2023. All rights reserved.