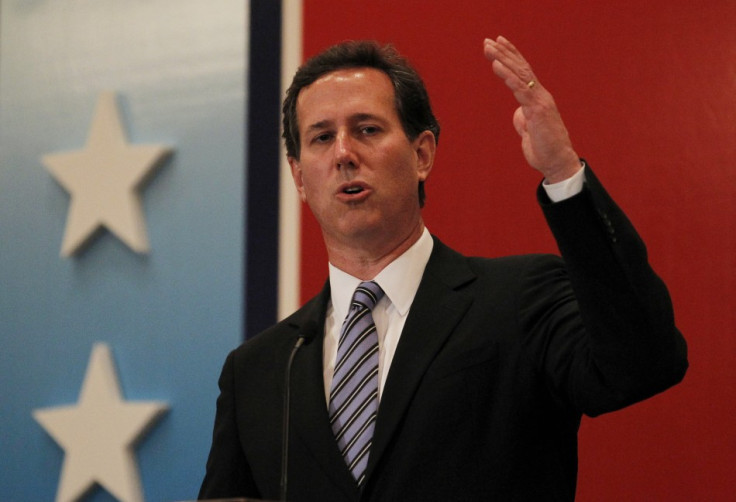 Rick Santorum's surprise wins in Colorado, Minnesota and Missouri means two things. First, he is back in the race for the Republican nomination for president. Second, Mitt Romney's Super Pac (political action committee), Restore Our Future, which is worth over $30m (£21m), is sharpening its knives to turn its attack ads on the former senator of Pennsylvania.
Having successfully wiped out Newt Gingrich in Florida in January in an unprecedented negative ad campaign that cost more than $15m ($9.4m), Romney will now look to knock out Santorum using the same hate messages ahead of Super Tuesday on 6 March.
Kenneth Goldstein, president of Kantar Media CMAG, which tracks content and targeting of political advertising, told the Daily Beast: "For as long as I've been in politics, 14 years, journalists call me and ask if this is the most negative election ad atmosphere I've ever seen. And every year I say, 'Don't be ridiculous.'
"But this year it's true. This primary season is the most negative it's ever been," he said. "I have absolutely never seen television advertising so negative in a Republican presidential primary."
The former Republican candidate in 2008, John McCain, spent $11m in the whole primary race. Romney has eclipsed that amount with less than a quarter of the race run.
But the negative ad campaign does seem to have worked for Romney, who is one of the richest candidates ever to run for president.
Santorum has been the victim of only one attack ad - made by the campaign team of rival candidate Ron Paul, who has virtually no hope of winning the nomination.
But given the higher profile of Santorum's election campaign he can expect to be hit harder than ever.