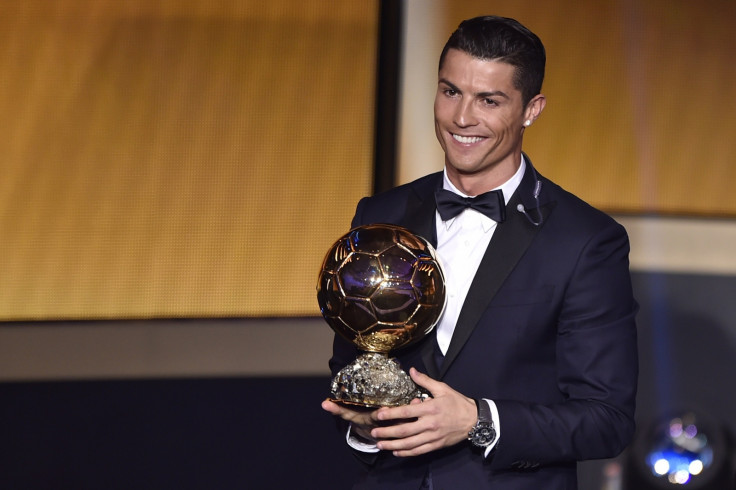 7:35: Arjen Robben finished fourth in the voting results with 7.17 percent, so he was never in danger of disrupting that top three. The top ten were as follows
5) Thomas Muller (5.42%)
6) Phillip Lahm (2.90%)
7) Neymar (2.21%)
8) James Rodriguez (1.47%)
9) Toni Kroos (1.42%)
19) Angel di Maria (1.29%)
7:20: Last year Cristiano Ronaldo didn't vote for Lionel Messi and Lionel Messi didn't vote for Cristiano Ronaldo. Where the two a bit more generous this year? It would appear not. The Real Madrid forward selected club teammates Sergio Ramos, Gareth Bale and Karim Benzema in his vote, while Messi opted for Angel di Maria, Andres Iniesta and erm, Javier Mascherano in his.
In the end, it was all rather comfortable for the Portuguese star.
7:15: Here's some more from the winner.
"I want to continue to work as I have so far, to try and and win more titles, for my mother, for my father, for my son. To all the Portuguese people out there: I never thought that I would take this trophy back on three occasions. I want to become one of the greatest players of all time.

7:10: Ronaldo ends his acceptance speech with what sounded like a "BOOOOM!" After that, his son emerges on stage to celebrate with his old man.
7:05: And it's Ronaldo again! Two in a row, three all together, the Real Madrid phenomenon has been crowned the best footballer on the planet in 2014. Was it ever in doubt?
2014 Ballon d'Or winner - Cristiano Ronaldo (Real Madrid, Portugal)
7:00: The envelope is being opened! This just got real.
6:59: Thierry Henry saunters out onto the stage to present the final award of the evening. Here we go.
2014 FIFA WOMEN'S WORLD PLAYER OF THE YEAR - Nadine Kessler (Germany/Wolfsburg)
6:56: Now we move onto the Fifa women's player of the year; Martha, Abby Wambach and Nadine Kessler are in contention.
6:54: The final candidate for tonight's main event is on the stage and Manuel Neuer gets a warm message from his Bayern Munich boss Pep Guardiola.
6:50: And James Rodriguez's stunning effort is named the best goal of 2014! The Real Madrid star takes the stage to accept the award and keeps his speech short and sweet.
"I'd like to thank everybody who has voted for me. This was a very special moment for me and everybody in Colombia. I'm very happy."
2014 PUSKAS AWARD WINNER - James Rodriguez (Colombia v Uruguay)
6:47: Things are picking up; it's time for the Puskas Award for the best goal of 2014.
6:41: Some Swiss rock/pop chap who looks a bit like Dapper Laughs takes the stage for a musical break. Cristiano Ronaldo stares back vacantly. Lionel Messi looks visibly annoyed. That's followed by an awkward segment involving Martha, Abby Wambach and Nadine Kessler ahead of the Fifa Women's player of the year award.
6:35: Now time for a World Cup montage which is all well and good apart from the fact that it reminds everyone that Pit Bull was involved in the opening ceremony. No one wants to remember that. Not many clips of England in that video, by the way.
6:31: Messi barely cracks a smile during his manager's kind words but a grin spreads across his face as a rather dishevelled looking Pablo Aimar appears on screen to pass on his message of good luck.
6:29: Lionel Messi is on the stage and who has been chosen to rave about his achievements via video message? Luis Enrique, the man who has reportedly been at loggerheads with the Argentine this season.
6:24: Simeone, who smashed Real Madrid and Barcelona's duopoly of Spanish football by leading Atletico to their first league title in 18 years, wasn't in the running at all, finishing third behind Carlo Ancelotti and winner Low.
6:20: So no luck for Atletico Madrid centre half Diego Godin in the Fifpro XI and Diego Simeone in the manager's award? That will go down well at the Vicente Calderon.
6:17: Low is quick to stress he is 'nothing without well-trained players'.
It is a huge honour after what's been an incredibly successful year. It's the icing on the cake - the cake obviously being the World Cup. I'm just taking this award on behalf of everybody who has taken this team to where it is.

"Winning the World Cup is the consequence of lot of hard work and many good decisions. I would like to thank all the German coaches who do so much good work with the young players. They are all Coaches of the Year.
6:11: Onto the men's and Germany's Joachim Low is crowned manager of the year! Atletico Madrid's Carlo Ancelotti and Diego Simeone of Atletico Madrid provide their 'gracious loser' smiles as they clap the World Cup winner onto the stage.
6:10: The Fifa coach of the year for women's football is up now and it's Ralf Kellerman who scoops the prize.
6:04: Cristiano Ronaldo is now on the stage. For what reason, I'm not quite sure, but he get a lovelygood luck message from Rafael Nadal via video link. Which is nice.
6:00: Sepp Blatter is on the stage to deliver the Presidential Award which is awarded to 89-year-old Hiroshi Kagawa.
5:54: There's Di Maria celebrating his award after being named in the Fifpro XI. *Something lazy about that being Manchester United's only taste of silverware this season*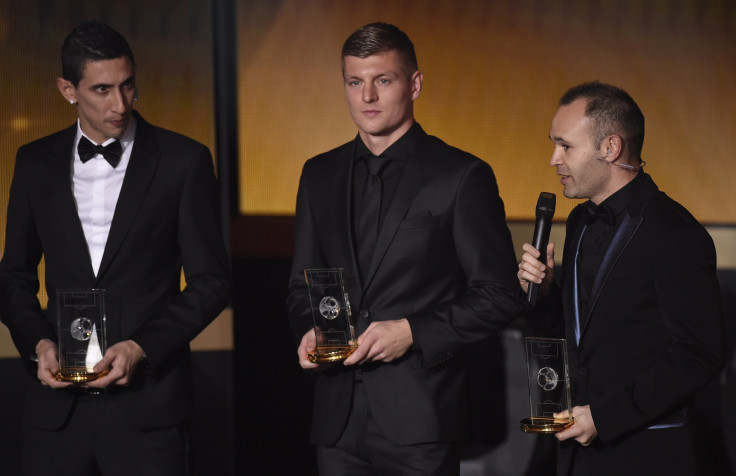 5:50: Unsurprisingly, it's Cristiano Ronaldo, Lionel Messi and Arjen Robben who complete the attack.
5:47: Looks like it is a 4-3-3 formation as Angel di Maria, Toni Kroos and Andres Iniesta are named in midfield.
5:45: Phillip Lahm David Luiz (!), Thiago Silva and Sergio Ramos are named as the best back four from 2014.
5:43: First up it's the goalkeeper and shockingly, it's Manuel Neuer who gets the nod.
5:42: First up this evening is the Fifpro XI as we find out who makes the team of 2014.
5:42: Tonight there is also the small matter of settling the best goal of 2014. Competing for the Puskas Award are international stars Robin van Persie and James Rodriguez for their sublime World Cup efforts and Ireland's Stephanie Roche for this.
5:37: Such is the standard of the 2014 award that Barcelona's Lionel Messi has arrived in Zurich today as a rank outsider.
The Argentine international celebrated remarkable individual success in 2014 when he became La Liga's all-time top scorer with 251 goals.
His phenomenal goal scoring feats extended to the Champions League where he also became the Champions League's all-time top scorer in November, surpassing Real Madrid great Raul's record of 71.
Although he did not win a major trophy last year, his contribution of 49 goals in 53 games was not bad going.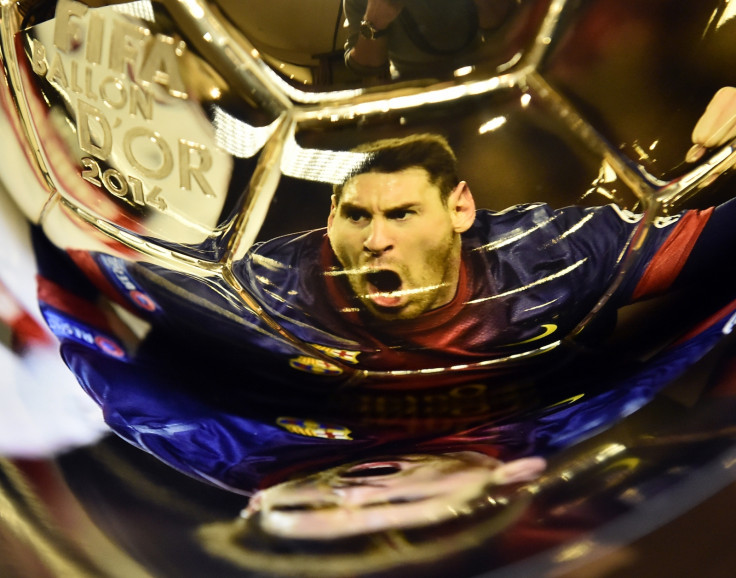 5:35: Manuel Neuer meanwhile is aiming to become the first goalkeeper to win football's biggest individual accolade since Lev Yashin in 1963.
His outstanding 2014 saw him play integral roles for both club and country as Germany lifted the World Cup while Bayern Munich dominated German football.
In a year where he took the role of a 'sweeper keeper' to new levels, Neuer kept 24 clean sheets from 44 games in 2014 for Bayern as they celebrated a league and cup double.
In Brazil, his presence helped guide Joachim Low's side to a fourth world crown, recording four clean sheets in the process including in the final against Argentina.
5:32: Ronaldo is aiming to secure his second consecutive crown this evening - the third of his career - and stands as the outstanding favourite for the award. The 29-year-old celebrated Copa del Rey and Champions League success during his exhilarating 2014 where he scored 52 goals in 43 games during the calendar year, a return that has made a mockery of what we have come to regard as a 'decent return' in front of goal.
The former Manchester United great struck one of those in the Champions League final against Atletico Madrid as his side claimed La Decima, an unprecedented 10th European success.
The Portuguese international's year was littered with personal accolades and broken records. In April he broke the record for most goals in a single Champions League season – jointly held by himself and Messi – when he struck his 15th and 16th against Bayern Munich 4-0 semi-final victory, before going one better in the final.
The following season in November, Ronaldo broke a record that had stood for 79 years in scoring his 17th goal in the opening 10 games of the league campaign, surpassing Isidro Langara's 1935 record of 16 in 10.
A month later, he shattered La Liga's long-standing hat-trick record when he hit his 23rd for the club in what was just his 178th appearance for the club against Celta Vigo.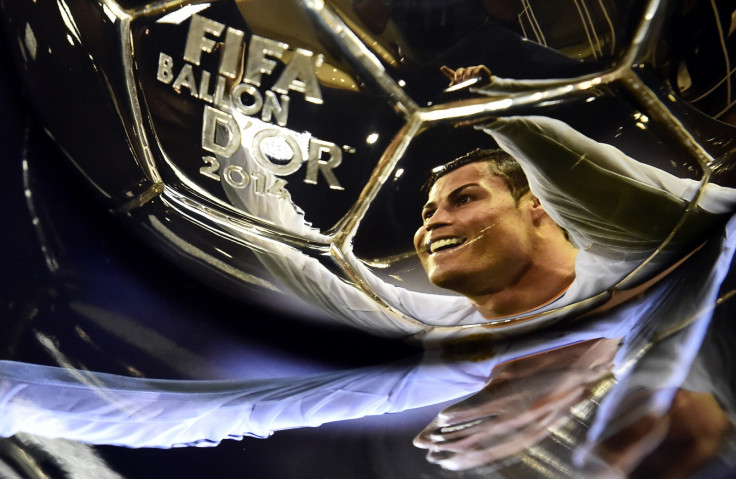 5:30: Welcome to IBTimes UK's LIVE coverage of the 2014 Fifa Ballon d'Or ceremony. Football's Oscar night is upon us and Cristiano Ronaldo, Lionel Messi and Manuel Neuer wait to learn which of them will be crowned the best footballer of last year.