Key stats:
BMW 730Ld Saloon
3.0-litre, six cylinder diesel engine
265 horsepower / 457lb-ft torque
0-60mph in 6.2 seconds (claimed)
Top speed: 155mph (limited)
CO2 emissions: 132g/km
Economy: 56.5mpg (claimed)
From: £72,260
Price as reviewed: £95,615
On sale: Now
Some cars are to drive and some cars are to be driven in – and the 2016 BMW 7-Series is most definitely the latter. Go for the long wheelbase version, then bravely tick the entire options list, and you'll have a road-going private jet with a blend of luxury, technology, gadgets and toys that's more impressive than anything to have come before.
I'm aware that that's a big claim, but this car really is that good. I would happily have sat in the back for 1,000 miles – if the IBTimes UK expense account could stretch to enough diesel and the hiring of a driver.
So what makes the new 7-Series so good? Let me explain...
2016 BMW 7-Series: Design
Well, it isn't here. The 7-Series is a handsome car, there is no denying that, but it's a fairly dull thing to look at. From no angle is it offensive or ugly, by any means – it just isn't particularly interesting. Making a car with legroom measured in feet instead of millimetres means that there isn't much space left over to be creative. It's an awful cliche, but the 7-Series is businesslike: its sharp lines would match the owner's suit and the teutonic colour schemes could match their briefcase and business-card holder. Posh taxi drivers in Zurich and Geneva are sure to love it; it's just that kind of car.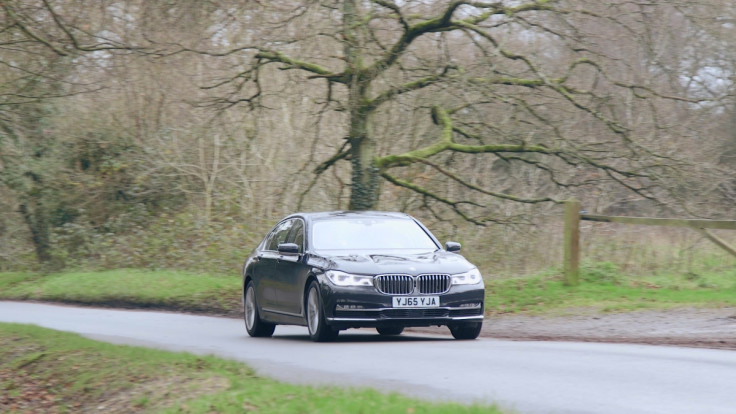 2016 BMW 7-Series: What is it like to drive?
The 7-Series is already a very large car, but the long wheelbase model you see here boosts rear legroom by inflating overall length by five metres to more than 5.2m. Excluding door mirrors, the car is 1.9m wide, and it absolutely feels it; in fact, it's only 4cm shy of the boat-like Rolls-Royce Wraith.
But don't let the sheer scale of the 7-Series put you off – I'm sure your chauffeur would adjust in no time at all. When he does, he'll get to enjoy a car that is remarkably easy to drive on the motorway, down country lanes and in city centre traffic. The steering is incredibly light, while the wheel itself (heated, naturally) is covered in soft leather of just the right thickness.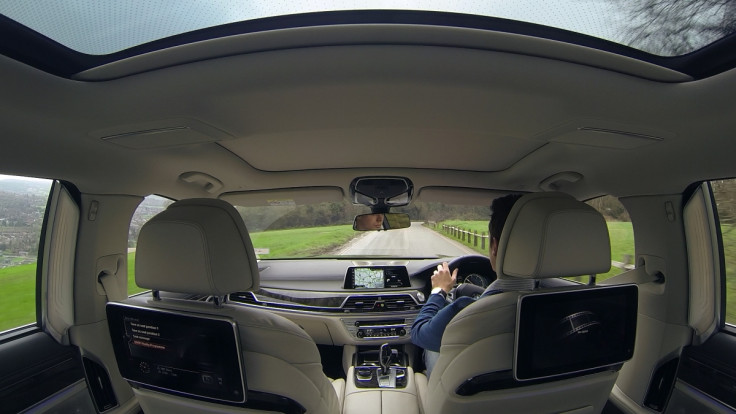 Front-facing cameras scan the road for bumps and potholes, which then tells the suspension to adjust accordingly to keep things as smooth as possible. Visibility is good, the automatic gearbox does a good job of disappearing from your conscience entirely, and performance from the three-litre, six cylinder engine is impressive; there is 265 horsepower, almost 460lb ft of torque and a 0-60mph time of 6.2 seconds. All perfectly acceptable from a luxury saloon weighing 1,795kg.
2016 BMW 7-Series: Autonomous driving and parking
It's a truly lovely car to drive. The controls are light and the driving position is beautifully comfortable. It can even drive itself on motorways, as not only does the radar-guided cruise control keep you a safe distance from the car in front, but by using the front cameras it can take control of the steering to keep itself in lane. This feature works to an extent, but is easily confused by lane markings that are anything less than immaculate – and if you're in the inside lane, the car steers itself off at the next junction whether you like it or not. Clever – but for now, not a patch on Tesla's Auto Pilot.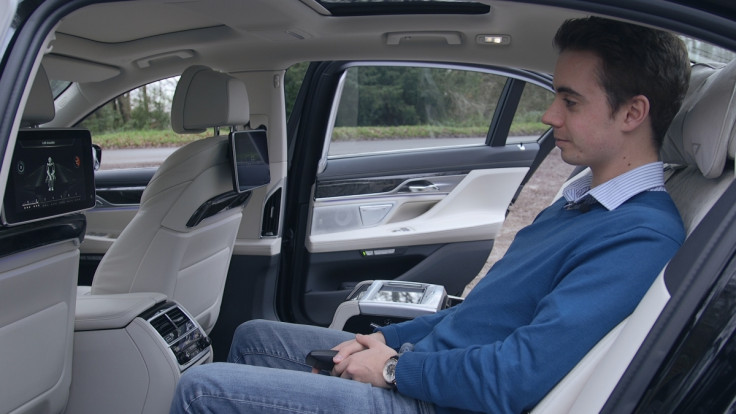 An autonomous feature that I wasn't able to try, but is available to customers, is automatic parking when you aren't even in the car. Point the nose roughly into a space or your narrow garage, get out, take the key (which has a touchscreen, can be used to control the air-con from the house and recharges in the car), press a button and the car parks itself. Press again to retrieve it.
2016 BMW 7-Series: Back-seat driving at its absolute best
But this, and the way you wave your hand to adjust music volume, is merely the starter. For the main course you'll want to be in the back. Here, the soft leather seats are heated and have an entire catalogue of massage functions, the headrests have padded leather cushions, there is a fridge large enough for two bottles of champagne, there are two HD televisions with wireless headphones, and a 7in Samsung tablet used to control just about everything.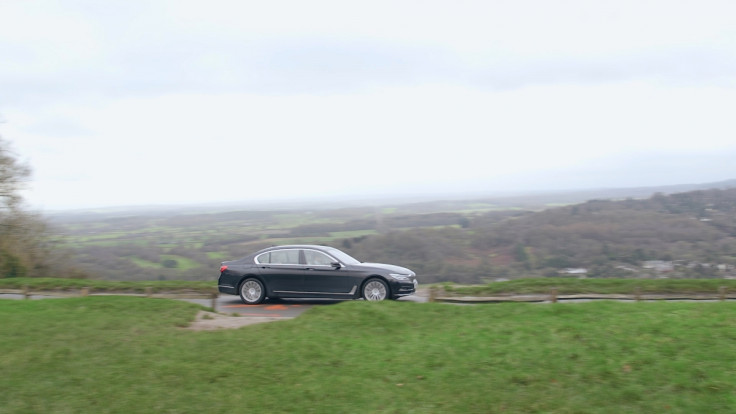 10 little luxuries in the BMW 7-Series
Long wheelbase model with extra rear legroom
All four seats recline, and are leather, heated, cooled, electric and have a massage feature
Two televisions for rear passengers
Samsung tablet and fridge between rear seats
Electric privacy blinds
Bowers & Wilkins 16-speaker stereo with diamond tweeters
Choice of cabin fragrances
Rear seat vitality programme
In-car Wi-Fi
Heated steering wheel and arm rests
The position of all three passenger seats (you might want to fold the front one forward and use it as a footrest), lighting (brightness and colour), scent (two to choose from), music (from a 16-speaker Bowers & Wilkins system with tweeters made of diamond), televisions, massage (eight options) and electric sun blinds are all controlled from the tablet. It can also be detached and used as a regular Android-run tablet out of the car.
There is also a telephone and a conventional TV remote if you prefer, from which you can interact with a vitality programme that asks you to stretch and push your shoulders or elbows into the seat to help circulation and prevent stiffness on long journeys. There are eight exercise routines to choose from.
Sitting in the back of a Rolls-Royce Wraith was fun because of the thick carpets, the buttery leather and the obscene, extravagant cost of it all – and that starlight roof is quite something. But the novelty wears off and you're left with the view out of the window. With the 7-Series (I stress, again, with all the expensive options ticked) it is a much more interesting and stimulating place to be. You could have a drink, watch television, browse the web, exercise, have a massage, fiddle with the vodka-bar-style lighting – or just roll up the blinds, recline and go to sleep.
The Verdict
Our verdict
The Good:
Extremely comfortable seats

Acres of rear leg room

Not intimidating to drive

Options list as long as your arm
The Bad:
Options are expensive

Exterior styling is fairly dull

Some features feel like gimmicks
If driving myself wasn't an option, then there is simply no other car I would rather travel as a passenger in. The details – the softness of the leather, the stitching pattern, those pillows – are all just so right.
Sure, the cabin fragrances and vitality programme are gimmicks, but the rest of the car is simply superb. The new 7-Series blends old-fashioned luxury, comfort and build quality with the latest in technology and entertainment – and for that reason, as a passenger, there is no place I'd rather be.