30 churches around the world using facial recognition to track congregants that skip services

It's not just law enforcement and companies with trade secrets who want to use facial recognition – churches are now jumping on the bandwagon too.
About 30 churches in the world in countries such as Indonesia, the US, Portugal, Africa and India are now using a facial recognition software called Churchix to track their congregants from a database of photographs that have been uploaded to the software.
The churches are able to track which congregants are attending services and which are missing events, by using CCTV cameras that scan people's faces as they walk into the building. The video footage is sent to a PC where the software is installed, and this then analyses the footage for recognisable faces.
Churches are struggling to keep track of their members
The idea is that the church can then make contact with congregants to find out why they might not be attending, or even send out a call to action for donations to the congregants who are most fervent in their attendance of church events.
The church can also use the software as a security system, by uploading photos of people who have been banned from the church, local criminals or sex offenders. If someone on the black list enters the church, the administrator will receive an alert letting them know, so they can take action.
"In the beginning I was surprised. We never thought of churches as potential clients, but we now understand the need. Most churches do already keep track of their members," Moshe Greenshpan, the CEO of facial recognition software firm Face-Six told IBTimes UK.
"The job of keeping track becomes very difficult when you have many members in your church. When you have 1,000 members, it's very hard to keep track manually."
The software was launched four months ago and is only a small part of Face-Six, which is based in Israel and the US. The firm focuses on high-end video surveillance for law enforcement and large public venues like airports and casinos, as well as facial recognition software that tracks how many unique visitors walk into shopping malls.
People are naturally wary of being under surveillance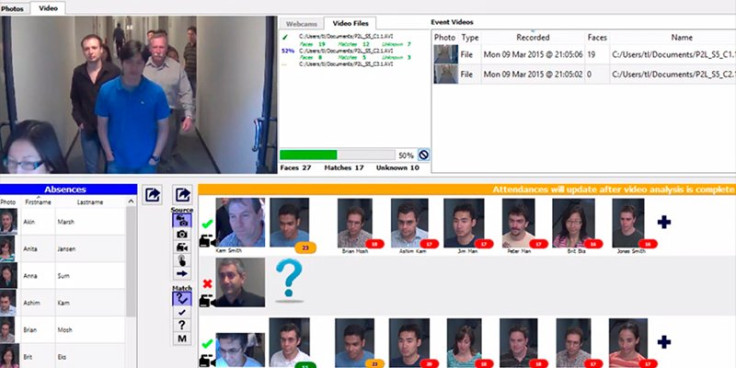 Many people feel uncomfortable with the technology and liken it to spying, so it is unlikely that people will be happy to know they are under surveillance at their place of worship.
"We encourage churches to use Churchix out in the open, so that people are aware of it, but so far the churches haven't adopted that approach," said Greenshpan.
"I think people get a bad feeling when they hear about it and you can't argue with that. But at the same time, the major question is, should the church keep track of members when they attend events, whether it is manually, or electronically?"
Greenshpan says that since churches have always had the practice of tracking their members, it shouldn't matter if they are choosing to do so automatically, as the church is not seeking to do anything with the data they collect.
Recent media coverage and word of mouth has seen more churches contact Face-Six with an interest in using the technology, and other places of worship such as synagogues are also interested, but more for security reasons.
Greenshpan said: "We didn't have any intention to get into the church market, but orders started piling up. In a really short period time, we got emails and phone calls from about 10 churches and they all asked us for the same thing, and now we've had even more requests."
© Copyright IBTimes 2023. All rights reserved.