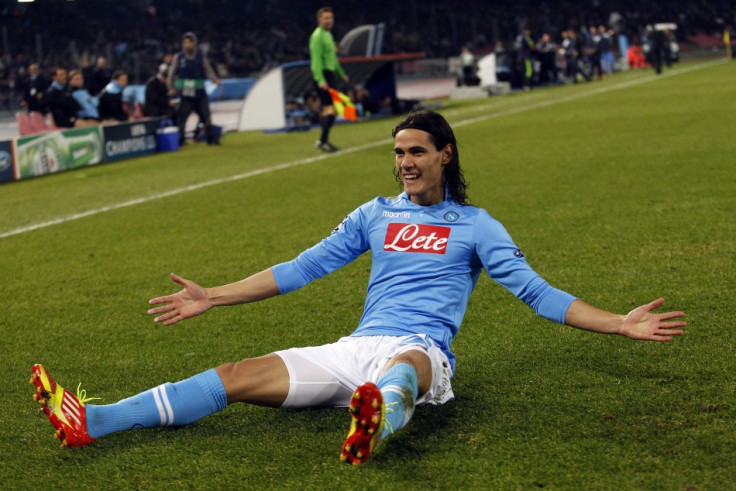 Napoli star Edinson Cavani has not received any concrete offers, according to president Aurelio De Laurentiis, with Manchester United said to still be chasing the striker.
Cavani has starred for Napoli since joining the club in the 2010 summer, and in 21 appearances so far this season he has already scored 10 goals.
Putting in brilliant performances alongside Ezequiel Lavezzi and Marek Hamsik, Cavani has long been a reported target for United, and cross town rivals Manchester City have admitted to scouting the Uruguay international as well.
But De Laurentiis has insisted that while talks are taking place over a possible move for Cavani, no money has been offered for the £30 million-rated hitman.
"In football we talk so much [but] I have yet to see any money on the table," he said.
Cavani's performance against Manchester City last week in the Champions League group stages put United on special alert for the 24 year old, after he scored twice against the big-spending club to put Napoli in the winning seat for the next round of the tournament.
United are on the lookout for players who will have the ability to challenge City, both on the pitch and through mounting a genuine title challenge to the Citizens.
Sir Alex Ferguson revealed last week that United were not making any plans to sign players in the next transfer window, though the manager did admit that he is chasing 'two or three' targets that he doesn't believe will be available to talk in January.
And Napoli have continually insisted that Cavani is not for sale, unless it is for a fee they are unable to refuse.
Cavani also said recently amongst the transfer speculation that he plans on staying in Italy until the end of the season at least, and after Napoli's performances in the Champions League, the sharp shooter has more belief than ever that the Serie A side can raise the Champions League trophy.
Napoli face Villarreal in their last match of the group stages, and United will no doubt have scouts keeping an eye on Cavani along with his on-fire teammates, as the club look to knock City out completely and shore up qualification.