The Turkish military said on Sunday (9 October) that at least 31 Islamic State (Isis) militants have been killed in fighting and US-backed air raids in northern Syria over the past 24 hours. Syrian fighters, supported by Turkish tanks and air strikes, have been trying to recapture the IS (Daesh) stronghold of Dabiq in an operation that began in August.
Out of the 31 militants, around 14 died when they tried to enter rebel-held villages of Akhtarin and Turkmen Bareh, just 3km east of Dabiq, the Turkish military said in a statement. Seventeen other jihadists were killed in air raids by coalition jets in the same area, the army added in "Euphrates Shield", its daily round up of the operation.
UK-based Syrian Observatory for Human Rights on Saturday said that IS militants had managed to capture those villages in a counter assault near the Turkish border.
It also said that two Syrian rebels had been killed and 19 were injured in the latest round of fighting against the terrorists. The operation was also aimed at Kurdish militia, whose presence near the Turkish border is viewed as a threat by Ankara.
Meanwhile, IS has reportedly lost more than a quarter of the territory it once controlled in the region, new data suggests. Security and defence analysts at IHS Conflict Monitor stated that the jihadist group's territory has shrunk by 28% since January 2015, BBC reported.
The analysts further said that in the first nine months of 2016, the group's territory fell from 78,000sq km to 65,500sq km, but their losses have slowed down in three months prior to October. Since July, they only lost 2,800sq km of land. Principal Russia analyst at IHS, Alex Kokcharov said: "Last September, President Putin said it was Russia's mission to fight international terrorism and specifically the Islamic State. Our data suggests that is not the case.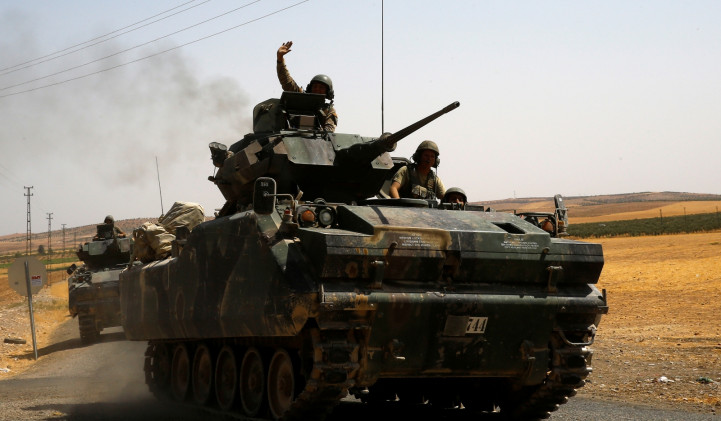 "Russia's priority is to provide military support to the Assad government and, most likely, transform the Syrian civil war from a multi-party conflict into a binary one between the Syrian government and jihadist groups like the Islamic State; thereby undermining the case for providing international support to the opposition."
The Islamist group has been pushed back 10km from the Turkish border and it has also lost control of the Syrian city of Manbij and roads surrounding it. Iraqi forces loyal to the government are set to launch an offensive to recapture Mosul later this month. If the offensive on Mosul is successful, it could be a huge blow to the jihadists.