An Italian 3D printer company has showcased how it is able to 3D print mud houses from clay that come embedded with plant seeds that can grow root systems to support the building.
The Ravenna-based firm, World Advanced Saving Project (Wasp) has been working for several years on a 20ft-tall 3D printer that is capable of constructing affordable housing for developing nations.
The mud houses are inspired by the clay buildings that populate the city of Aït Benhaddou in Morocco. Constructed from soil mixed with natural dried tamarind fibre, the buildings stay largely unaffected by torrential rainstorms.
These building only require a touch-up every two years where a 2cm-thick coat of clay is added to the exterior to repair any cracks and weathering on the walls, and it is this building technique that Wasp is keen to replicate.
From 18 – 21 March at the MADEExpo show in Milan, the firm is showing off the latest prototype of its Delta 3D printer to the public.
Using seeds to strengthen the 3D-printed clay house
The scaled down 4m-tall 3D printer prototype at the show (since the 20ft one is too tall to transport easily) comes with a rotating extruder which is better able to print out curves and corners in the mud structures.
Also, the mixture being used to print the houses with now comes with seeds from certain weeds mixed together with clay and cement, which makes the material stronger than using just clay and fibre.
The seeds absorb the moisture from the clay, and then over time, grow and develop a system of roots within the 3D printed mud house, which strengthens the structure and helps it to maintain its shape for a longer period of time.
"The habitative structure will thus become a sustainable habitat," a WASP spokesperson told 3DPrint.com.
"The use of the seeds will offer a practical solution to the issue of clay shrinking: the reinforcements produced by the roots will set the material in a more permanent way, thus allowing for it to fully dry without altering its dimensional stability."
Which would be cheaper - mud or recycled concrete?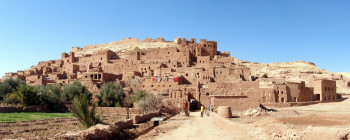 Wasp is currently experimenting with various seeds, such as Bermuda grass, a common weed cultivated in warm climates that is fast growing and often used in sports fields as it grows quickly and is quite tough.
"WASP's research quite literally, takes place 'on the field'. This idea of armouring the houses from the inside using roots, is certainly as innovative as it is imaginative: it will require a long and intense work from the team of botanical, architectural and 3D printing experts that have already began developing the first concepts," said Wasp.
There are others in the world who are all racing to bring down the costs of construction, such as inventor Andrey Rudenko in the US, who 3D-printed a castle from cement in his back garden in July.
Ma Yihe in China is also well-known for 3D-printing 10 houses from recycled concrete waste in 24 hours in April 2014 and then 3D-printing the world's tallest building in January, while BetAbram, a firm in Slovenia is soon to launch the world's first commercial house 3D printer.
So far Ma seems to have had the most success and has signed international deals to bring his technology to the Middle East and Africa, but Wasp's solution would be even cheaper than Ma's recycled concrete 3D printing material.
"3D printing is a technology that offers several advantages," said WASP founder Massimo Moretti.
"Implementing it with old and polluting materials such as traditional cement could lead to an exponential degeneration: tens of houses could be built in just one day and the potential of 3D printing could be exploited for speculative ends."