For a motorsport as high octane as Formula 1, where split seconds are all that separates lap times and places on the all-important starting grid, speed is inevitably an important factor both on and off the track.
Yet while the technology powering the multi-million pound F1 race cars is progressing at a breakneck pace, the days, weeks, and sometimes even months it takes to design and manufacture key components is directly at odds with the hectic demands of the competition's busy schedule.
At the McLaren Technology Centre, the historic British company prides itself on its three pillars: racing, automotive, and applied technologies. While the latter two have seen expansions into commerical road vehicles, healthcare, energy, Internet of Things technologies among many diverse sectors, the ethos of its racing heritage is drilled into every aspect of the McLaren brand.
"Racing is at the heart of everything we do," a McLaren spokesperson declared during IBTimes UK's recent visit to its sleek, sci-fi-like headquarters in Woking, Surrey. And that racing spirit extends to its supply chain.
"One of my biggest challenges today is converting ideas into real parts on the race track in as short a time as possible," said McLaren Racing design and development director, Neil Oatley – an important figure within the company's walls after 30 years of service spanning multiple constructor world championship wins during the team's golden years which boasted legendary F1 drivers such as Ayerton Senna and Mika Hakkinen.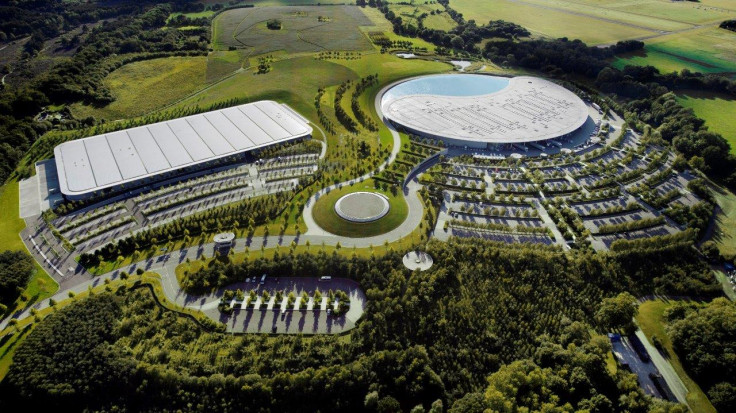 Enter 3D printing. Around 6,000 components are produced every week by McLaren's Woking HQ for prototype testing, replacing damaged parts, and improving the final car at the very last moment before a race. F1 is very much a "prototype sport", we were told, with an incredible 80% of each car changing throughout a single championship season.
Gaining any semblance of an advantage over another team is crucial in this chop-and-change environment, and with time a deciding factor, 3D printing technology's minimal delay between concept, design and production makes it a mouth-watering prospect for the F1 elite.
On 7 April, McLaren Racing unveiled more of its 3D printing repertoire, leaning on its recently announced partnership with notable 3D printing company Stratasys to speed up production time.
Stratasys' fused deposition modelling (FDM) and PolyJet printing technologies will be included in both prototypes and vital components for the McLaren Honda cars competing in the current 2017 World Championship, while the firm's uPrint SE Plus printer will grace the Bahrain Grand Prix on 16 April as the first ever trackside 3D-printer.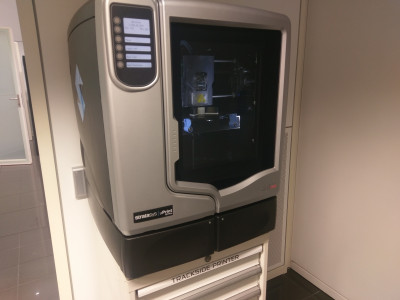 McLaren is far from the only race team adopting 3D printing tech, of course. Ferrari discussed the technology in January, while in 2014 a Red Bull Racing spokesperson proclaimed that "3D printing is definitely the future of F1."
However, despite those lofty claims and McLaren's investment in £1 million worth of 3D printing equipment for in-house manufacturing at its British HQ, there are major roadblocks to cross before the larger parts – most notably key areas of an F1 car's chassis and suspension – are born from a 3D printer.
The 'pit-stop printer' is capable of only producing smaller, less-essential components due to size restrictions, with the larger machines all monitored in Britain. Even the rear wing flap, which is certainly eye-catching and impressive to behold, is "not how we would choose to make a wing for a long-term production method," clarified Oatley, "but rather "a quick way to improve performance short-term."
The main issue, however, is driver safety. While 3D-printed carbon fiber is not only possible, but actively being produced at McLaren, its use is limited due to the way in which its experts weave the material when making parts that would otherwise crumple on impact. Most notable areas are around the nose cone and the suspension arms, with the latter having to deal with both the incredible downforce created by the wings and the grip of the tires when flying along at 200mph.
"It depends on the load the parts are put under while going round the track," Stratasys' applications engineer, Matt Jones, told IBTimes UK. "A lot of the smaller stuff is easy to do because the loads are quite low."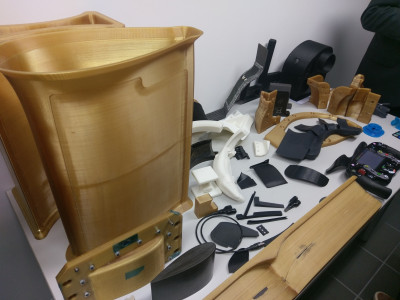 But while the kind of accuracy appears out of reach for current 3D printing technologies, its use on the larger components isn't entirely without its merits. "There's a lot of prototyping and tooling that lets you create the parts from carbon fiber that will go on to the car that [the McLaren team] couldn't have done with the traditional process," continued Jones. "So although the larger parts aren't 3D printed and stuck on the car, it's still being aided by that to create new designs."
To McLaren Racing, in the race to the chequered flag, the ability to remove even a tiny percentage of the immense labour and time it takes to build those 6,000 weekly parts is essential – a factor that will likely make 3D printing a permanent fixture in secretive racing labs around the world.