The first production-ready autonomous race car has been revealed in Barcelona. Flaunted at the Mobile World Congress technology show and built by Roborace, the self-driving car can reach over 320km/h (198mph) and is equppied with more than 30 sensors and cameras in order to read the road ahead and overtake rivals.
Roborace is an autonomous race series which will soon follow the Formula E electric race calendar around the world. The car was designed by Daniel Simon, Roborace chief design officer and previously responsible for vehicles featured in Hollywood blockbusters like Tron: Legacy and Oblivion.
Under the sci-fi body sits an all-electric drivetrain made up of four, 300kW motors and a 540kW battery. The 975kg Robocar car is mostly made of carbon fibre and drives itself using data gathered by dozens of sensors, including five lidars, two radar, 18 ultrasonic, two optical speed sensors and six cameras.
Everything captured is fed into the car's brain, an Nvidia Drive PX2 processor capable of conducting up to 24 trillion artificial intelligence (AI) operations per second.
All of this data can be interpreted and acted upon by algorithms developed by the software engineers of each Robocar team. It's up to them to programme the car's behaviour and how it chooses to race; whether it takes risks or holds back until safer overtaking opportunities present themselves. Roborace is hoping 10 teams will enter the championship, each with two cars.
"This is a huge moment for Roborace as we share the Robocar with the world and take another big step in advancing driverless electric technology," said Denis Sverdlov, chief executive of Roborace. Sverdlov said he hopes the striking design will "create an emotional connection to driverless cars and bring humans and robots closer together to define our future."
As has been a major component of motorsport for over a century, technology developed on the track will filter down to road cars and other vehicles used by the public in the near future. "Roborace and Nvidia today push the boundary to accelerate the development of deep learning systems for safer passenger and commercial vehicles," said Nvidia vice president Rob Csongor.
Robocar designer Simon said the autonomous race series will "open a new dimension where motorsport as we know it meets the unstoppable rise of artificial intelligence."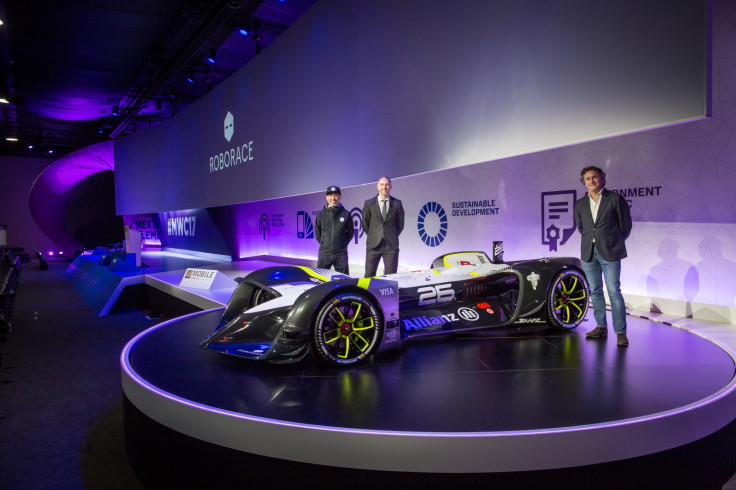 The car's underlying technology was demonstrated in a race environment for the first time at the Argentinian round of the Formula E series in February. Using the 'Devbot' prototype chassis, the two cars only raced at low speeds and a computerised error of judgement caused one car to crash out before reaching the chequered flag.
Roborace will continue to show off its DevBots throughout 2017, before letting two completed Robocars battle it out on track at higher speeds before the end of the year.