Some 150,000 people have been evacuated, and the final total could reach up to half a million, as a huge cyclone bears down on India's eastern seaboard.
According to the India Meteorological Department (IMD), Cyclone Hudhud, currently in the Bay of Bengal, is forecast to bring winds of 195kph (121.2mph) and 24.5cm of rainfall when it reaches land later today.
In its latest report, the IMD said a predicted 2m storm surge would "inundate low-lying areas of Visakhapatnam, Vijayanagaram and Srikakulam".
The United Nations/European Commission's Global Disaster Alert and Coordination System (GDACS) puts the projected maximum wind speed at up to 212kph, which would cause catastrophic damage. GDACS said the cyclone could have a "high humanitarian impact" on 7 million people.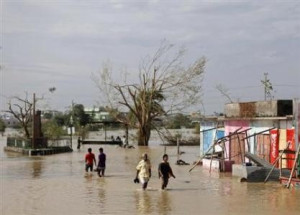 The most at-risk state is Andhra Pradesh, where thousands of villagers have been moved to higher areas and high-rise buildings. A local official helping to supervise the evacuation, Vasantha Rayudu, said many inhabitants of the village of Pudimadaka were reluctant to leave their homes.
"People are adamant," Rayudu told Reuters. "They are not willing to go. For the past three days we have been convincing them. Thank God. Now they agreed. We convinced the people after holding a series of discussions with the village elders."
In Odisha State further north, authorities say they are monitoring the situation and if necessary will evacuate another 300,000 people from low-lying areas.
In 1999 a similar-sized cyclone killed up to 10,000 people in Odisha, but the death toll in last year's Cyclone Phailin was 53. It is thought the lower death-toll was due to the evacuation procedures now in place.
The Indian national government Crisis Management Committee has sent 39 National Disaster Response Force teams to the region, the navy is on hand and cyclone shelters are stocking up on water purification tablets, generators and dry rations.
In a statement the government said: "All the central agencies are fully geared up to provide necessary assistance."
Cyclones are a common event in the Bay of Bengal. As the National Oceanic and Atmospheric Administration (NOAA) notes: "Hurricanes, cyclones, and typhoons are all the same weather phenomenon; we just use different names for these storms in different places. In the Atlantic and Northeast Pacific, the term 'hurricane' is used. The same type of disturbance in the Northwest Pacific is called a 'typhoon' and 'cyclones' occur in the South Pacific and Indian Ocean."