6.3 Earthquake Off Japan Coast as Typhoon Vongfong Roars In
No tsunami warning following sea quake but huge waves expected as result of typhoon
An earthquake with an estimated 6.3 magnitude has shaken the seabed 150km south of the Japanese coast, at a depth of 13km according to the Japan Meteorological Agency.
No tsunami warning has been given and no damage was reported as a result of the quake, which is believed to have been too weak, deep and far from shore to be a danger.
However, Japan is bracing itself for the arrival of this year's largest super-typhoon, Vongfong, which it is predicted may cause 15m waves when it reaches Okinawa island chain later today or early Sunday morning. Wind speeds are currently 261kph, although Vongfong is believed to be losing some of its power.
"There is no question that (Vongfong) is an extremely large, extremely powerful typhoon," an official from Japan's Meteorological Agency told Reuters. "It's the strongest storm we've had this year, definitely, although it has lost some strength from its peak."
Reid Wiseman, an astronaut aboard the International Space Station, tweeted a photograph of Vongfong, from space, saying: "I've seen many from here, but none like this."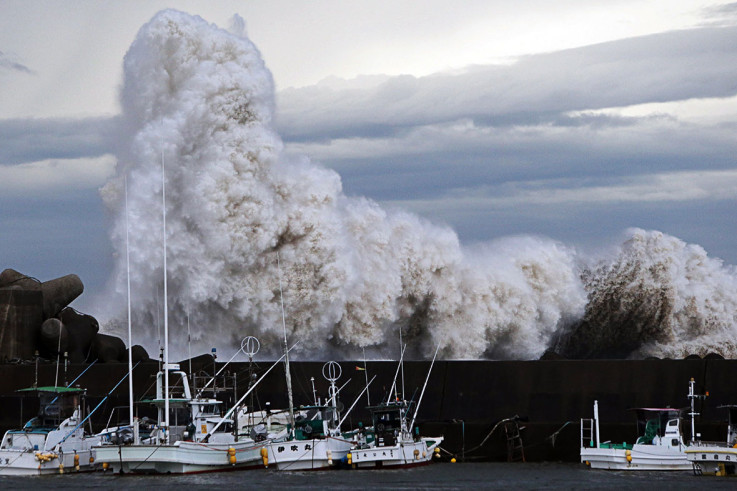 High waves batter a breakwater at a port at Kihou town in Mie prefecture, as typhoon Phanfone slams into Japan
AFP
A succession of typhoons have hit Japan lately, most recently last week's Typhoon Phanfone which killed nine people, including three US servicemen washed out to sea. Their bodies were later recovered.
Vongfong is expected to be the most powerful typhoon since super-typhoon Haiyan killed 6,000 people in the Philippines in 2013.
This morning's earthquake took place at 02:36 GMT southeast of the city of Hachinohe, in Aomori Prefecture.
That means its epicentre is some 400km from the Fukushima nuclear plant which was badly damaged by the 9.0 magnitude earthquake and tsunami in 2011 in which up to 30,000 people died across Japan. Hachinohe was also shaken by a 5.2 earthquake on 18 September 2011.
Technicians responsible for the Fukushima plant say its defences are now upgraded and it could withstand a tsunami of up to 25m.