As territory held by the Islamic State (Isis) in Iraq and Syria continues to shrink, more and more evidence of the militant group's atrocities have been uncovered with a total of 72 mass graves discovered holding thousands of dead.
The Associate Press reported that 72 mass graves had been discovered in the most extensive survey carried of its kind. The known number of the dead buried in the unmarked pits, and known only to a handful of witnesses and IS itself, is believed to number between 5,200 to 15,000.
The highest number of graves have been found in Iraq's Sinjar province where IS carried out what has been described as a genocide against Yazidis. Sinjar Mountain itself is reportedly dotted with mass graves, six of them containing more than 100 people.
One witness to the atrocities in Sinjar, who peered through binoculars as IS carried out its extermination, told the AP about handcuffed men from nearby villages being shot and then buried by a waiting bulldozer.
The burials lasted for six days as the man, who has not been identified, watched the extremists fill one grave after another with his friends and relatives.
There are believed to be more mass graves in the surrounding area but they lie between IS and Iraqi lines. Because the no man's land has not yet been secured, families who remain behind have been left unable to retrieve their dead.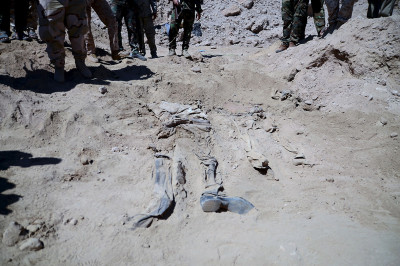 IShas barely covered its tracks when it has come to the mass killings of not only Yazidis but opposing tribesmen, Shia prisoners and Syrian and Iraqi troops. In virtually every area liberated from the hands of IS, mass graves have been uncovered.
"They don't even try to hide their crimes," said Sirwan Jalal, the director of Iraqi Kurdistan's agency in charge of mass graves was quoted as saying. "They are beheading them, shooting them, running them over in cars, all kinds of killing techniques, and they don't even try to hide it."