Iraqi authorities have hanged 36 Islamic State (Isis) militants over the 2014 massacre of 1,700 army cadets at Camp Speicher.
The killings formed one of the worst atrocities carried out over the course of the Iraq's ongoing bloody battle with the Islamic State, which inflamed sectarian tensions in the country.
As Isis (Daesh) forces made their rapid grab for territory in 2014, unleashing an onslaught across the Syrian border into Iraq, they carried out the series of summary executions on mostly Shi'ite cadets at Camp Speicher, a former US military installation, after they took control of former Iraqi leader Saddam Hussein's hometown of Tikrit.
The 1,700 recruits were seized by the extremist group before they could flee the base.
Mass executions documented in videos and images followed.
The footage was then disseminated online in the way that has become IS's calling card around the world.
The images showed the young men, many of them dressed in civilian clothing, lined up alongside each other in long trenches, soon to be their graves. The mass graves were uncovered in 2015.
The killing of the recruits at the hands of IS brought about the creation of so-called 'popular mobilisation forces', Shi'ite militia that were later co-opted into the Iraqi army.
The AP reported the hanging of the 36 fighters, detained in Tikrit in 2015 when Iraqi security forces retook the city, was brought forward after Iraqi Prime Minister Hadier al-Abadi demanded executions of IS fighters be accelerated.
He was prompted to make the statements in the wake of July's Baghdad suicide bombings, which killed more than 300, mostly Shi'ite Iraqis.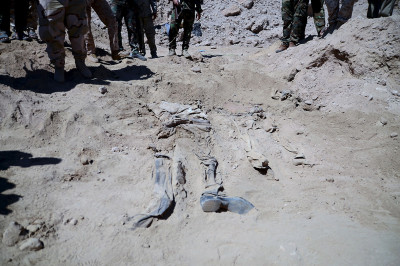 The 36 men were hanged at Nasiriyah prison in southern Iraq, according to provincial Govenor Yahya al-Nasiri. A Justice Ministry official, who spoke on condition of anonymity confirmed the executions.
Serious questions remain over whether all 36 militants were involved in the Speicher massacre and accusations have been made that some confessions were given under the duress of torture.
The head of the provincial council in Salahuddin province, Ahmed al-Karim has said some of them "were not even present at the scene of the crime".
"We support the death penalty for those who committed crimes," but "the use of violence and torture (in Iraqi prisons) should be investigated," he added.
The United Nations has criticised Iraq's judicial process saying rushed sentences risk "greater injustice".