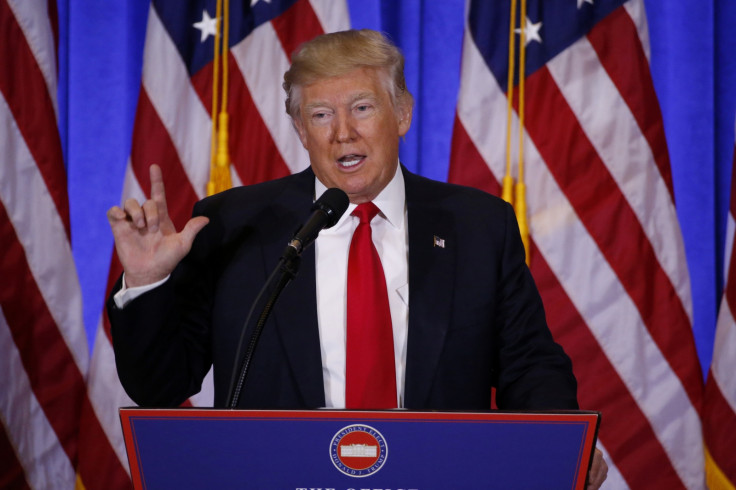 Just days after Donald Trump insisted that reporters are the only ones who care about his tax returns, a new poll has shown that 74% of Americans think that he should release the records.
According to the ABC News/Washington Post survey, 49% of the President-elect's own supporters and 53% of Republicans think that he should make the documents public. Furthermore, 89% of Democrats and 75% of independents said he should release his tax returns.
Speaking at a press conference last week, Trump said: "The only ones that care about my tax returns are the reporters." When asked whether he thinks the American public care, Trump replied: "I won; I mean, I became president. No, I don't think they care at all. I don't think they care at all. I think you care."
Trump's Republican rivals first challenged him to release his tax returns during the election campaign. Trump refused, saying they were under audit and that he would release them when the process was complete.
While presidential candidates are not under any legal obligation to release their tax returns, each one has done so since 1976 – making Trump a glaring exception.
Despite Trump's insistence that the public are not concerned with his tax records, four in 10 of those surveyed said they care "a lot" about the publication of the documents.
The survey was not limited to Trump's tax returns and revealed that the country is divided on whether the President-elect, his family and advisers are complying with federal ethics laws, with 43% saying they are while 44% think not. The response to the question on ethics appeared to be based along partisan lines, with 79% of Republicans insisting that Trump's team are following ethics laws while 72% of Democrats say they are not.
The ABC News/Washington Post poll was conducted between 12 and 15 January among a random national sample of 1,005 adults in English and Spanish, and has a 3.5 point margin of error.