Theresa May and Boris Johnson welcome Donald Trump's quick UK-US trade deal
UK prime minister and foreign secretary reacted to interview from former cabinet minister Michael Gove.
UK Prime Minister Theresa May and her Foreign Secretary Boris Johnson have been quick to welcome Donald Trump's promise of a quick trade deal between the US and Britain.
Johnson, speaking at the EU Foreign Council meeting in Brussels, said the president-elect's remarks were "very good news", while a Downing Street spokesperson praised Trump's "enthusiasm and energy".
But Number 10 stressed that the UK will continue its trade commitments with the EU, which prohibit Westminster from negotiating its own deals until Britain splits from the bloc.
"Very good news that the US wants to do a good free-trade deal with us and wants to do it very fast and it's great to hear that from President-elect Donald Trump," Johnson said.
"Clearly it will have to be a deal that is in the interests of both sides, but I have no doubt that it will be."
The comments come after the publication of Michael Gove's interview with Trump in The Times.
Gove, a prominent Vote Leave campaigner, lost his justice secretary role after a failed bid to succeed David Cameron as Conservative leader and prime minister.
The Surrey Heath MP was Johnson's campaign manager until he quit the position on the eve of the former mayor of London's campaign launch to make a bid of his own.
Johnson was forced out of the race with the move, while Conservative MPs threw their support behind Andrea Leadsom and May.
May was the last-contender-standing after Leadsom dropped out of the contest. The new prime minister plans to make a major and much-awaited speech on her government's Brexit strategy on Tuesday 17 January.
May's Brexit speech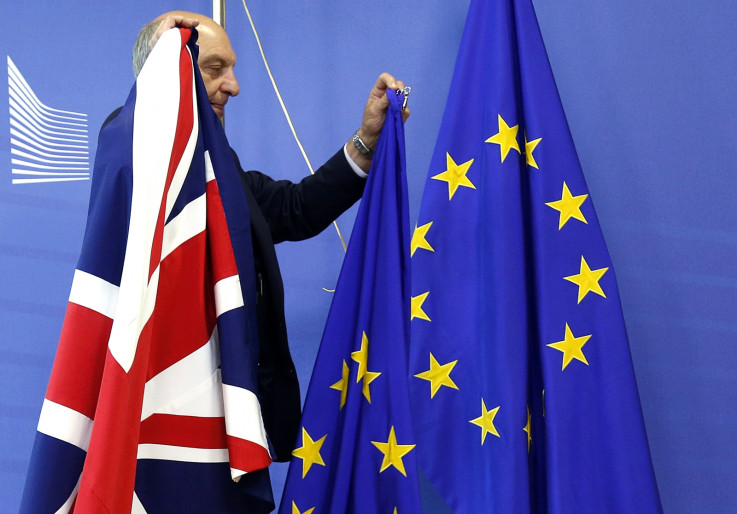 Reuters
May is expected to signal that the UK plans to quit the EU's customs union and drop full access to the bloc's single-marker in a bid to curb immigration rules.
"The overwhelming majority of people – however they voted – say we need to get on and make Brexit happen," the prime minister will say.
"Business isn't calling to reverse the result, but planning to make a success of it. And the House of Commons has voted overwhelmingly for us to get on with it too.
"So the country is coming together. Now we need to put an end to the division and the language associated with it – Leaver and Remainer and all the accompanying insults – and unite to make a success of Brexit and build a truly Global Britain."
Reports that May will call for a so-called "clean Brexit" were welcomed by the likes of Leave Means Leave, but Liberal Democrat leader Tim Farron warned the UK was heading towards a "destructive Brexit".
"This is an incredibly reckless move by Theresa May," he said. "It will harm the country for generations to come. The Conservatives once claimed to be the party of business, that record is in tatters."
May is expected to give the address to representatives from around the world at Lancaster House, London.
The Grade One-listed mansion is the property of the Foreign Office and is steeped in political history, including the 1979 Lancaster House Agreement between Zimbabwe's Robert Mugabe and Margaret Thatcher's government.
The prime minister has promised to invoke Article 50, the mechanism to break from Brussels, by the end of March 2017. But the Supreme Court is still yet to rule on whether MPs should have a vote on the issue. A judgement is expected in January.
Barry Gardiner MP, Labour's Shadow Secretary of State for International Trade, said: "A strong bilateral trade relationship with the United States is very much in Britain's interest. But the danger is that the Government ends up sacrificing key sectors of British industry in order to get a deal done quickly.
"Labour want a deal that creates opportunities for our SMEs to access the US market, not just a deal that works for big multinationals.
"We want a deal that protects the NHS from big American healthcare companies; a deal that preserves our high food safety standards; a deal that safeguards our environmental and social standards, as well as offering protection for workers."