A jaunt from Bond street station, this is distinct Mayfair territory, a stone's throw from the venerable Connaught Hotel, celebrity haunt Scott's and some of London's chicest fashion boutiques, welcome to Mount Street. Fully launched in December 2015 after a soft start, 8 Mount Street is a modern, European, Marble and metal brasserie. Created by executive chef, Adrian Mellor, who once worked as a private chef to the King and Queen of Jordan, it is fair to expect good things.
Our verdict
The metal and marble is pristine and sparkling, doormen are waiting at the entrance to grab your coat as soon as they can. Luckily, there\'s a barman to keep your guest occupied if you\'re running a bit late (oh dear). The evening started for my guest with a \"very tasty\" amaretto sour in the bar on the lower floor, tucked under the stairs.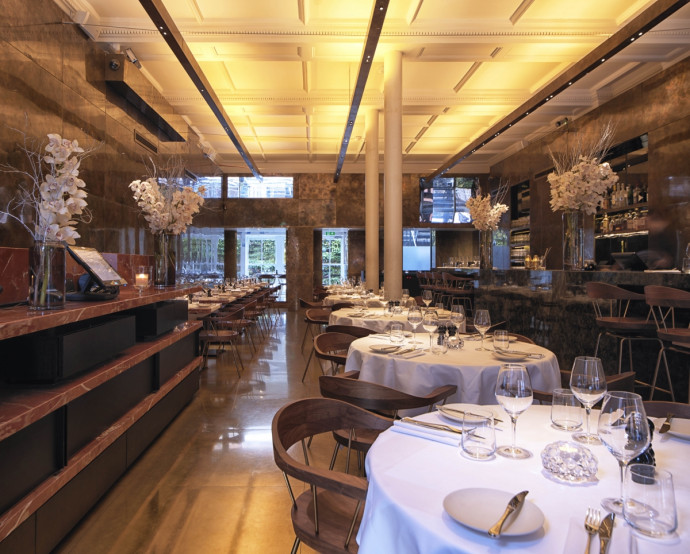 The feel of the restaurant gets to you quickly - it is slick in a traditional sense; modern and simple without being dull. They are not trying to mesmerise you with gimmicks neither have they skimped over the ambience. The food remains the main focus but they have not forgotten that your environment is going to affect your visit just as much.
Of course, it needs the food; a pecorino crème brûlée, aged balsamic & red onion marmalade starter was sweeter than expected and a rich starter which was great to dip and scoop with accompanying toast. On the other side, the burrata with datterini tomatoes, basil, lemon and honey was creamily delicious. Unfortunately, with the switch to the spring menu, the crème brûlée was no longer available but with scrambled eggs with truffle; fresh crab, and grilled squid amongst the list to choose from, you will still be on to a winner.
After a good starter, the mains took a little longer, the Dover Sole they had prepared had too much roe so they were working on another, a moment of attentiveness to show the quality of care. When the Sole eventually arrived, cooked with brown butter and chives, it had been worth the wait, simplicity that allowed the taste of the fresh fish to be quietly accentuated. Across the table, the wild mushroom, rigatoni, truffle and tarragon went down equally well.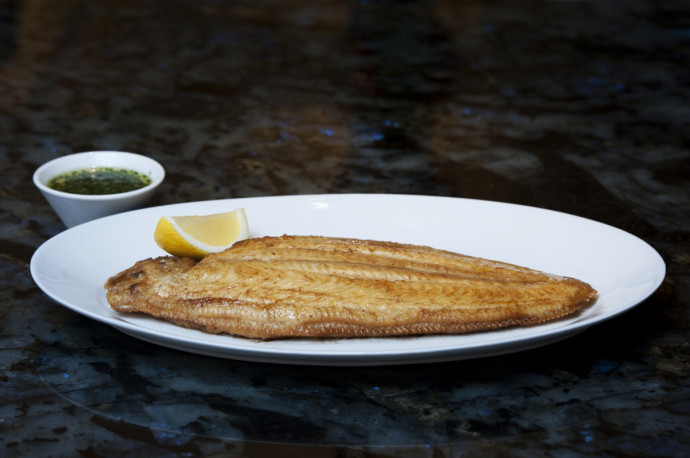 Alongside the mains, the panache of seasonal vegetables was a good addition to the table but the spinach, oh the spinach, steamed then cooked with butter, was somehow just incredible. When this was mentioned to the manager, he almost sighed, this was obviously something he was accustomed to hearing. Maybe the spinach side is not where you want your compliments to come from.
For dessert, the wonderfully thrice-named Apple, Apple, Apple was an apple mousse, crumble and ice cream, all of which could have stood on their own. Along with good desserts, a whiskey list that included Van Winkle, which I had been looking forward to, rounded off everything wonderfully.
Address - 8 Mount Street, Mayfair, London, W1K 3NF

Times - Monday to Saturday: 12pm- 3.30pm; 6pm-10.30pm

Telephone - 020 74917078

Website - 8mountstreet.com

Menus - Here

Prices ≈ £48 for three courses without drinks
Though, at some point in the evening, you will probably have to visit the conveniences. I would not think it useful to mention the gents at all if they were not so arresting. Jet black urinals against a blood-red wall with fluorescent tube lighting. The one strange decor that did not seem to go with anything else in the establishment.
At around £48 for three courses without drinks, it is not a cheap option. Some might worry that there is not enough faff for their buck, but good food, cared for, in a great setting should be celebrated. Even the peculiar bathroom can be overlooked with courteous staff, great food and an excellent drinks list. It is well worth a visit.
NOTE: James Tennent's meal was courtesy of Jori White PR