Nigerian President Muhammadu Buhari, who met the 82 freed Chibok schoolgirls on Sunday (8 May), said that the government is determined to free the remaining girls from the captivity of Boko Haram Islamist militants.
The Nigerian government said it was dedicated to the release of all hostages held by Boko Haram. The militant group has used kidnapping as a weapon of war against Western influence in Nigeria.
Armed soldiers accompanied the girls to the reception in the capital city. At the meeting, the president welcomed the girls in the capital city of Abuja and said: "I cannot express in a few words how happy I am to welcome our dear girls back to freedom. On behalf of all Nigerians, I will like to share my joy with you."
Buhari's spokesman Femi Adesina said: "The president has said that as many of the girls are alive; his administration will strive to get them back.
"So 21, and 82 now, plus three that were recovered by the military, till the very last of the girls are recovered, the Nigerian government will stay on the matter."
The welcome ceremony of the girls with the president came shortly before the 74-year-old leader left for the UK for a medical consultation amid concerns over his health. This is Buhari's second visit to London in 2017 after he returned in March after spending 51 days on medical leave.
His illness has not been disclosed yet, but concerns about his health have grown in recent weeks after he missed a number of cabinet meetings, the BBC reported.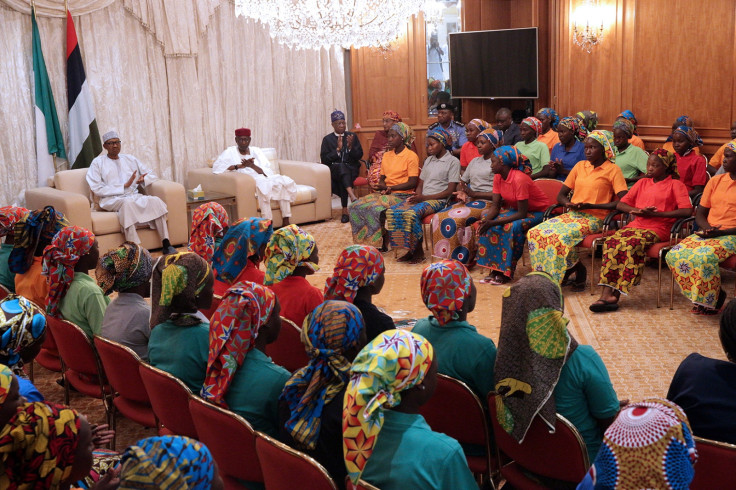 The release of the girls was the largest since Boko Haram fighters stormed a school in the north-eastern town of Chibok on 14 April 2014 and abducted at least 256 teenage girls. The girls were handed over on 6 May in exchange for militants after negotiations.
In October 2016, another 21 girls were released after negotiations mediated by the Red Cross; however, there are still over 100 girls being held captive by the insurgents.
The mass abduction provoked a global outcry and a social media campaign, supported by the then US first lady Michelle Obama with the hashtag #bringbackourgirls, was started.
President Buhari also promised to help freed girls and pledged to "personally supervise" authorities charged with ensuring the girls' "health, education, security and general well-being".