Nigeria's terror group Boko Haram has kidnapped 22 women and girls during raids in villages across the country's northeast. The terrorists first kidnapped 18 women from the village of Pulka, near the border with Cameroon, on Thursday (30 March).
Another four women and girls were kidnapped outside the village of Dumba, near Lake Chad after terrorists killed one herdsman who refused to pay protection money.
"When the Boko Haram gunmen came for the money they realised he had left with everything and they decided to go after him on their motorcycles," a witness told news agency AFP.
"They caught up with him near Dumba where they slaughtered him and shot dead 50 of his cattle. They took four women from the man's family and the rest of the herd," he continued.
Most of the girls are thougth to be aged 17 and below. Residents fear they will become brides for the fighters.
It is believed the terrorists belonged to the faction of former Boko Haram's spokesperson Abu Musab al-Barnawi, who was appointed as new leader by Boko Haram's ally, the Isis terror group, in 2016.
Barnawi is also the son of the groups' founder, Mohammed Yusuf, who died in police custody in 2011.
The appointment created friction within Boko Haram. There are now at least three factions loyal to different leaders, including Abubakar Shekau, who has been controlling the group since 2009.
Who are Nigeria's Boko Haram terrorists?
Boko Haram, which has renamed itself Iswap, fights against Western influence in Nigeria and aims to impose its version of Sharia law throughout occupied territories.
The group launches attacks in Nigeria and neighbouring countries in a bid to take control of more territory. Three Nigerian states − Adamawa, Borno and Yobe − have been under a state of emergency since May 2013.
Boko Haram has killed more than 20,000 people since 2009 and was deemed the world's deadliest terror group, surpassing Isis in November 2015. Nigeria has also become the world's third-most terrorised country as a result of the group's violent insurgency.
Following his appointment last year, Barnawi criticised Shekau for, among other things, killing Muslims and allowing the use of children in suicide bombing missions.
Barnawi and his right-hand man Mamman Nur – who is seen as the real leader and has strong connections to Boko Haram's splinter group Ansaru – promised they would not kill civilians unless they collaborate with the Nigerian army.
"They didn't harm anyone during the raid and they made no attempt to shoot people running away from the village," a resident was quoted as saying.
In the past few weeks, the new faction raided villages to steal food and medicines and killed some civilians accused of collaborating with authorities, AFP said.
Both the Nigerian government and army have often claimed the fight against Boko Haram was over.
However, security analysts have pointed out that declaring a victory over the group is premature, given that Boko Haram is still able to carry out attacks and recruit people.
Experts also warned that underlying issues such as disenfranchisement, poverty and strong links with Isis would continue to pose major threats to stability in the region.
---
Nigeria up close: Check out our Flipboard magazine
---
Chibok girls anniversary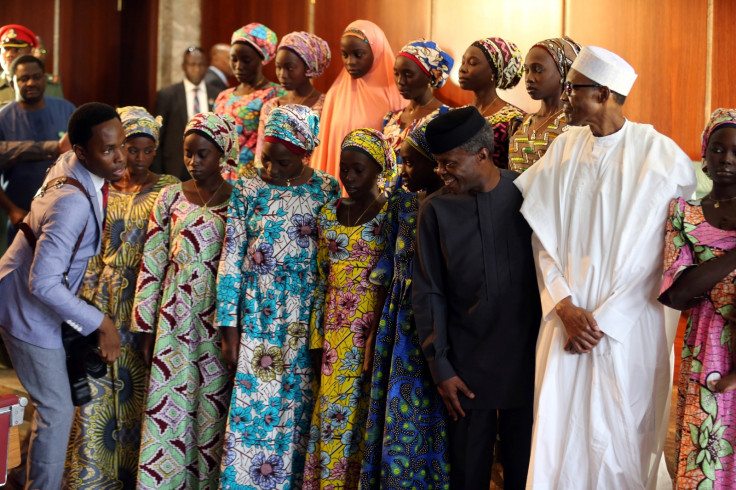 The latest abduction came days before residents are set to commemorate the third anniversary since nearly 300 girls were abducted from a school in Chibok village, Borno state, on 14 April 2014.
Shortly after the mass-abduction, some 50 girls managed to escape. Two Chibok girls were rescued by the army in November and May 2016 and a Boko Haram faction released another 21 girls following negotiations brokered by Switzerland and the Red Cross.
Another one was rescued in January 2017.
Although the Chibok abduction was not the first mass kidnapping carried out by Boko Haram, it was the only one that attracted international outrage.
It led to the creation of the global movement Bring Back Our Girls, which shone a spotlight on the deadly insurgency of Boko Haram that had previously been under-reported.
---