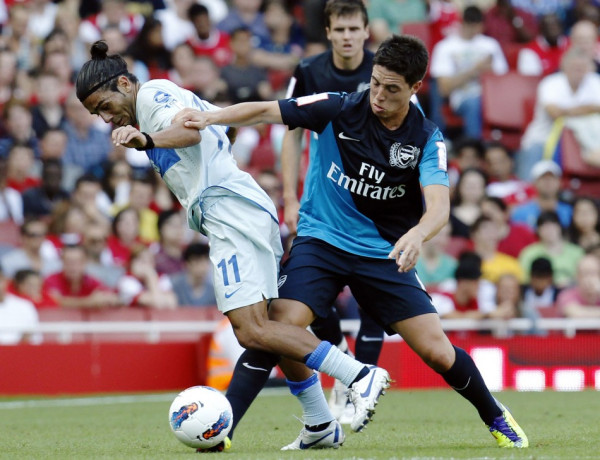 The pick of today's Premier League, Serie A, La Liga and Bundesliga football transfer rumours, news and gossip for 9 August, 2011. All the latest transfer rumours surrounding Man Utd, Chelsea, Arsenal, Liverpool, Tottenham Hotspur, Manchester City, Bayern Munich, AC Milan, Inter Milan, Juventus, Roma, Barcelona and Real Madrid will be covered here.
Premier League
Arsenal have opened the metaphorical door for Samir Nasri and given him directions to the City of Manchester Stadium with instructions to wire £25m back to the Emirates when he arrives. The 24-year-old Frenchman is set to join Roberto Mancini's snappily named "Manchester City Revolution" after refusing to sign a new contract at Arsenal. Thrifty manager Arsene Wenger has further irked Gunners' fans after finalising a deal to bring posh winger Alex Oxlade-Chamberlain to north London in a £10m deal. Pete Wood, who runs Arsenal fans' website Le Grove, told the Daily Mirror: "It's just amazing that we've spent the whole summer trying to buy Gary Cahill or Chris Samba but have been told that we won't pay over the odds. But we will pay top dollar for a young talent who has been playing in League One?"
Across the capital, Chelsea are ready to hunker down and go mano-a-mano with Parisian playboys PSG over Porto wing-back Alvaro Pereira. While up in Liverpool, Kenny Dalglish will offer £8m and a cow pie for Birmingham defender Scott "Desperate" Dann. But the Reds manager faces a further headache in midfield, with Christian Poulsen determined to stay and fight for his place at the club: "I am a Liverpool player for the coming season," he said.
Back in London, Tottenham boss Harry Redknapp has failed in his attempt to bring in Real Madrid midfielder Lassana Diarra after the La Liga side "slapped" a £20m price tag on the France international. But Spurs will make one final bid to sign Manchester City striker Emmanuel Adebayor, with Redknapp "desperate" to sign the former Arsenal striker.
Wesley Sneijder reamains coy on his future. Asked if he was keen on a move to Manchester United, Sneijder has said: "Yes, but nobody has called officially. Maybe there have been unofficial talks."
La Liga
Jose Mourinho is also interested in Spurs-target Adebayor and has turned his attention to the City outcast after Santos striker Neymar confirmed his intent to remain in Brazil with the Brazilian club to contest the Club World Cup in December. Real Madrid are ready to offer one Fernando Gago in exchange for the Togolese forward.
Serie A
Udinese have targeted Liverpool midfielder Raul Meireles after losing Gokhan Inler to Napoli. Reports suggest the Reds have rejected a €12m bid for Meireles but are amenable to a deal closer to €15m for the Portugal international.
Meanwhile, Chievo have confirmed their interest in signing Juventus striker Amauri. Sporting director Sean Sogliano told Il Giornale di Sicilia - via ESPN: "He is certainly a suggestive name, he did very well at Palermo in the past. He's someone that interests us and we know that he's willing to come, but Juventus are in the middle of this too."