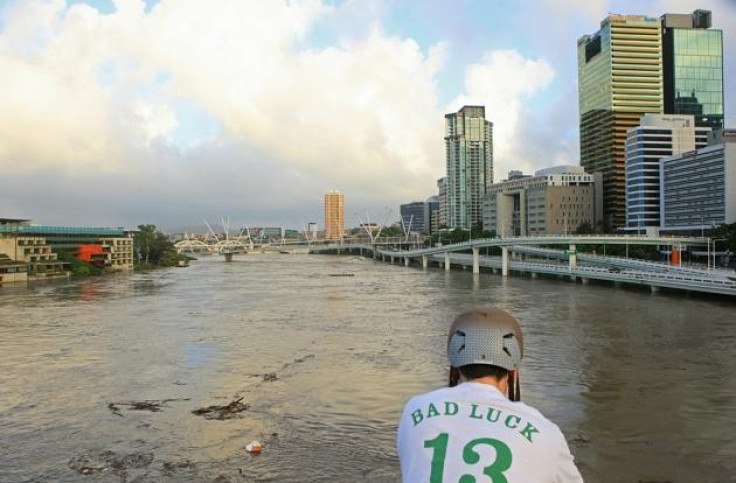 On 17 December 2010, a 26-year-old street vendor in Tunisia, Mohamed Bouazizi, set himself alight in protest at government confiscations of his goods and other alleged abuses. Local disturbances in support of Mr Bouazizi became national after his death on 04 January 2011.
These disturbances swept Tunisia's President Zine Ben Ali from power on 14 January 2011 and the ensuing unrest throughout the Muslim world which followed, swept all other headlines off the front pages of the world's media for almost two months. One of the "forgotten" former headline stories was the catastrophic flooding in Queensland, Australia. Here is a snippet of what has been happening.
Noticeable flooding started to occur in Queensland in early December 2010 and did not start to recede until mid to late January 2011 by which time the plight of the State had become world news. Dozens of people have died with others missing, much of Queensland's agriculture - crops and livestock - has been ruined, leading to a sharp rise in Australian food prices and with most of the State's coal mines flooded, not only has Australia been denied a valuable export, but energy shortages have occurred due to the lack of fuel at several coal-fired power stations causing knock-on effects to industrial output.
The most intense rainfall occurred between 25 and 27 December 2010, when a monsoonal trough crossed the Coral Sea causing a deluge along the whole Queensland coast, from the Gulf of Carpentaria to the Gold Coast on the New South Wales border.
On 01 January 2011, Brisbane's Courier-Mail was reporting that many areas had received up to six times the average rainfall for December. North of Mackay, Mt Jukes received one meter of rain. Gin Gin, a small town 30 miles west of Bundaberg got 80cm of rain when 12.15cm is the average expected. Near Gladstone, 82.12cm fell, "well above" the average of 13.88cm.
The big urban centres did not get off lightly either. Almost 48cm fell in central Brisbane, Australia's third largest city, when 13.33cm can be expected, and 49cm on the Gold Coast which averages 13.72cm.
Although rainfall peaked before the New Year, the downpour didn't let up and in much of the State the word "river" ceased to convey its normal meaning. South and east Queensland formed an immense lake.
At Emerald on the Nagoa River, the water level was 51 feet above its normal level. The waters of the Fitzroy River rose 30 feet at Rockhampton, a major centre for industry, agriculture and services with a population of 77,000. The Burnett River at Mundabbera peaked at 59.9 feet above normal and at Gatton, the Lockyer Creek recorded an unsurpassed height of 62 feet.
At its peak, flooding affected an area the size of France and Germany combined - about half the area of Queensland - and this resulted in approximately three-quarters of the State being declared a "disaster zone". Surveying the devastation in part of the Lockyer Valley, the area's mayor, Steve Jones, told the Toowoomba Chronicle on 11 January 2011 when the waters had receded considerably: "If you dropped an atom bomb on it, you couldn't tell the difference."
Needless to say, clearing up and rebuilding has been a mammoth task and will continue to be for several months and in some cases years into the future. Ipswich, "the cradle of coal mining in Queensland" is a city council area of 163,000 people some 25 miles from Brisbane City Centre. The city is an important one with over 18 per cent of its workforce employed in industry and manufacturing.
On 25 March 2011, Mayor Pisasale was able to report that A$25 million of repairs to the Council's infrastructure had already been completed concentrating on the worst hit areas of the City. Repairs to roads and drainage is already in hand for completion by the end of 2011 and will cost a further A$54 million.
Before all necessary repair is affected, Mayor Pisasale expects the bill to reach A$120 million. These are figures for the restoration of Council property and infrastructure and take no account of individual claims. An early indication of just how high claims from individuals might be came as early as 11 February 2011, when ABC News reported that the Insurance Council of Australia was dealing with 43,000 claims valued at over A$2 billion.
On a more human note, Gabrielle Dunlevy in Friday, 29 April 2011's Sydney Morning Herald reports on helicopter pilot Mark Kempton's efforts to rescue people in the Lockyer Valley community of Grantham, Queensland. Speaking in front of the Queensland Floods Commission of Inquiry, an at times emotional Mr Kempton, who helped save 28 people in the town, described the conditions his crew faced as "horrendous".
The men aboard the flight couldn't believe their eyes he told the Commission, as Grantham had just been swamped by a wall of brown water that killed at least 17 people and the homes left standing were dotted with stranded survivors.
Mr Kempton's helicopter was the only one available in Grantham that afternoon of 10 January 2011, yet survivors would point his helicopter towards other, worse off, people they could see. "It was just a very difficult scenario to come up against, to see people who were trapped and smashed and had their properties destroyed, and still being thoughtful and kind, and human enough to say: 'No, don't get me, get those people in the trees'".
He went on to say that he shared the feeling of helplessness felt by all the helicopter pilots: "They're watching people die and they can't do anything about it.
"That as a helicopter pilot...is a terrible, terrible thing."
The crew found it most frustrating having to return to refuel after two hours and Mr Kempton told the Inquiry that he was still troubled by thoughts of those he left behind. Picking up one survivor, Matthew Keep, who had become separated from his family, the man begged the crew to return to his home. Able to save five-year-old Maddison and four-year-old Jacob, baby sister Jessica was swept from the arms of their mother, Stacey, whilst being winched aboard.
The Australian Government estimates that the Queensland floods will set GDP back a whopping A$30 billion and The Sydney Morning Herald on 03 May 2011, reports that Australian house prices fell by 1.7 per cent in the first Quarter and 2.5 per cent in Brisbane. But house prices can recover, homes rebuilt, infrastructure restored and crops re-sewn. The real story is coming to light through the likes of Mark Kempton.
© Copyright IBTimes 2023. All rights reserved.