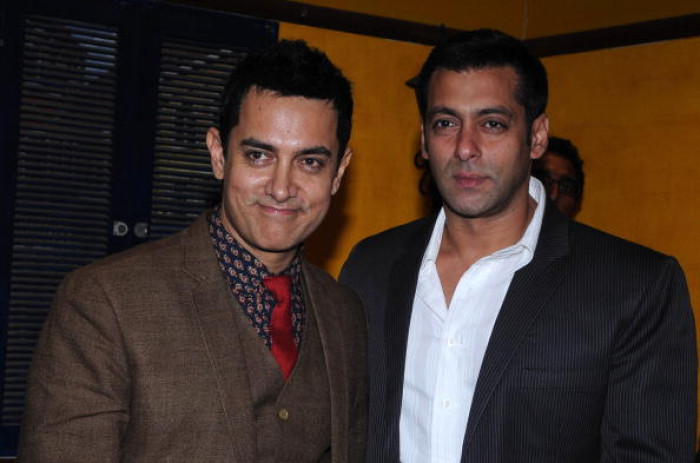 Aamir Khan recently unveiled a muscular look for his upcoming movie Dangal, and since then the actor has received heartfelt praises from fellow actors and fans for his fitness regime. However, it seems the Bollywood actor is a fan of Salman Khan when it comes to fitness and bodybuilding.
Gushing about the co-star of his 1994 comedy film Andaz Apna Apna, Aamir lauded Salman for his arduous efforts to achieve an "ideal" body. "I've always been a fan of Salman as an actor, and of his body as well. He has had a lean, muscular and cut-up body from the very beginning of his career. So, I've always been a fan of his body, and his fitness," the 51-year-old Indian actor was reported as saying on the sets of Dangal in Ludhiana, Punjab.
The PK actor even went on to compare his physique with that of Salman's, "I don't think my body is as good as his. For me, he is the ideal, and I try to come close to him. He is the original bodybuilder of the industry," he said.
Interestingly, two of Bollywood's well-known Khans are both starring in a wrestling-oriented movie and hence the natural comparison, pitting one against the other. However, Aamir asserts that both the movies are very different in terms of their storyline.
"I am really excited to watch 'Sultan' because every film of Salman is entertaining to watch. We enjoy his films a lot. Despite wrestling being a common aspect in our films, the story of our films is different," he added during the interactions.
The actor of the Oscar nominated movie, Lagaan was all praise for Salman's upcoming movie, Sultan. "I loved the teaser and promo of the film and also the song, which has been coincidentally shot in Punjab," he said.
Meanwhile Aamir shed some light on the plot of Dangal as well, which is currently under filming. According to the actor "the film goes beyond wrestling."
"The film is filled with emotions. It is socially relevant and entertaining at the same time," he said of the movie that tells the story of Indian wrestler Mahavir Phogat and his struggles.
Aamir's Dangal hits theatres on 23 December.