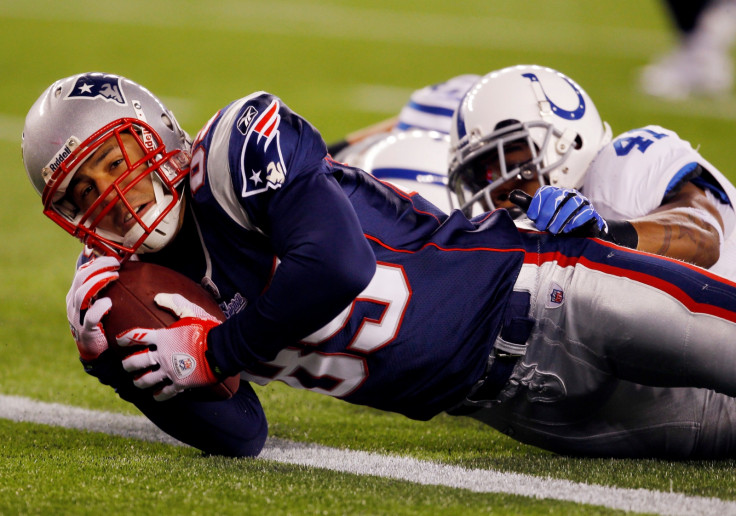 The death of former NFL player Aaron Hernandez was officially ruled a suicide on Thursday (20 April), the Worcester County District Attorney's Office announced. The news comes as his lawyer and family claim the Massachusetts medical examiner is "illegally" holding on to Hernandez's brain.
Jose Baez, the Hernandez family attorney, announced on Thursday he may file a lawsuit against the state's medical examiner's office for allegedly refusing to turn over Hernandez's brain to Boston University for a study, NBC News reports. "It is our position that they are holding Aaron Hernandez's brain illegally," Baez said during a news conference.
Baez told reporters the family plans to donate the former New England Patriots' tight end's brain to the university to advance research into chronic traumatic encephalopathy (CTE). NBC News notes that CTE is a degenerative brain disease that has been linked to athletes who may have suffered head trauma and concussions.
The disease, which can only be diagnosed after death, can cause memory loss, disorientation and speech impairment. Those affected are possibly more susceptible to committing suicide, doctors have found.
According to NBC News, several football players have been diagnosed with CTE, including New England Patriots linebacker Junior Seau, Pittsburgh Steelers centre Mike Webster, and New York Giants running back Frank Gifford.
Baez said the family has received the rest of Hernandez's body but his brain has been kept for the medical examiner's own study. Secretary of Public Safety and Security Dan Bennett said the office was conducting an investigation into the circumstances surrounding Hernandez's death.
"No one is going to stand in the way of the family's wishes for Boston University to have Aaron Hernandez's brain," Bennett said in a statement.
Baez said Hernandez's family will also seek an independent autopsy, reports the Associated Press (AP). "If we don't get answers and answers quickly, we're going to court," she said. "It is literally a destruction of evidence."
Massachusetts chief medical examiner, Dr Henry N Nields, concluded the "manner of death was suicide and the cause asphyxia by hanging". In a statement, the district attorney's office said, "There were no signs of a struggle, and investigators determined that Mr Hernandez was alone at the time of the hanging."
Suicide notes and spilled shampoo
Investigators found three handwritten notes next to an open Bible in Hernandez's single cell at Souza-Baranowski Correctional Center in Shirley, Massachusetts, WCVB reports. He was serving life for the 2013 first-degree murder of fellow football player Odin Lloyd.
The notes were written to his fiancee, Shayanna Jenkins-Hernandez, the couple's 4-year-old daughter, Avielle, and his legal team. In them, he asked his loved ones not to shed tears but did not give a reason why he committed suicide.
According to WCVB, there were several drawings in blood on the cell walls, including a reference to the Bible verse John 3:16. The verse was also written on his forehead in ink and the Bible was open at that page.
John 3:16 reads: "For God so loved the world that he gave his only Son, that whoever believes in him should not perish but have eternal life."
Hernandez reportedly used cardboard to block his door and keep officers from coming into his cell. Sources told WCVB that water and shampoo were also found on the cell's floor.
The 27-year-old was found hanging from a bed sheet in his cell around 3am EST (8am GMT) on Wednesday (19 April). He was pronounced dead at UMass-Memorial Health Alliance Hospital in Leominster about an hour later.
The Samaritans provides a free support service for those who need to talk to someone in the UK and Republic of Ireland. It can be contacted via Samaritans.org or by calling 116 123 (UK) or 116 123 (ROI), 24 hours a day, 365 days a year.
If you or someone you know is suffering from depression, please contact a free support service at Mind.org.uk or call 0300 123 3393. Call charges apply.