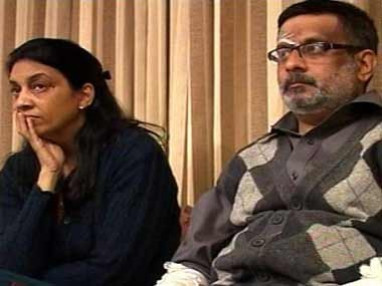 Indian dentist parents Rajesh and Nupur Talwar have been found guilty of murdering their 14-year-old daughter Aarushi Talwar and their servant Hemraj, five years after the incident took place in an upscale New Delhi locality.
The couple has also been found guilty of tampering with evidence and of other charges. The sentencing will be announced on Tuesday, 26 November.
The crime carries a minimum punishment of life imprisonment and a maximum punishment of death sentence.
The murder trial gripped India after several twists and turns in the case.
Even as the verdict was being pronounced by a specially-appointed CBI (Central Bureau of Investigation) court in New Delhi, the couple broke down.
"We are deeply disappointed, hurt and anguished for being convicted for a crime that we have not committed. We refuse to feel disappointed and will continue to fight for justice," the convicted duo said in a statement.
They are likely to appeal against the verdict in higher courts.
Security was beefed up outside the court building considering the sensitive nature of the case.
In May 2008, Aarushi was found in her room with her throat slit. The parents blamed their servant Hemraj for the murder but mystery deepened when Hemraj's body was also found a day later.