Aberdeen Asset Management Set to Deliver Strong H1 Performance, Added to Brokers 'Buy' List
Driven by the recovery in investor confidence and risk appetite, Aberdeen Asset Management reported net new inflows of £1.4 billion during the first two months of 2012. The group is scheduled to release its interim results for the six months ended March 31 on Monday, April 30.
"We remain bullish on equity markets, in particular Global Emerging Markets and Asia. We would see any dips as an attractive buying opportunity for our favoured stocks: Aberdeen (Asset management) and GAM Holding," said Citigroup in a note to its clients.
"Demand remains high for the group's products and revenue/operating margins are being pushed higher," said Peel Hunt while commenting on the trading update. It raised the rating on shares to "Buy" from "Neutral" and maintained target price of 280 pence per share.
The international asset management group said outflows in fixed income products have slowed considerably from previous quarters and it sees positive investor interest for both emerging market debt and for short-term Asian local currency product.
"The numbers make for another good statement. The company continues to win high margin (60-90 basis points) EM, Asia Pacific and Global equities business whilst losing modest low margin mainly developed market fixed income business (20-30 basis points)," said Numis Securities to Reuters. It retained the stock among its top picks with a target price of 305 pence and recommended 'Buy' rating.
With its strong flows into global and Asia Pacific equities, the group said it is not prepared to compromise the quality of its portfolios and it is actively seeking to curtail the rate of inflows to more sustainable levels.
For the two months ended February, Aberdeen's assets under management increased to £184.4 billion from £173.9 billion at end-December as stock and bond markets rallied.
The group's gross new business flows increased to £6.5 billion, taking the total for the five months year to date to £14.4 billion, compared with £19.1 billion during the same period.
"These figures reflect the continuing theme of flows into higher margin products across the business. Performance remains strong and our disciplined investment approach means we are well placed to continue to deliver for our investors," said Chief Executive Martin Gilbert.
The manager also said it had recently been appointed to two new mandates in its property business, which it expects to fund during the second half of its financial year.
Aberdeen expects the net flows for the two month period to 29 February 2012 will add around £20 million of annualised recurring fee income. Even though the group is cautious on its outlook for stock markets, it believes it is well positioned to continue its progress.
Below is a summary of sector comparisons in terms of price earnings, earnings per share, dividend per share, dividend yields, return on equity and price-to-book ratio. The table explains how the company is performing against its peers/competitors in the sector. The table below represents top ten companies based on market capitalisation.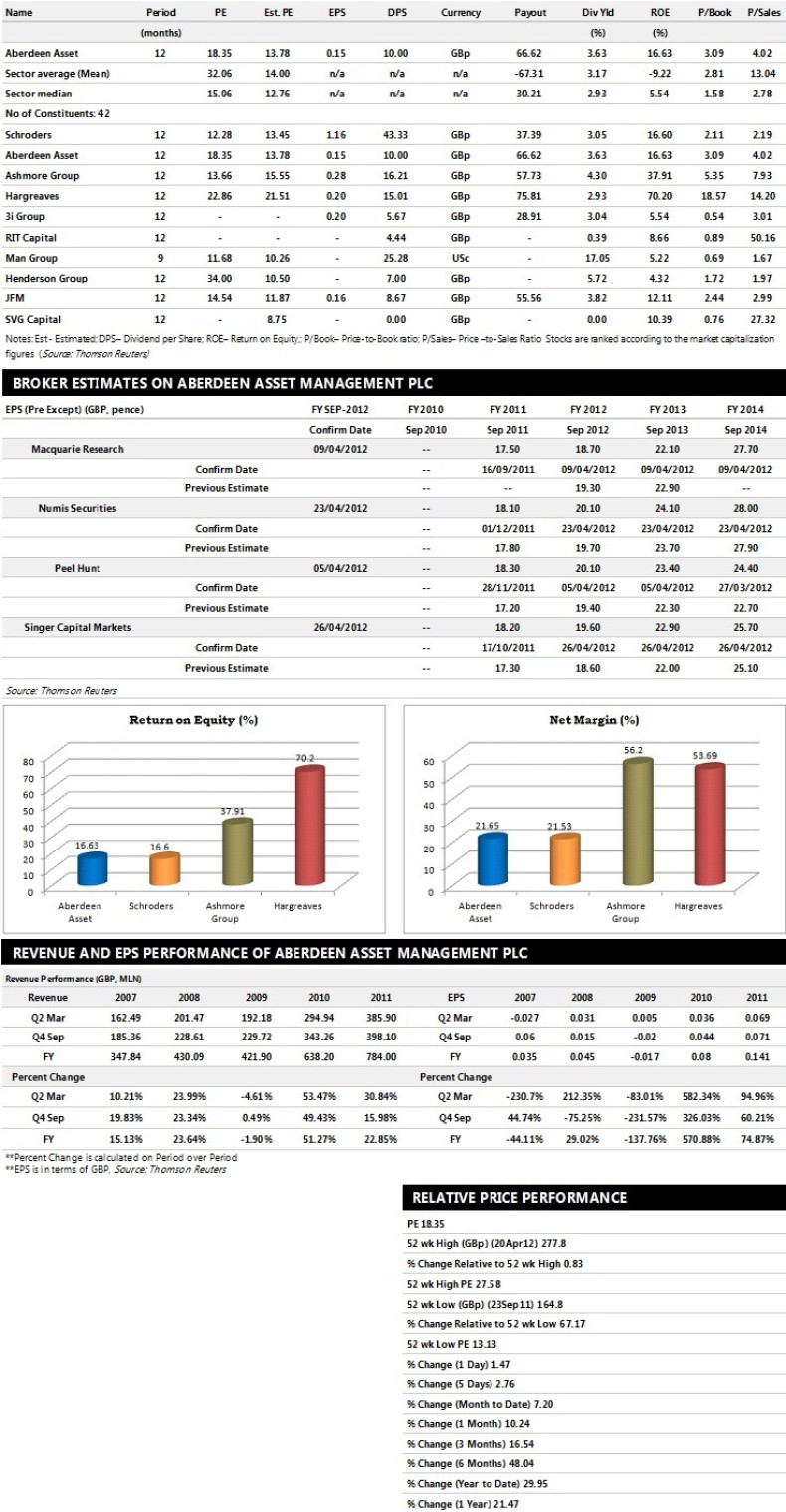 Brokers' Views:
- Singer Capital Markets gives 'Buy' rating with a target price of 315 pence per share
- Numis Securities assigns 'Buy' rating with a target price of 317 pence per share
- Canaccord Genuity recommends 'Buy' rating with a target price of 300 pence per share
- Macquarie Research assigns 'Hold' rating
Earnings Outlook:

- Singer Capital Markets estimates the company to report revenues of £815 million and £916 million for the FY 2012 and FY 2013 respectively with pre-tax profits (pre-except) of £315 million and £370 million. Earnings per share are projected at 19.60 pence for FY 2012 and 22.90 pence for FY 2013.
- Numis Securities projects the company to record revenues of £831.10 million for the FY 2012 and £951.80 million for the FY 2013 with pre-tax profits (pre-except) of £324.60 million and £389.50 million respectively. Profit per share is estimated at 20.10 pence and 24.10 pence for the same periods.
- Macquarie Research expects Aberdeen to earn revenues of £794.49 million for the FY 2012 and £889.68 million for the FY 2013 with pre-tax profits of £232.28 million and £285.85 million respectively. EPS is projected at 18.70 pence for FY 2012 and 22.10 pence for FY 2013.