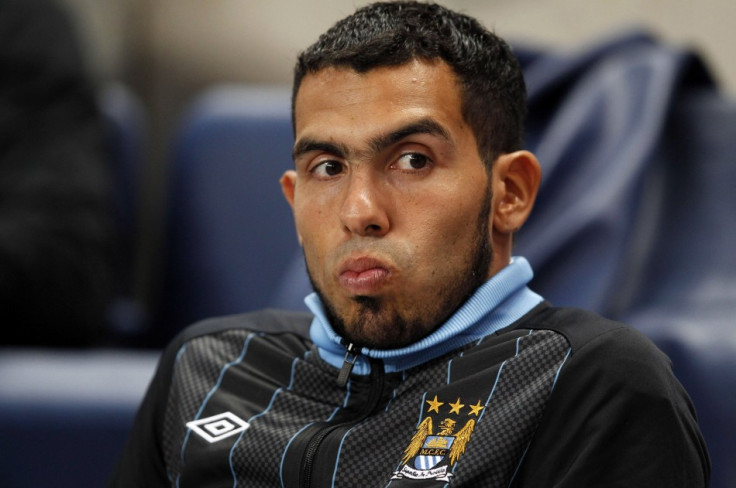 Carlos Tevez could be facing his second misconduct charge in as many months, if as expected, the controversial forward fails to report for training at Manchester City on Wednesday morning.
Despite choosing not to dispute his latest punishment for allegedly refusing to warm up against Bayern Munich in September, Tevez has seemingly once again found himself at loggerheads with Manchester City.
Eastlands officials recently granted the former West Ham United and Manchester United striker a few days leave at the start of the international break, but only on the condition he was back at Manchester City's Carrington training base by 10:30 on Wednesday morning. Having been pictured arriving in Buenos Aires on Tuesday, that now looks increasingly unlikely.
"He's gone to see his family," the player's spokesman Paul McCarthy, told Sky Sports News.
"We've said all along that Carlos is aware of the situation in terms of getting back to his fitness. I can't really say much more until he's back in the country."
According to The Times, Roberto Mancini had given a number of his players not involved in internationals, some time off on the proviso they were ready to train on Wednesday morning in order to gain match sharpness.
Tevez is reported to have made several pleas to be allowed to return to South America for the duration of the break, but the club demanded he continued to work on his fitness during his hiatus from first team football, which given Wednesday's likely events, looks set to continue.
Although Tevez was aware of Manchester City's instructions a source close to the Argentine indicated he is unlikely to return in time given his arrival in South America yesterday.
Tevez's Manchester City future was already looking bleak despite Roberto Mancini's recent offering of a reprieve to his former captain.
"Everything depends on Carlos," the City manager said at the beginning of the month. "If he apologies to the squad and to me then everything will be as before.
"If he doesn't then Tevez has a value that everyone knows and something will happen in January.
"He is totally unprepared and being badly advised. I don't want it to be like this and I would be the first to forgive him."
Tevez was initially fined four weeks wages, reduced to two on appeal, but should the increasingly marginalised 27-year-old fail to report for training on Wednesday, the striker can expect a further two-week wage fine in accordance with PFA guidelines.