Key Features:
13.3in display, 1366 x 768
1.7GHz Intel Core i5; 4GB RAM
256GB SSD
2 x USB 3.0; 1 x ThunderBolt; 1 x HDMI
MagicFlip I/O Port
Price as reviewed: £1,250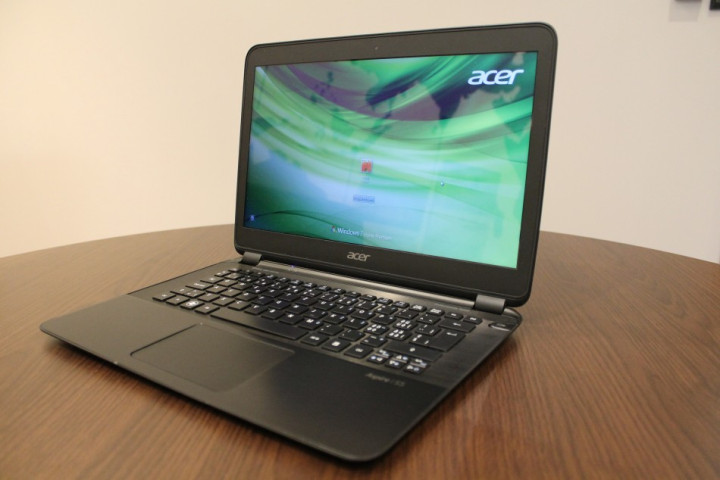 Introduction
Apple's MacBook Air may well be the undisputed king of cool in the ultraportable laptop class, but the Acer Aspire S5 - while lacking the sleek aluminium design - does have a couple of tricks up its sleeve.
Firstly, it's thinner and lighter than the 13in MacBook Air, measuring 15mm at its thickest, tapering down to 11.2mm at the front, which allows Acer to loudly proclaim it as "THE WORLD'S THINNEST LAPTOP."
But what really sets the S5 apart from the super-slim laptop crowd is its MagicFlip I/O Port - or, in plain English, a motorised flap at the back of the device that lowers to reveal its ports.
A press of a button above the keyboard, followed by a mechanical whirr, reveals two USB 3.0, HDMI and Thunderbolt ports. A gimmick? Maybe but more on that later,
Acer Aspire S5: Design and Connectivity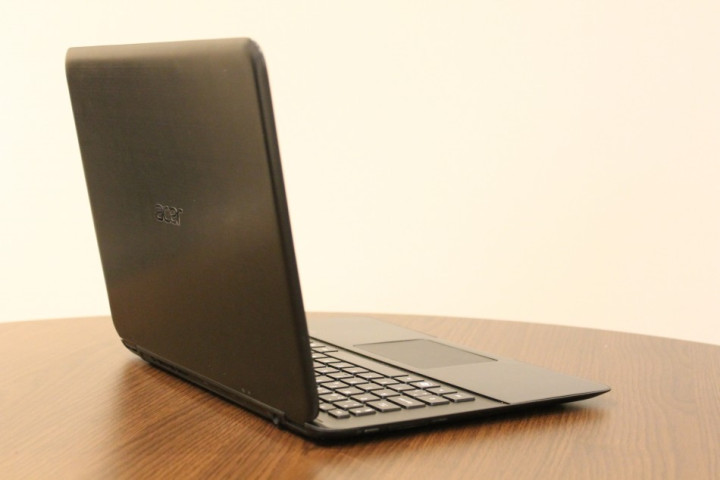 The Aspire S5 is all about design. With its slim profile and mechanical flap, it's clear that Acer has poured its resources into making the S5 the thinnest and lightest that it can possibly be.
But, while the novelty of a mechanical door hiding its ports is fun for about ten minutes, we soon decided that allowing the laptop to be a few millimeters thicker and placing its ports conventionally on the left and right sides makes a lot more sense. There's a reaosn pretty much every other laptop manufacturer does it you know.
Acer assured us that the MagicFlip would last as long as any other part of the laptop, but that still doesn't stop us wondered what would happen if it failed in the closed position - and how much it would cost to fix once the warranty has expired.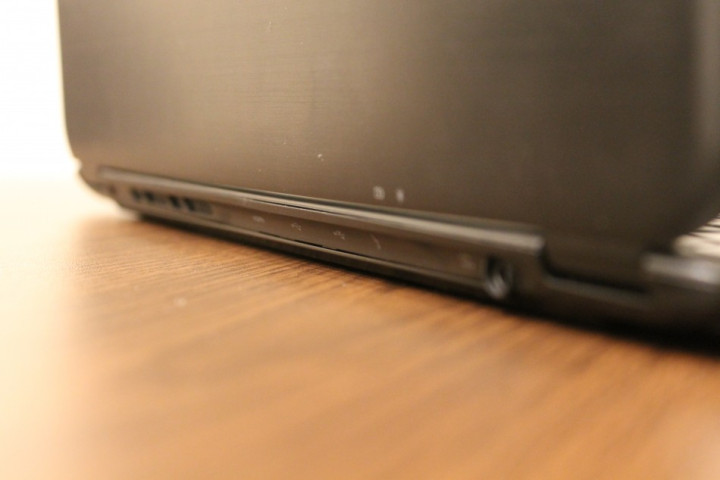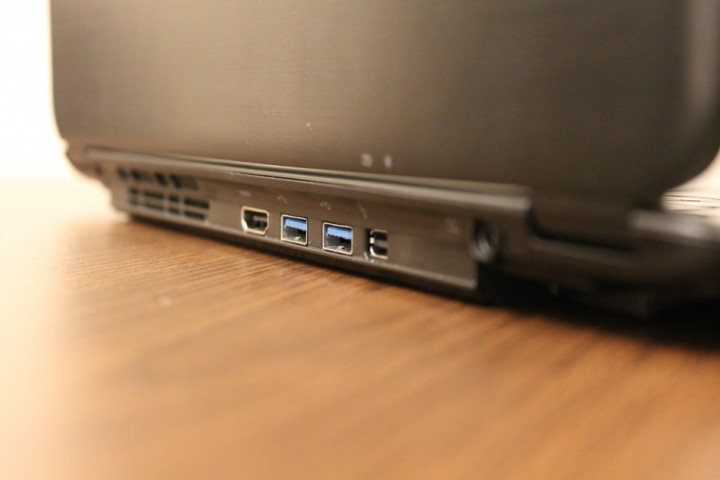 Mechanical novelty aside, we're not huge fans of laptops having their ports on the back anyway - it makes connecting and disconnecting cables and USB sticks more difficult that it needs to be.
We'd like to have seen more than just two USB ports - although this seems to be the norm for similarly-sized ultrabooks, and the S5 is one of very few laptops to feature ThunderPort, which until now has been almost unique to Apple machines since they adopted it in early 2011.
ThunderBolt offers huge data transfer speeds (up to 20Gbps on the S5), but there's only a handful of accessories that make the most of it, so we think Acer might have been better off installing a third USB 3.0 port instead.
Elsewhere, there is a headphone jack on the right side and the power button along with an SD card port on the left. Wireless connectivity is taken care of with Wi-Fi a/g/n and Bluetooth 4.0
The 13.3in screen has a resolution of 1366 x 768, which is less than some of its rivals, and above that there is a webcam.
Acer has gone for an onyx black magnesium-aluminium construction with the Aspire S5, which helps keep the weight down but means it doesn't quite have the premium feel of the MacBook Air, due to it not being cool to the touch, but that's hardly something to complain about - only the screen bezel is made of plastic, along with the keyboard and trackpad.
The construction Acer has used seems strong and should shrug off most knocks and the occasional falling bunch of keys and coins, but there is an amount of flex below the trackpad, where we found the S5 to bow slightly if we leant on it while typing. Not a massive issue, but annoying enough when you know it's there.
Tapering from 15mm (with the MagicFlip closed) to just over 11mm at the front, the Aspire S5 beats the MacBook Air at its thickest, but fails to taper anywhere near as much, making it less wedge-shaped.
Weighing 1.18kg, the S5 is lighter than the 13.3in MacBook Air by 170g.
Acer Aspire S5: Keyboard and TouchPad
Firstly, we should point out that our review unit had a German keyboard, so some keys were not in the usual QWERTY layout, so don't worry, if you buy an S5 in the UK the Z and Y keys will be in the right places.
Acer has gone for the familiar chiclet style of keyboard, with every key separated by a small space making typing easier and reducing the chance of catching two keys at once - below that is a smooth and responsive - but buttonless - 9.5 x 6.6cm trackpad.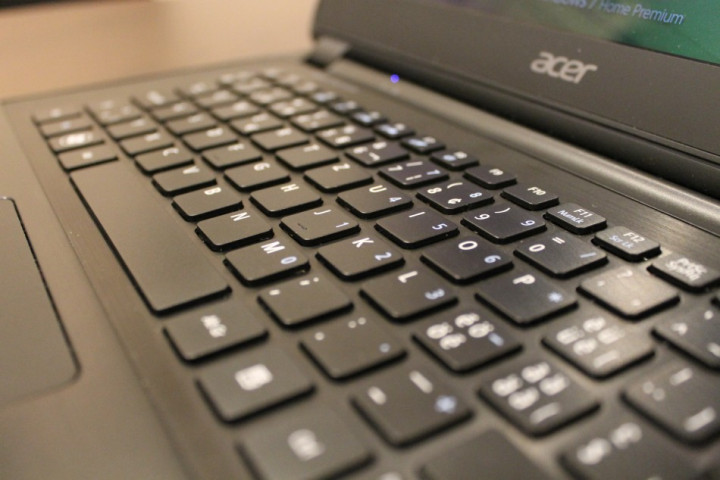 The keys are spaced well, but some could do with being made larger, and the lack of dedicated volume, screen brightness and media keys is a shame - to alter volume and brightness you need to press FN then one of the arrow keys.
Away from this, the keys are a pleasure to type on and we were soon typing quickly and accurately. One small issue we had was that the keys felt a little too soft and didn't provide enough tactile feedback - but then that could just be a personal thing.
Acer chose not to include backlighting on the S5's keyboard, which is a shame as, for us. it's a key feature and makes working in a dark conference room or on a flight at night, a pleasure.
As for the trackpad, we found it to be fast and responsive to our inputs and while the tap-to-click was good, actually pressing the trackpad was somewhat hit-and-miss.
Sometimes, clicks of the trackpad would not be registered, even though it was pressed down fully, and the clicking noise it produces sounds cheap. Thankfully, the tap-to-click recognition is good enough to make do without physical clicking most of the time.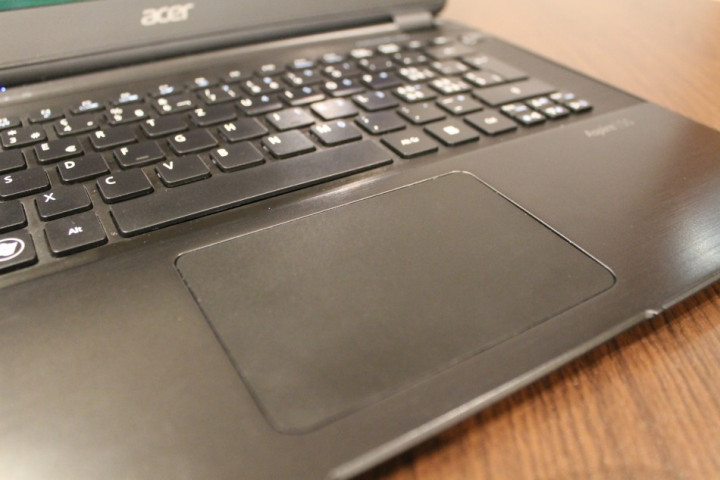 The trackpad has multitouch, so scrolling is done by dragging two fingers up and down, and pinch-to-zoom also works very well.
Finally, clicking the lower-right corner of the trackpad performs a right click, although tapping in the same area does not, while tapping anywhere on the pad performs a left click.
Acer Aspire S5: Screen
The 13.3in screen has a typical laptop resolution of 1366 x 768, which is less than the 1440 x 900 resolution offered by the 13.3in MacBook Air. In fact, the Acer has the same resolution of the smaller 11.6in Air.
Not only is it down on pixels, the Acer's screen doesn't seem as bright as other's we've seen and we found colours to be a little washed out, with blacks especially not appearing as dark as we'd hoped. Added to this, whites have a blueish tinge to them, making everything appear cooler.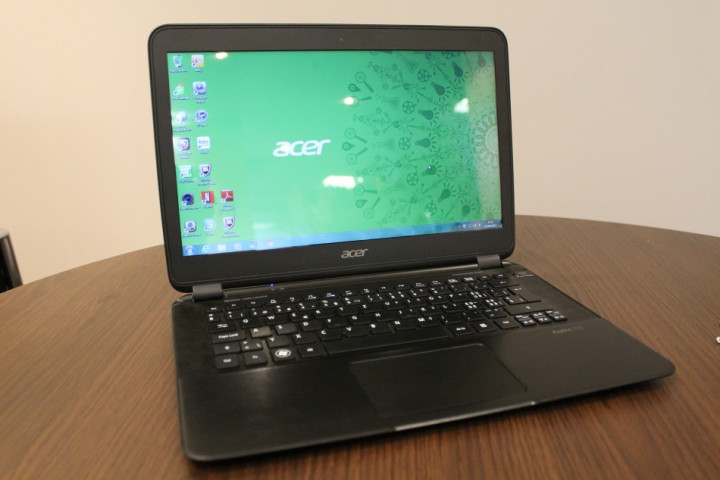 While Acer has done a good job at making the S5 as slim and lightweight as possible, the laptop is let down a little by the large screen bezel. It's not too bad on the sides, but the space above and below the screen makes it look like a larger display should have been used.
Acer has opted for a glossy finish to the S5's screen, which looks great indoors but struggles with glare and reflections when you're trying to work outside. Due to not being as bright, the Acer didn't perform outside as well as the brighter - but still glossy - Samsung Series 9.
There's also no auto-screen brightness like there is on most other high-end Ultrabooks, so you have to press the function key and left or right on the arrow keys to alter it.
Acer Aspire S5: Performance and Battery
Our Aspire S5 came with a third-generation Inel Core i7 chip, with the dual-core processor running at 1.7GHz, 4GB RAM and a 256GB SSD, which should provide it with enough power for most tasks, although the S5's processor is marginally slower than the otherwise indentical £1,250 13in Air.
Thanks to the super-fast SSD, the Aspire S5 boots up in just a few seconds, and wakes from sleep just as quickly - although after a few hours of sleep it enters a deeper sleep and takes a few more seconds to wake up.
You also need to press the power button to awake it from deep sleep, which is strangely located on the left edge, hidden from view.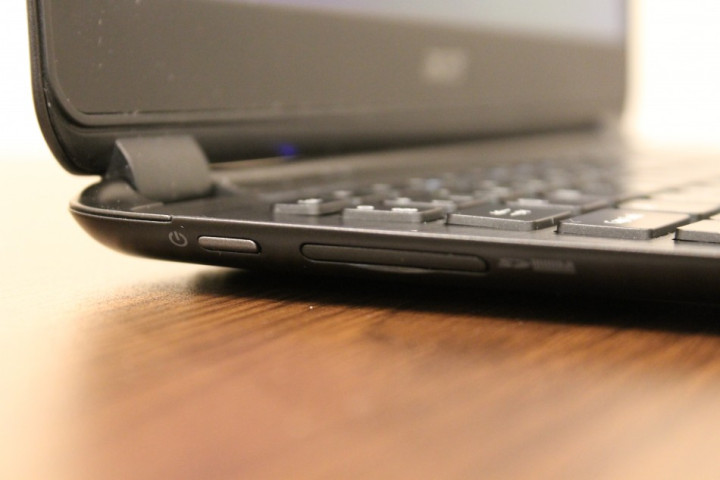 During our time with the S5, we found battery life to be impressive, with the laptop clocking up 4.5 hours of general use - this included browsing the web with multiple tabs open, word processing, and with screen brightness set at about 80 percent.
We recently tested the newest 11in MacBook Air, which managed a less-impressive 3.5 hours, although the Apple laptop remained quieter, as the Acer's fans would kick in and be fairly noticeable when we had half a dozen or more Chrome tabs open at once.
The Aspire S5 returned a score of 586 on the NovaBench performance benchmarking application, beating the similarly-powered 11in MacBook Air at 573 and the Dell XPS 13, which scored 553.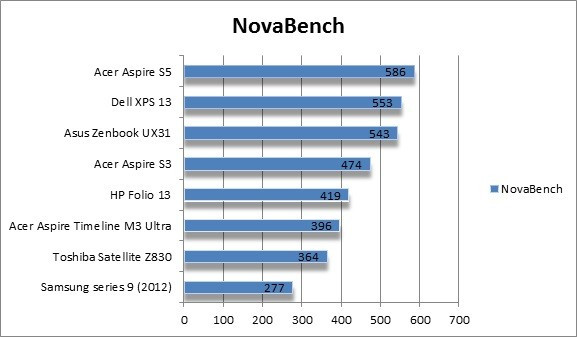 Playing 720p HD video doesn't cause the Acer too many problems, with the temperature staying the right side of hot and the fans only increasing to a barely audible drone. Even 1080p YouTube videos played without a hitch, although you should expect battery life to fall further still - and anyway, with its screen resolution, watching in 1080p instead of 720p makes little difference.
Sadly, the Acer S5 was let down by its graphical performance, as it only has Intel's integrated HD 4000 Graphics rather than a dedicated graphics card. So while playing HD video is easy enough, the laptop may prove disappointing when tasked with playing a demanding 3D game at high performance settings.
One slight annoyance is how the S5 sleeps; closing the laptop will put it to sleep almost instantly, and opening will wake it up just as quickly. But leave it asleep for an hour or more, and opening the S5 does not wake it back up; instead, you need to press the awkwardly-located power button to bring it back to life, which it does in just a couple of seconds.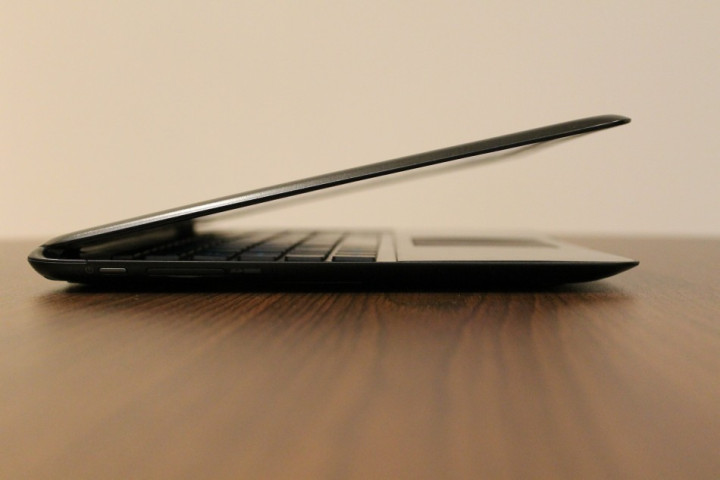 Thanks to the speedy 256GB sold state drive, booting up from cold and logging on took less than 20 seconds, and shutting down takes around eight seconds.
Acer Aspire S5: Verdict
The Acer Aspire S5 is an incredibly competent Ultrabook, with a powerful processor, large solid state drive and decent range of ports, all wrapped up in a slim and light body. But the screen resolution and brightness is a letdown, considering the £1200+ price, and the motorised door covering its ports is a gimmick that we could live without - and we're not fans of laptops with all the ports at the back.
On a more positive note, the Aspire S5 has an excellent battery that gave us more than four hours of continuous use, and its size and weight make the S5 very portable and ideal for those who work away from the office for much of the day.
If owning the world's thinnest laptop is your thing, or perhaps you simply prefer Window over Mac, then the Acer Aspire S5 might well be for you, but the screen quality and concerns over the mechanical flap mean that we would opt for the Apple.
As we said above, the flap is a nice gimmick but we soon thought that a slightly thicker, slightly heavier laptop with its USB ports on the sides would be preferable to how the S5 turned out.
But if these niggling issues with the ports and the average screen don't bother you, the Acer Aspire S5 is a very creditable ultrabook and worthy of being taken seriously amid tough competition.
Scores
Overall: 8/10
Battery Life: 8/10
Design: 8/10
Performance: 8/10
Features: 8/10
Screen Quality: 7/10
Value: 8/10
The Good
World's thinnest laptop, and very light
Black magnesium-aluminium finish looks smart
Good battery life
Best performance of Ultrabooks we've tested
The Bad
Trackpad click is poor
Keyboard a little too shallow and no backlighting
MagicFlip is a gimmick, would prefer ports on the sides
Awkward location of power button