Key Features
13in Full HD IPS touchscreen display
11.9mm thin; 1.3kg
Core i5; 1.7GHz; 4GB RAM
128GB SSD
Windows 8
Price as Reviewed: £979.99
Introduction
Going to Las Vegas for CES 2013 was great, obviously. However, apart from the opportunity to eat your own body weight in steak and lose your rent money on blackjack, it is one hell of a tiring six or seven days.
Therefore the last thing you need after coming back from walking 12 miles around the show floor is having to deal with a slow and buggy laptop. What you want is something you can rely on, which will boot up fast, and wont run out of battery the minute you move your hand toward the plug.
Therefore it was with a mixture of trepidation and excitement that I accepted delivery of an touchscreen Acer Aspire S7 the day before flying out to Las Vegas last week. Trepidation because I had no idea if Acer's latest Ultrabook was going to be stand up to the rigours of CES; excitement because this is one of the fastest and best-looking laptops on the market today.
Acer Aspire S7: Design
As Ultrabooks go, the Aspire S7 is a beauty. It is sleek, well-built and has enough original touches to make it stand out from the crowd. Acer's previous effort at an Ultrabook, the pedestrain Aspire S5, wasn't even in the same league as the S7 - despite that odd motorised mecanism for revealing/hiding the ports.
The lid of 13in S7 is clad in Gorilla Glass to give you extra protection from scratches and scraps, and it meant putting it in the rather odd case that came with it, not a necessity. I should note however that the 11in version of the S7 comes with an aluminium lid rather than a glass lid, making it more prone to scratches I imagine.
White is traditionally not a colour associated with premium consumer electronics devices, but Acer has made it work. Open the lid and the great design and finish continues with the Chiclet style keys and trackpad floating in a sea of aluminium.
On first viewing I thought the screen had a white plastic bezel around the edge, but in fact it's all part of a single glass sheet covering the screen, which again ACer has carried off really well.
At 1.3kg and 12mm thin, the Aspire S7 is thinner and lighter than the MacBook Air and I had no problems carrying it with me during long treks around Las Vegas. It was also well able to stand up to being thrown around in a backpack surviving the week unscathed.
Acer Aspire S7: Keyboard and Trackpad
As I said, the backlit keyboard and trackpad as well as the surround seems to have been hewn from a single piece of aluminium. The keys themselves are very shallow, continuing Acer's trend of late, and don't offer the kind of satisfying response that we got from the keyboard of the most recent Dell Ultrabook and convertible.
That said, I really like the keyboard, and found typing on it was easy and pretty much mistake-free. This is thanks to the keys being responsive, well-spaced and, for the most part, nicely sized - though there are a couple of exceptions. The Caps Lock key is a narrow sliver almost impossible to press accurately withouth looking down at the keys, while the arrow keys are little better. I constantly found myself pressing the Page Home and Page End buttons which are right next to the arrow keys.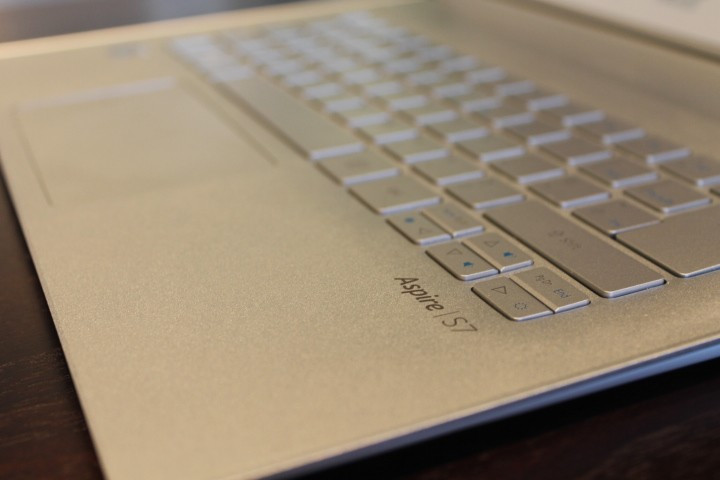 The TrackPad however, has few redeeming features. It seems as if Windows OEMs struggle to compete with Apple in this most vital of areas.
Where Apple's trackpads are responsive and nimble, Acer's was buggy and didn't work well with non-Windows 8 apps. Sure swiping in from the left to display the Charms menu, and swiping to navigate the new home screen worked OK, but try using it on the Tweetdeck app (for Windows 7) and it's a different matter. Vacillating between unresponsive and over-sensitive, it was a nightmare to use at times.
I also found the trackpad thought I was registering a left click even when my finger was nowhere near the bottom right-hand corner. It's a pity as it somewhat ruined the overall experience - though Acer did provide a Bluetooth mouse with my review unit which worked a treat and which I used whenever I could.
Acer Aspire S7: Screen
Whatever Acer's mistakes with the trackpad, it made no mistakes with the screen. Replacing the traditional 1366 x 768 resolution panel with a Full HD 1960 x 1080 display may seem like overkill on a 13in laptop - and it is really - but the result is simply superb.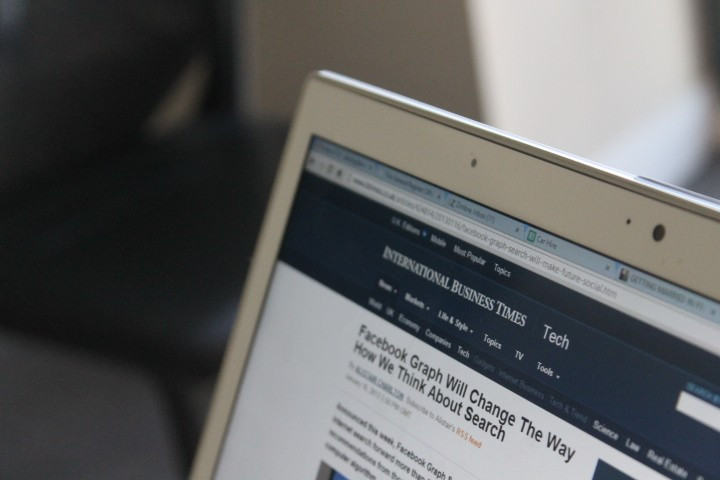 One of the best screens we've seen on a laptop - with the obvious exception of the MacBook Pro's Retina display - the IPS panel offers wide viewing angles, great colour reproduction (without being over saturated or blown out) and great contrast. Glare is a problem, but that's something we've got used to on laptops at this stage.
This is of course a touchscreen and it's nice and responsive, and you can push the screen all the way back until it is flat with the keyboard - though I'm not sure if this will be of value to anyone to be honest.
Acer Aspire S7: Connectivity
Ultrabooks by their nature are going to have limited connectivity when compared to their chunkier notebook brethren, but Acer has done a good job with the Aspire S7 to give you what you need.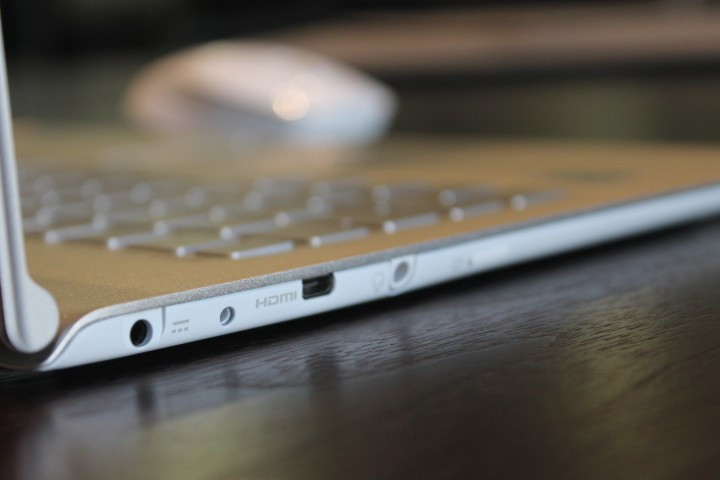 On one side you get two USB 3.0 ports, an SD card reader while on the other side you'll find a micro HDMI port. Sounds a bit limited? Well yes, but Acer also shipped the S7 with two adaptors for Ethernet and VGA ports which you plug into the HDMI port.
Working at CES the SD card reader was a vital addition and something which is sadly lacking on a lot of expensive Ultrabooks. The ability to use wired Ethernet was also a saving grace, with hundreds of other CES journalists in the press room hogging the limited Wi-Fi signal.
In terms of wireless you get the usual pair of Bluetooth 4.0 and Wi-Fi N.
Acer Aspire S7: Hardware, Performance and Battery Life
Of course a great looking laptop will only get you so far, and needs the power behind it in order to make it a valuable tool. The S7 comes with a choice of Intel's third generation Ivy Bridge Core processors, Core i5 or Core i7.
My review unit came with the 1.7GHz Core i5 chip, which was paired with the standard 4GB of RAM. Along with this was 128GB of SSD storage, which is upgradeable to 256GB.
The first thing you notice about the S7 is that it is LOUD. Even with just a couple of browser tabs open, the CPU's fans kicked in and this isn't a noise you can ignore. It's REALLY noisy and unless you are just sitting there looking at the laptop and not touching it, it's going to stay loud.
I can understand fans kicking in when you put the CPU under some pressure such as video editing or gaming, but browsing the web? This can make using the S7 a chore rather than a pleasure.
Trying to put the noise to one side, the Core i5 processor is very fast and carried out all we asked of it at CES with consummate ease, rarely slowing down, even with multiple programs open at once.
The dual SSDs, like in the S5, are arranged in a RAID 0 set-up, meaning read-write speeds are searingly fast compared to the competition, which makes the whole system tick along at a very fast pace indeed.
We did however encounter some bugginess during our time in Vegas, with the laptop rebooting randomly and freezing without notice. This could be an isolated problem with my review unit or a wider problem with the S7 - or then again it could be a problem with Windows 8.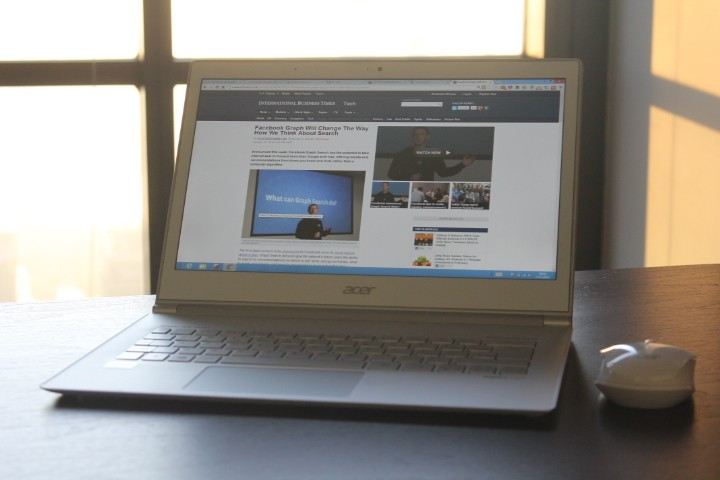 In terms of boot time, the Aspire S7 was also on a par with other Ultrabooks, booting up from cold in just over 10 seconds and restoring from Sleep mode in around 3 seconds.
Moving onto battery life, and this was probably the biggest disappointment of using the Aspire S7. We managed no more than four hours of use away from a power supply during our week in Las Vegas, which is poor, even by Ultrabook standards.
Four hours is simply not good enough for a portable machine designed to bring with you wherever you go. Yes you might stretch five hours from the S7 with setting changed, but I don't think you should have to compromise that much in order to get decent battery life.
Acer Aspire S7: Verdict
The Acer Aspire S7 is a very frustrating machine. On the one hand it's beautifully designed with a magnificent screen, great keyboard and fast performance. But for a near-£1,000 laptop the dodgy trackpad, loud fan and inexcusably poor battery life are problems too big to ignore.
Acer has certainly upped its game from the Aspire S5, but a shiny new coat doesn't manage to hide a series of blunders which unfortunately spoil what could have been a great laptop. I'll have to chose more wisely for CES 2014.
Scores:
Overall: 7/10
Battery Life: 5/10
Design: 9/10
Performance: 9/10
Features: 8/10
Screen: 10/10
Value: 7/10
The Good
Beautiful design
Superb screen
Good connectivity
The Bad
Terrible battery life
Iffy trackpad
Very LOUD