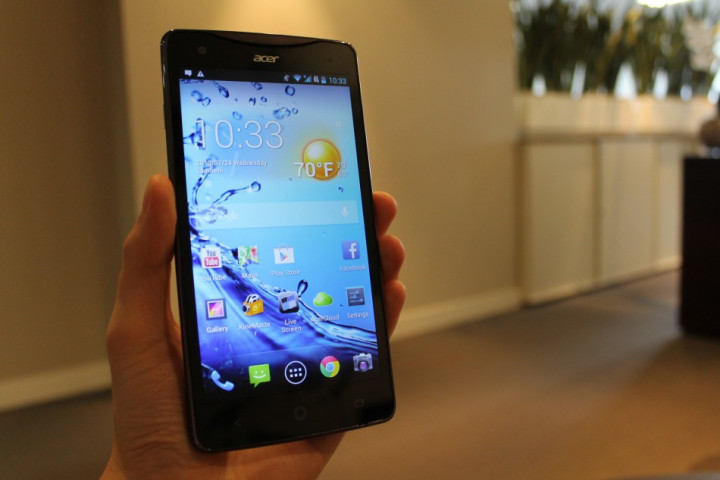 Key Features:
5.7in display with 720 x 1280 resolution, 258 pixels per inch (ppi)
Quad-core, 1.5GHz processor with 1GB RAM
8GB internal storage plus up to 32GB via microSD card slot
8-megapixel camera with autofocus and LED flash
Android 4.2 (Jelly Bean), with Float UI
Price: TBC - expected around £300 SIM-free
Introduction:
The phablet name was coined a little over a year ago and is used to describe a device halfway between phone and tablet. First to see success in this growing market was Samsung with the original Galaxy Note, followed last summer by the Note 2, and now what first looked like a flash-in-the-pan has become a sector of the smartphone market that everyone wants a slice of.
Look and Feel
The Acer Liquid S1 is huge and there's no way to hide it. Like a tank in a supermarket car park or an aircraft carrier on the South Bank, it's simply impossible to be subtle when using a phone this big.
Placing it on the coffee table (because it wouldn't fit in my pocket) drew sniggers; answering it in public made me feel like I was in a comedy sketch; and every notification would fill my lounge with something not dissimilar to Blackpool illuminations.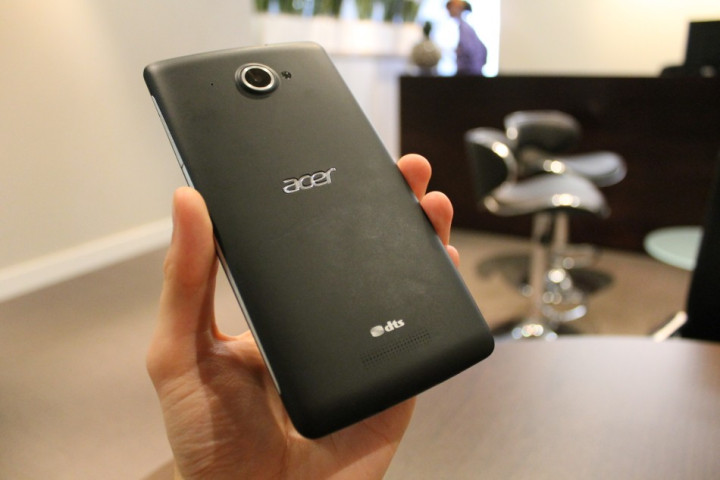 I began to get used to the Acer after a few days, but while its screen is only 0.15in larger than the Galaxy Note 2, the Acer is a full centimeter taller and its extra width and squared-off edges make the S1 feel bigger still. The design isn't helped by a glossy black plastic bezel surring the huge screen.
The matte, black, plastic rear cover is nail-breakingly difficult to peel off, but once you manage it you'll find a microSD card slot for cards up to 32GB (a necessity considering you only get 8GB of internal storage), a 2,400mAh battery and space for two micro SIMs, meaning you can switch the Acer between mobile networks through the settings menu, should you have two SIMs inserted.
To inject some life into an otherwise drab design, Acer has added a metal strip to each side of the phone, tapered in such a way that the device looks curved and thinner than it really is.
Otherwise, the Liquid S1 is a big, black slab of smartphone which, even after a week of use as my personal phone, feels slightly awkward.
Operating System and Performance
Listening to Android users' collective dismay towards third party user interface skins, Acer has left Android 4.2 (Jelly Bean) almost completely untouched on the S1. The only major change is Float UI, Acer's equivalent to Samsung's TouchWiz and its ability to open several miniature apps at once.
A long press of the multitasking button opens a drawer of Float UI widgets, including calculator, camera, maps and a notepad. Dig into the settings menu and Float can also be applied to incoming calls, so they'll take up a small windows instead of the whole screen.
Each of these apps opens as a small window taking up roughly half of the screen and can be moved around, stacked on top of each other, minimised or closed, all while the operating system beneath remains active.
It's a smart and attractive solution for viewing apps which you might want to dip in and out of while doing something else, but the addition of floating messaging and email apps would have been welcome; Acer claims more will be available after launch.
The S1 is powered by a quad-core 1.5GHz processor paired with 1GB of RAM - enough to keep multitasking between apps and HD video streaming under control.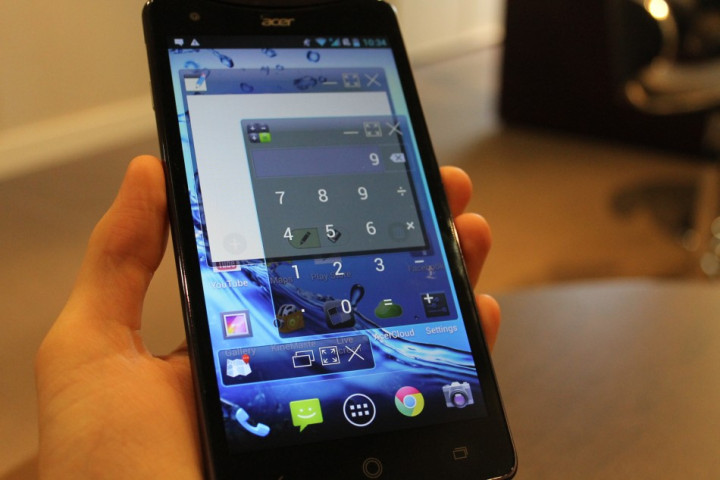 Although the Acer's battery capacity is lower than the Galaxy Note 2's, it would routinely last a full day without any problems and would even make it to the evening of day two if I used the phone slightly less. Given the huge screen and quad-core processor, it's difficult to ask for much more.
Finally, the S1 misses out on both 4G and near field communication (NFC).
Display
Measuring 5.7in, the Acer S1's display is one of the largest on the market and shows how plus-size smartphones are creeping ever closer to small tablets like the 7in Nexus 7 and Kindle Fire.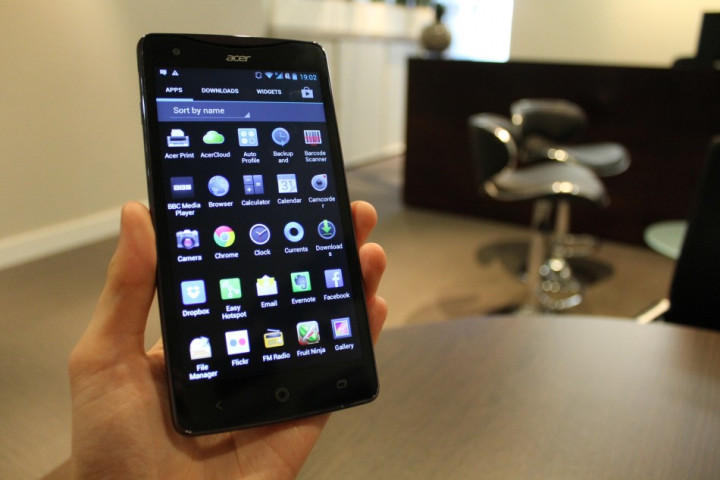 At first I wasn't expecting much from the S1's screen, given this is normally the area most affected when a manufacturer tries to undercut the competition, but I was initially pleased to find an HD resolution of 720 x 1280 - same as the more expensive Galaxy Note 2 - and a strong backlight with minimal light bleed around the edges.
Sharp, bright and with decent colours, the S1's screen is better than expected - until you turn the phone by a few degrees in any direction.
The Acer's TFT panel really struggles when viewed at an angle, causing colours to turn negative when viewed slightly off-centre. Adding to this, the blacks produced often look washed out when viewing video content - a shame, given the phone's size lending itself well to watching films on the go.
It isn't terrible, but the screen still serves as a constant reminder that you opted for a cheaper phone and as such you were forced into accepting some compromise; you will just have to ask yourself if the extra size outweighs higher quality.
Camera
With its big, prominent lens protruding from the back of the phone, the Acer's 8-megapixel sensor is quite good. It won't match a point-and-shoot camera, nor will it hold a candle to the low-light performance of some rivals, but for general shots it is perfectly usable, although photos tend to appear quite cold, with a blue tinge to them.
As with most Android handsets, the S1's camera app lets you apply filters, pick from a range of pre-set capture modes, lower the resolution to save space, and adjust the ISO, exposure, white balance, flash, brightness, sharpness and hue.
Verdict
If the S1 was an inch smaller it would disappear into obscurity with no standout feature. But by giving it such a large screen, Acer is forcing us to sit up and pay attention to a company we had - in the smartphone industry at least - mostly ignored.
Sadly, the S1 takes the concept of a large smartphone a step too far. Once I notice a phone not fitting in my pocket properly and I start to feel daft using it in public, then I have to question its existence, especially when the extra screen space doesn't let me do more in the way a tablet does. It's still the same Android operating system, but everything's a bit bigger.
Expected to be around £300 SIM-free, the S1 at least represents good value, considering the year-old Note 2 still sells for £400, so what it lacks in screen and design quality, it partly makes up for in price.
Seven or eight-inch tablets with cellular capabilities - like the Samsung Note 8.0 - are an entirely different product because you know they aren't pocketable. For me, the Acer falls into no man's land, sitting awkwardly between phone and tablet without offering enough benefits of either.
Scores:
Screen: 7/10
Design: 5/10
Camera: 7/10
Operating System: 8/10
Build Quality: 7/10
Overall: 6.5/10
The Good:
Huge HD screen - if that's what you want
Android left almost completely untouched
Decent battery life
The Bad
Unpocketable
Boring, unimaginative design
Lacking 4G
Low internal storage