Four women from the Indian state of Uttar Pradesh have suffered severe burn injuries after being attacked with acid.
The women, all sisters, were attacked by two men on a motorcycle in the Muzaffarnagar district on Tuesday evening. The victims, three teachers and one student, were returning home after a school examination when they were attacked.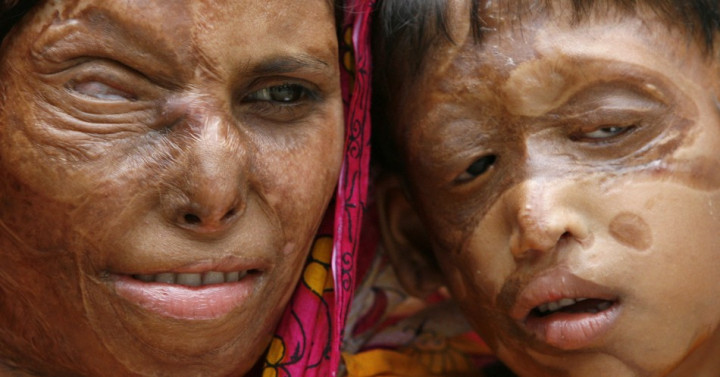 "We were coming back from work when two men came on a bike; they had their faces covered and attacked us with acid and ran away," one of the siblings told NDTV.
The women were rushed to the Gangaram Hospital in New Delhi and one of the victims remains in an Intensive Care Unit.
Series of Attacks on Women in March
The incident is the latest in a string of attacks on women in India.
Last month four young girls (also sisters) also suffered an acid attack, leaving them with severe injuries. The assault took place in the Raigarh district of the state of Chhattisgarh, while the girls were returning from a religious seminar.
On 15 March, a 39-year-old Swiss tourist on a cycling holiday with her husband was reportedly gang raped near the town of Datia in the state of Madhya Pradesh, while her husband was assaulted and bound. The couple say as many as eight men attacked them.
On 19 March, a British national, staying in a hotel in Agra, in Uttar Pradesh, jumped out of a first-floor hotel window when the owner and another man allegedly tried to rape her. Local police arrested Sachin Chauhan, the hotel owner, and the UK Foreign and Commonwealth Office have subsequently issued a travel warning for women travellers in India.
On 24 March, a teenage girl in the Indian city of Vishakapatnam, in the state of Andhra Pradesh, suffered minor injuries when her boyfriend allegedly attacked her with acid, for refusing his sexual advances.
Psychologists: Acid Attacks and Sex
Psychologists believe acid attacks, in particular, can be linked to attacks on women who spurned the sexual advances of their assailants.
A note on Acid Survivors' Trust International, a UK-based trust, calls acid attacks a "hidden form of violence against women and children". The note continues: "a form of gender based violence, perhaps because a young girl or woman spurned sexual advances or rejected a marriage proposal."
The Indian government is in the process of revising existing anti-rape laws, hoping that stricter punishments and faster trials will deter future criminals and attacks. And under these laws, which were passed late last month, cases involving stalking, voyeurism and sexual harassment have been re-classified as a crime; they were earlier considered misdemeanours at best and not within the purview of the Indian Penal Code (IPC) at worst.
In addition, the new law is also expected to provide the death penalty for repeat offenders or where a rape victim dies as the result of the attack. And, as far as acid attacks are concerned, the law provides for a jail term of at least 10 ears.