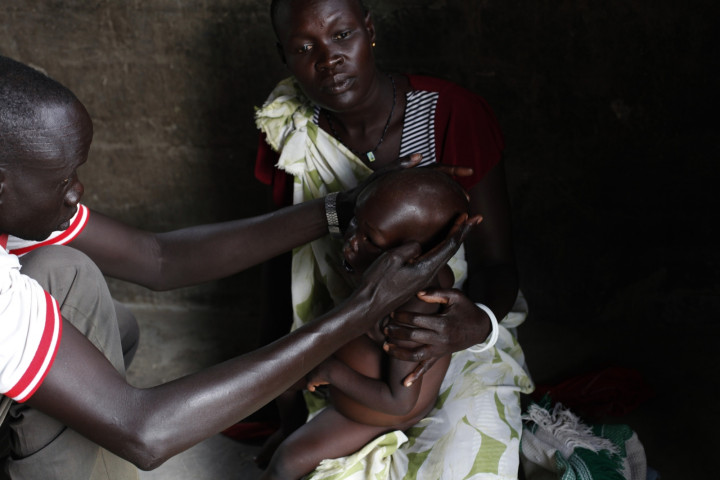 The looming possibility of a nutritional catastrophe in South Sudan is not making headlines, but the threat to the children of South Sudan is mounting by the minute – and we must take action now to prevent it now, before it is too late.
In areas of the three conflict-affected states of Jonglei, Unity and Upper Nile, the situation is dire.
Unless nutritional treatment is scaled up immediately, along with support for water, sanitation, health and food supplies, up to 50,000 children under the age of five may have died needlessly by the end of this year.
The humanitarian community is doing all it can to reach the children and communities in greatest need. In a very difficult operating environment, it has helped treat 50,000 severely malnourished children, immunised over a million children, and helped bring water to 500,000 people. But it is not enough.
The children of South Sudan are not responsible for the violent conflict that is fueling this nutritional crisis – but we are all responsible for helping them survive it.
First and foremost, the international community must do all that is possible to bring peace. But we must not wait for an uncertain peace before we act. Concerned citizens, their governments, and philanthropic organizations all must recognize the urgency and increase their support so the humanitarian community can expand its lifesaving work.
The private sector also has a role to play – and an increasingly important one, providing critical resources, skills, and capabilities to make a difference for the children of South Sudan.
We are already seeing the impact private sector support can have. Partnerships between our respective organizations and others are increasing the reach of the humanitarian relief effort. Such private support is helping fund rapid response teams, led by the United Nations' World Food Programme and Unicef, which are flying into remote areas to provide urgent humanitarian aid to people who have had little or no access to critical help.
We should build on efforts like these and fully engage with private sector partners to support humanitarian action generally – and especially in South Sudan.
For private companies and foundations, there are times when the urgency of events calls for swift action, above and beyond broader social responsibilities. What greater responsibility can we share than keeping children alive in a largely unnoticed crisis – and in so doing, help make ending that crisis a public priority?
Today, on World Humanitarian Day, we call on the private sector to join us – and take action in common cause to save children's lives and strengthen the future of the world's newest nation.
There is no time to waste. An estimated 235,000 children under the age of five require treatment for severe acute malnutrition this year. An additional 675,000 children require treatment for moderate severe acute malnutrition.
So far, as a result of the conflict, the rainy season, and the lack of sufficient resources, the humanitarian community has only been able to reach about 10% of these children with the required treatment.
This is wrong. We are perilously close to seeing history repeat itself. By the time the world took notice of the unfolding famine in Somalia three years ago, tens of thousands of Somalis – the majority of whom were children – already had died.
We have a chance to prevent what happened in Somalia three years ago from happening today in South Sudan. It is a fleeting opportunity – and we must not wait until it is too late. We must act now, together. The clock is ticking.

Anthony Lake is the executive director of Unicef. He visited South Sudan in late July.

Per Heggenes is the chief executive of the IKEA Foundation, which is helping fund rapid response teams to support the humanitarian relief effort in South Sudan.