Anti-Acta Day of Action Looms: What's the Hubbub About?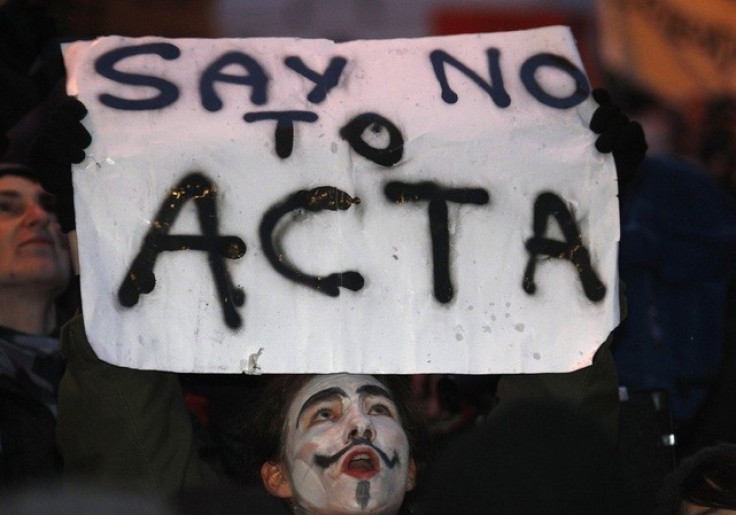 With the Anti-Acta 11 February Day of Action looming, the International Business Times UK looks at why Anonymous, the Pirate Party and activists in general are so up in arms.
Designed to harmonise copyright enforcement across all participating countries the Anti-Counterfeiting Trade Agreement (Acta) is currently being negotiated by the numerous countries and powers including the European Union, the United States, Japan, Canada, South Korea, Australia, Mexico, Morocco and Singapore.
As of 25 January, in the EU Acta is only missing the signatures of Germany, the Netherlands, Estonia, Cyprus and Slovakia. The final decision regarding whether Acta will become EU law will rest with the European Parliament, which is set to vote on Acta in June. Reports have since broken that Germany is refusing to ratify the agreement.
Despite a lack of knowledge by the general populace the agreement has been met with hostility. As well as a series of petitions against the agreement, a number of high profile demonstrations, such as the one seen in Poland, have also been mounted by numerous activist groups. Most recently a series of protests are set to spread across Europe, all being enacted under the Day of Action banner.
Though official numbers are scarce, according to the list of confirmed participants on each protests' Facebook page, within the UK only the London action seems set to see more than a thousand take part.
Set to occur in central London outside the British Music House at 2:00pm, the protest promises to be a non-violent demonstration. The organisers' main page listed the action's primary goal as to inform the general public of Acta and its implications regarding online freedoms.
As stated by Rik Ferguson, Director of Security Research & Communication EMEA Trend Micro, a central concern regarding Acta is the notion that it will allow corporations to censor the internet.
"The concerns with Acta centre mostly around how the bill enforces liability on website for any links that point to disputed content. In the world of User Generated Content, the potential for any site to be forced to close down, in a Stalinesque way to become a 'non-site' as it is obliterated from search results or even have its domain name seized, all as a result of the actions of its users, is seen as too great a threat to business online," commented Ferguson when asked about Acta's dangers.
That said, analysts are not united in this belief. Speaking to the International Business Times UK Sophos analyst Graham Cluley said that the idea Acta will put in place controversial measures granting authorities powers similar to those seen in the US Stop Online Privacy and Protect Intellectual Property (Pipa) acts is premature.
"Whereas SOPA and PIPA are proposed US legislation (but with the ability to impact those of outside America), ACTA is an attempt to get international agreement in the fight against copyright infringement," commented Cluley. "Many of the initial provisions of ACTA (a broad ban on tools which can be used for copyright infringement, a 'three strikes' rule forcing ISPs to disconnect repeat offenders, etc) have been dropped or watered down."
For those wishing to make their own mind up, a full version of the final version of Acta can be read here.
© Copyright IBTimes 2023. All rights reserved.