Acta: One Million Sign Protest Petition against Trade Agreement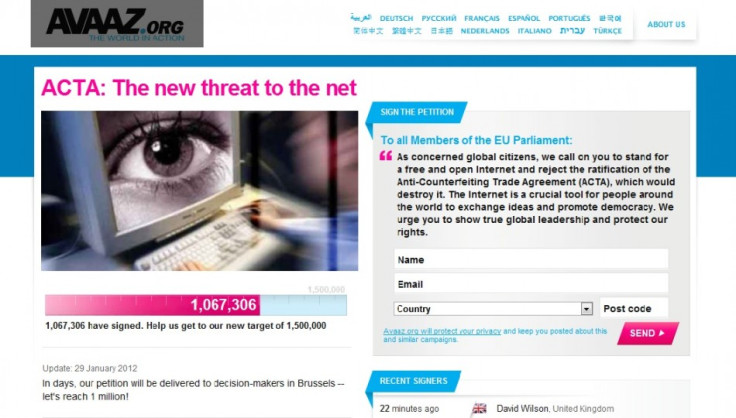 An anti-Acta petition due to be delivered to Brussels to protest against the controversial trade agreement attracted more one million signatures less than a week after it was posted online.
The petition appeared on the Avaaz website on 25 January, just one day before a number of EU states including Poland and Britain signed the controversial Anti-Counterfeiting Trade Agreement in Tokyo.
The petition, which will be delivered to legislators in Brussels, reiterated protesters' claims that Acta would grant corporations and governments the ability to censor the internet.
"Negotiated in secret by a small number of rich countries and corporate powers, it would set up a shadowy new anti-counterfeiting body to allow private interests to police everything that we do online and impose massive penalties - even prison sentences - against people they say have harmed their business," reads the petition.
The petition also attacked the potential consequences of the agreement on real-world goods, such as pharmaceutical drugs and seeds for farmers: "Acta could also ban lifesaving generic drugs and threaten local farmers' access to the seeds they need. And amazingly the Acta committee will have carte blanche to change its own rules and sanctions with no democratic scrutiny," claimed the online petition.
It was one of many protests being mounted against Acta. Most recently a large demonstration was mounted in Poland to protest against the government's support of Acta. The Anonymous collective has also mounted its own online campaign, mounting a series of distributed denial of service attacks on Acta supporters' sites.
In the EU Acta is lacking only the signatures of Germany, the Netherlands, Estonia, Cyprus and Slovakia. The agreement is designed to harmonise copyright enforcement across all participating countries.The final decision regarding whether Acta will become EU law will rest with the European Parliament, which is set to vote on Acta in June.
An EU spokesman had not replied to the International Business Times UK's requests for comment.
© Copyright IBTimes 2023. All rights reserved.