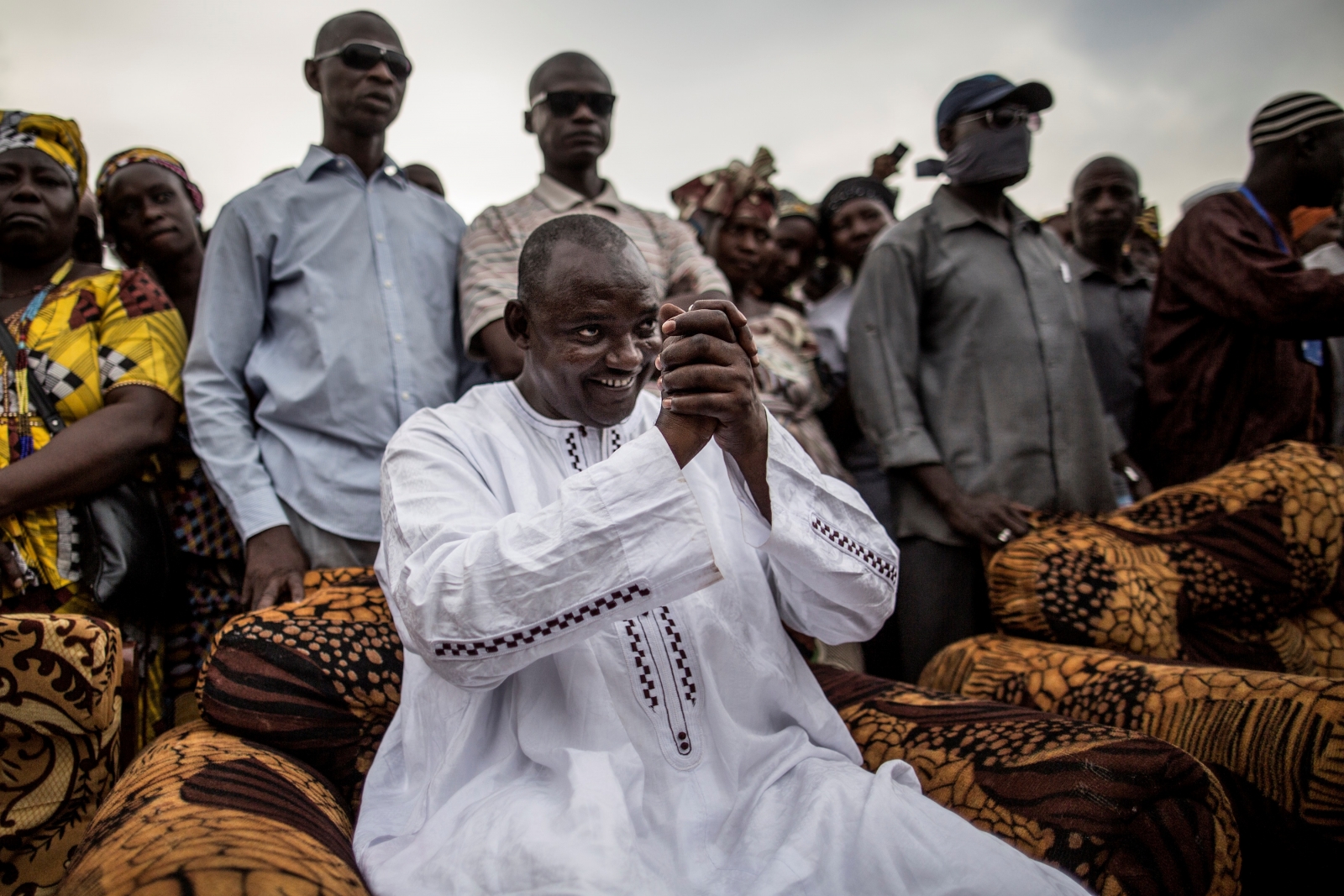 Adama Barrow, the winner of December's election in The Gambia, has been inaugurated President at the country's Embassy in Senegal, amid a standoff with his predecessor Yahya Jammeh.
The presidential crisis was sparked when Jammeh refused to step down, and has mobilised the East African regional body of states ECOWAS to the point of intervention to remove the 22-year ruler by force.
The president arrived to cheering crowds outside The Gambia's diplomatic mission in Dakar, where dignitaries from across Africa had gathered to witness the ceremony. Barrow's supporters waved Gambian flags and wore T-shirts bearing the slogan 'Gambia has decided'.
In his inaugural speech Barrow heralded his investiture as a historic day for The Gambia saying that his election marked the first occasion since independence in 1965 that the country had voted for its leader at the ballot box.
"This is a victory for the Gambian nation our flag will now fly high among all democratic nations," Barrow said. The incoming president also gestured towards unity in the divided country: "All Gambians are winners in this election there are no losers... we are here as one Gambia, one people, one nation."
Barrow also addressed the ongoing crisis directly as The Gambia finds itself now with two presidents. He called on ECOWAS, the African Union and the United Nations Security Council, which is due to vote on sanctioning an intervention in the East African nation, to enforce the will of the Gambian people.
The incoming president also asserted his authority of the commander in chief of the Gambian armed forces. He called on the military to remain loyal to the constitution and its commanders to swear loyalty to him. Barrow added the troops under his control should remain in their barracks and said those found contravening his orders and bearing arms would be considered enemy combatants.
He ended his speech with the famous saying of the first President of an independent African nation Kwame Nkrumah, the leader of Ghana, saying "forward ever, backward never".
In the Gambian capital of Banjul, where the incoming president had been expected to take the oath of office, residents have described an uneasy calm in the city. Reports on social media have said a small number of Gambian troops have been deployed around government buildings and Jammeh's presidential mansion.
Troops from Nigeria and Senegal operating on behalf of ECOWAS are poised to intervene in Gambia but allowed an initial deadline of midnight last night for Jammeh to step down to expire in favour of carrying out the inauguration in Dakar.