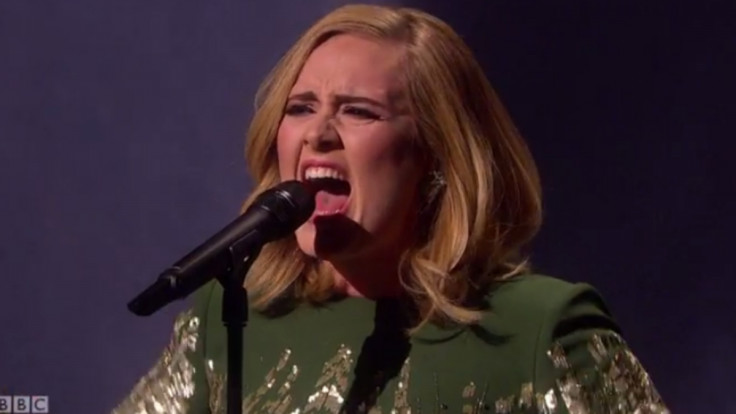 The world is eagerly awaiting the release of Adele's new album 25 but they may not find it on Spotify when 20 November rolls around. The Hello singer is allegedly holding back from agreeing to stream her third LP on the music service to avoid users listening to the tracks for free.
According to The Verge, Adele, 27, and her team have been holding talks with Spotify to persuade the company to release 25 as a streaming option only for premium subscribers, who have paid for the service, as opposed to those who listen for free. It is reported that this would make the album available to 20 million subscribers, isolating the additional 50 million who use the service without paying a fee.
Despite the mounting reports of a clash between Adele and Spotify, a senior executive at Spotify has reportedly released a statement denying the claims, saying: "It is categorically untrue that anyone has asked us to feature Adele's new album on premium only." In 2012, reports suggested Adele had tried a similar move for the release of her second album 21, which she allegedly tried to make available for paying subscribers only.
A source claims that Adele is not the only artist who could potentially snub Spotify, with Coldplay yet to confirm whether their upcoming album A Head Full Of Dreams will be available to stream when it is released on 4 December. In December 2013, Spotify missed out on a huge opportunity to feature Beyoncé's fifth studio album on their service when she dropped it as a surprise.
The eponymous LP was initially only available to purchase on iTunes, meaning other music outlets missed out on profits. Spotify were also dealt a heavy blow in November 2014 when Taylor Swift controversially pulled all her music from the music streaming website and refused to release her 1989 album for streaming.
If 25 is available on Spotify, it is anticipated to smash streaming records, with the album's lead single Hello becoming the fastest-selling song of 2015 so far. The music video also broke records on Vevo after scoring the most views in 24 hours with 27.7 million plays. Since the clip's premiere on 22 October, it has amassed more than 320m views to date.
Watch Adele's Hello music video: