Watch Adele perform Hello live for the first time during Graham Norton interview special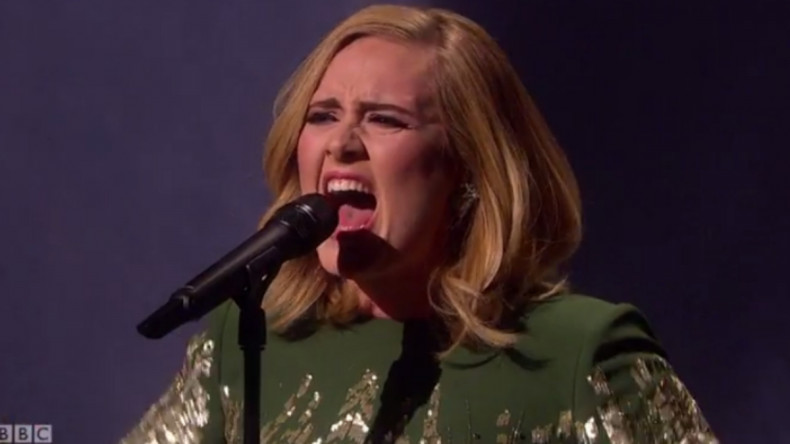 It has taken three long years but Adele has finally given her first live TV performance. The British musician sang her new single, Hello, during a recording of her interview with Graham Norton, titled Adele At The BBC, in promotion of her long-awaited third album, 25.
In a teaser from the special, which is set to air on 20 November, Adele performs the record-breaking ballad for the first time in front of a live studio audience. In her interview with the talk show host the 27-year-old explained that she considered whether or not to make a return to music after a lengthy hiatus following the release of her second studio album, 21.
The Someone Like You singer told Norton: "It was that thing of, do I or don't I want to go back to my music. Obviously I do, and I just wanted to make sure that everything was in place for me to do it so I could do it properly. I can't do anything else, this is all that I like doing."
An audience member also asked the musician to clear up the rumour that she is not in control of her own Twitter account.
Confirming this is true, Adele admitted: "I'm not a drinker anymore, but when Twitter first came out, I was drunk tweeting and nearly put my foot in it quite a few times, so my management decided you have to go through two people and then it has to be signed off by someone. But they are all my tweets, no one writes my tweets, they just post them for me."
Watch Adele perform Hello on her Graham Norton special:
The interview will be one of a handful of appearances Adele has scheduled to promote 25 with reports that she will also speak to a number of talk show hosts in the US. Addressing her special with Norton, Adele said in a statement: "I can't wait for the show. The BBC has been wonderful to me over the years and Graham and I get on great so it's going to be a laugh."
Norton added: "This is the music event of the year and I'm thrilled to be part of bringing it to BBC1. This opportunity to spend an hour with Adele, her music and her stories is a truly rare treat. If I wasn't hosting this special, I'd be sat at home watching it."
Hello is the lead single from 25 and has already dominated the UK charts, becoming the fastest-selling single of 2015 so far after shifting 165,000 copies in its first week of release. The single's music video is also the most-watched in 24 hours on Vevo with more than 27.7 million views in its first day and has so far amassed 250 million views.
Adele At The BBC will air on 20 November at 8.30pm on BBC1. New album 25 is set for release on the the same day.