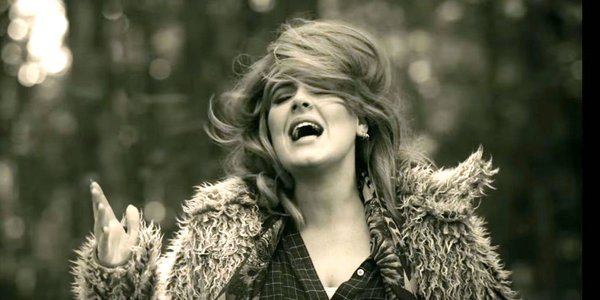 Both are incredibly emotional ballads but Adele states her new single Hello is not a sequel to previous heartbreak anthem Someone Like You. The 2012 track was inspired by the singer's split from a former boyfriend but the Grammy-winning musician insists her comeback single is completely different.
After four years away from the spotlight, Adele, 27, has stormed back with a brand new track, which has already become the fastest-selling single of the year. The success of Hello certainly bares a resemblance to that of Someone Like You, which became Adele's first number one in the UK and earned the singer a Grammy award. Keen to distance the two songs from each other, she reveals Hello has not been inspired by the same break-up that caused her to write Someone Like You.
Speaking to i-D magazine in her first interview in three years, Adele said: "Oh, God no. That's over and done with, thank f**k. That's been over and done with for f*****g years. No, it's not about anyone specifically. It's about friends, ex-boyfriends, it's about myself, it's about my family. It's also about my fans as well. I feel like everyone thinks I'm so far away and I'm not."
Listen to Adele's new song Hello:
Adele's fans are awaiting the release of the singer's long-awaited third album, 25, which is set for release on 20 November. Aside from the full tracklist, she has kept details of the LP under wraps but she has opened up on her writing process. According to the British musician, the songs she initially wrote for 25 were not good enough and she was told to record new material by her creative team, which included legendary music producer Rick Rubin and her managers. Adele said: "That's my worst fear: people not believing me. I want back to the drawing board."
Although the Rolling In The Deep singer has not featured any collaborations on the album, she did work with pop star Bruno Mars behind the scenes, resulting in the song All I Ask. The singer said of the song: "I've never sung so hard in me whole life. Can you imagine the fun me and Bruno had making that?"
Adele 25 tracklist:
1. Hello
2. Send My Love (To Your Lover)
3. I Miss You
4. When We Were Young
5. Remedy
6. Water Under The Bridge
7. River Lea
8. Love In The Dark
9. Million Years Ago
10. All I Ask
11. Sweetest Devotion
Adele credits fellow Brit Amy Winehouse for making it possible for her to pursue a career in music but the songstress admits she was disappointed in the Asif Kapadia-directed documentary on the late singer's life. She said: "I wasn't going to [see it]. I loved her and I went through my own massive grieving process as her fan.
"I'd finally got to a place where I felt really great about the impact she'd had on my life, in every way ... I wasn't really that into the saved voicemails and stuff like that. I felt like I was intruding so I actually felt a little bit uncomfortable and that ruined it for me.
"I love watching her, but I kind of wish I hadn't seen it. But you know, I love Amy. I always have, I always will. Do you know what makes me super sad? That I'm never going to hear her voice again, other than how I've heard it."
During her time off from performing, Adele became a mother for the first time to son Angelo, which put her album on the backburner. Opening up on motherhood, the singer said: "It's f*****g hard. I thought it would be easy. 'Everyone f*****g does it, how hard can it be?' Ohhhhh... I had no idea. It is hard but it's phenomenal. It's the greatest thing I ever did."
Listen to Adele's Someone Like You: