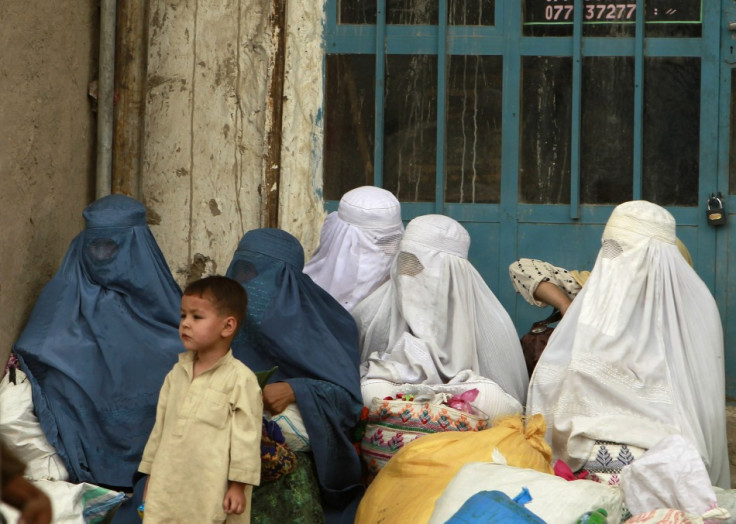 Friday 7 October marks the 10th anniversary of the foreign troop's intervention in Afghanistan and recent polls show that 66 per cent of women said they feel safer now than they did 10 years ago and 72 per cent believe their lives are better now than they were 10 years ago. However, 87 per cent of all women in Afghanistan suffer domestic abuse, proving that there is still a long way to go before Afghan women can truly feel protected.
Nine out of ten women in Afghanistan are worried about the Taliban returning to government and believe it would risk the gains made for women in the past ten years, according to an ActionAid report and nearly four in ten fear Afghanistan will become a worse place if international troops leave.
Among the women fearing the return of the Taliban, one in five cited their daughter's education as the main concern.
"In 2001 our leaders went into war in Afghanistan saying that improving women's rights was a goal of intervention. Ten years on as the international community begins withdrawing troops and enters into peace talks with the Taliban and other insurgent groups, women are being frozen out of the process and are worried that their rights are being traded away for peace," ActionAid's Director of Policy, Belinda Calaguas, recently said.
The reconciliation process launched in 2010 and involving the U.S., the Afghan government and the Taliban has created fear for women's rights advances, as the strict rule advanced by the Islamic movement made it impossible for women to access education, or even work outside of their households.
Fears have also been increased by the announce that foreign troops will fully withdraw from 2014, with activists insisting negotiations with the Taliban should include an agreement that the equal rights enshrined in the Afghan constitution, including women's right to education, work and participation in public life will never be side-lined again.
Despite efforts to restore peace, many have also criticised the lack of involvement of women in the transition processes.
"If Afghan women are excluded from decision making on the future of their country we risk not only sacrificing the gains made for women over the past ten years, but Afghanistan will be a less stable society as a result, " ActionAid Afghanistan country director PV Krishnan said.
With the recent increase in Taliban insurgency and threats directed at citizens who have actively been promoting human rights and women's rights, Afghan activists now fear they will directly be targeted after the withdrawal of foreign troops, or forced to leave the country.
Amnesty International announced progress in areas such as human rights laws, reduction of discrimination against women and access to education and health care but deplored the lack of advances made on justice and policing, human security and displacement.
The organisation also noted the "the modest re-entry of women into schools, the workplace and the government" but has pointed out the enactment of laws that appear to strengthen women's rights and the fact that in two parliamentary elections held in 2005 and 2010 women took more seats than their allotted quota.
On the other hand, violence against journalists and media workers has increased and freedom of speech and opinions are quasi non-existent in areas controlled by militants groups.
Initial improvements made after 2001 have been curtailed by the continuing conflict and the constant atmosphere of insecurity also greatly hinders the work of schools and clinics. Meanwhile, the reconciliation process engaging with the Taliban has also been widely criticised in Afghanistan.
The 70-member "High Peace Council" committee established to negotiate with the Taliban only has nine women members and Afghan's women groups have warned they fear women's rights advances would be side-lined in favour of a peace treaty.
Clearly ten years after the U.S. invasion, women are still among the most vulnerable in Afghanistan and with the conflict between the government and the militants groups, fears for the future are only increasing.
In the last decade Afghan civilians have recurrently been targeted and wounded by insurgents. Over the last three years, around three-quarters of civilian casualties have been caused by attacks by insurgent groups, and the rest by international and Afghan forces.
The UN documented 1,462 civilian deaths in the first six months of 2011, and 80 per cent of these deaths were attributed to "Anti-Government Elements".
Another important consequence of the conflict has been the amount of internally displaced persons (IDPs) which now total up to 450,000persons, located mainly in Kabul and Balkh provinces.
Worryingly those people are often living in extremely poor conditions with limited access to food, adequate sanitation or safe drinking water.
"The Afghan government's international allies, including the US, have repeatedly said that they will not abandon the Afghan people. They must stand by this commitment to ensure that rights are not swept aside as the international community seeks an exit," said Amnesty International Asia Pacific Director Sam Zarifi Sam Zarifi.