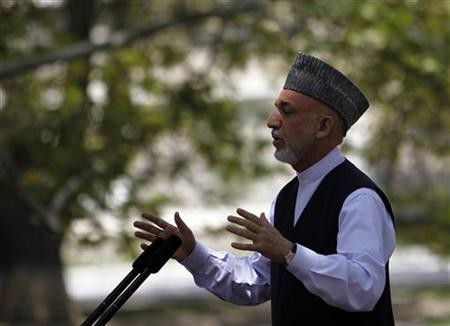 As the relationship between Afghanistan continues to erode, Afghan President Hamid Karzai has arrived in India for talks over strategic security agreements and development aid prompting allegations Afghan is taunting Pakistan by seeking rapprochement with its regional competitor.
­Karzai started his two-day visit to the Indian capital, New Delhi, Tuesday, where he is expected to meet with Indian Prime Minister Manmohan Singh and sign strategic documents aimed at strengthening and enhancing relations between the countries.
Kabul has recently accused the Pakistani intelligence services of supporting the Haqqani a Pakistani militant network responsible for a string of attacks and killings in Afghanistan, with analysts saying the Pakistani authorities are using the islamist group to hamper India's influence in Afghanistan.
Islamabad rapidly retorted, pointing the finger back at the struggling Afghan authorities but the new rapprochement between Karzai and the Indian authorities risk further angering Pakistan, which was also forced to defend its position after repeated and similar accusations from U.S. officials.
The move also comes after Kabul decided to suspend a series of talks with both Pakistan and the U.S. over counter insurgency measures to fight the Taliban more efficiently.
Monday Karzai, brushing aside his own troops' failure, continued the war of words with Pakistan by blaming the authorities and saying the country had not lived up to its promises to help end the Taliban-led insurgency.
The president however still expressed hopes that the two countries can continue cooperating closely together, slightly moving on from his previous singling comments accusing Islamabad of a "double-sided game" in fighting against terrorism.
Former Afghan President Burhanuddin Rabbani, an important figure in Afghanistan was recently killed by the Taliban, which greatly angered to population and casted even more doubts on the Afghan forces ability to control the country, especially after the full withdrawal of foreign troops.
However it seems that both the U.S. and the Karzai administration have instead preferred to shift the spotlight on Pakistan's failure to stop Pakistani insurgent movements of targeting its neighbour.
Karzai has also said he has given hope negotiations with the Taliban and insisted any durable solution to the war will come out of mediation efforts by Pakistan.
while India has for long been an important aid donor to Pakistan and has subsequently been involved in the country's development, a Indian-Afghani alliance would be illed-timed and risk aggravating the two countries' ties with Islamabad
With the foreign troops set to leave Afghanistan , countries such as India and even Russia and Iran will have interests in trying to counter-act the Taliban-led insurgency and join forces with the Afghan government to maintain security at the regional level, so cooperation between India and Afghanistan is only set to increase, despite Pakistan's reservations.