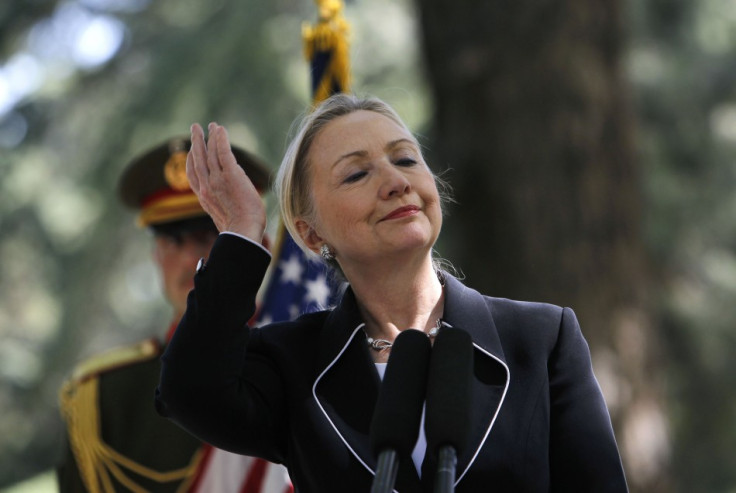 Afghanistan is a major non-Nato ally for the US, said US Secretary of State Hillary Clinton during a surprise visit to the country on Saturday.
This will provide Afghanistan with special privileges such as special access to US arms exports and bring the war-torn nation on par with other countries like Australia, Pakistan and Egypt.
The move is expected to be crucial as the US has already promised to help the country in its reforms after Nato troops stage a pullout by the end of 2014.
"We see this as a powerful symbol of our commitment to Afghanistan's future," Clinton said at a press conference after the talks. This is the kind of relationship that we think will be especially beneficial as we do the transition," said Clinton after her breakfast talks with the Afghanistan President Hamid Karzai, as reported by the AFP.
Clinton also vowed to build an enduring partnership with Afghanistan as the special privileges come into effect immediately.
The secretary of state was upholding US President Barack Obama's pledge in Chicago that his administration would not abandon Afghanistan.
Acknowledging that more work needs to be done in terms of security in Afghanistan, Clinton said the security was stable and the capacity of the Afghan forces had significantly improved.
From mid-2013 onwards, Afghan forces will take over the lead responsibility from Nato troops which will play a support role from then.
Obama and Karzai signed a strategic partnership agreement on the relationship between the two countries earlier in May.
Clinton's message comes ahead of the Japan conference on Sunday. She was on her way to Japan for an important meeting in which the major donors will decide on the aid assistance to Afghanistan once Nato troops leave.
The donors are likely to fund around $4 billion a year (£2.6 billion) against the Afghan central bank's request of $6 billion a year.
US officials declined to comment on the exact amount of funding after Clinton's announcement.
"I think both the overall hard number of the international assistance as well as the US percentage of that number will be coming down," a Reuters report quoted a senior official who was accompanying Clinton as saying.