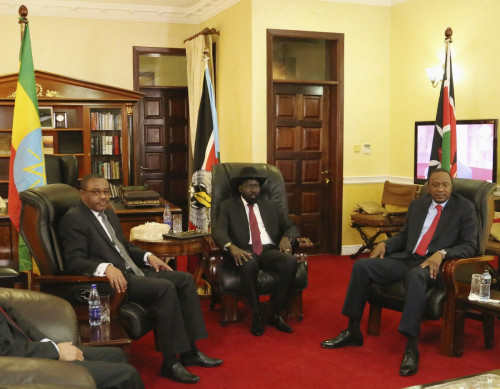 In a bid to broker a peace deal in oil-rich South Sudan, leaders of eastern African countries met in the strife-torn country's capital, Juba.
Ethiopian Prime Minister Hailemariam Desalegn and Kenyan President Uhuru Kenyatta held a round of talks with South Sudanese president Salva Kiir.
"South Sudan is a young nation that should be spared unnecessary distractions in its development agenda. Take wisdom and stop the loss of innocent lives," said Kenyatta following the talks.
The talks by the regional heads of government are set to continue in the coming days. However, it is unclear whether they spoke to ousted deputy president and rebel leader Riek Machar, whose whereabouts are not known as yet.
"For us, we are not talking with him [Machar]," said South Sudan's information minister Michael Lueth.
Desalegn said the talks were "very constructive". The Ethiopian premier is the chairman of the eight-member regional African bloc known as Inter-Government Authority on Development (IGAD).
"The AU [African Union] and IGAD reiterate the urgent imperative of an inclusive dialogue among all concerned stakeholders based on the rejection of the use of force, respect for human rights and dignity, the rule of law and constitutional legality, and their readiness to facilitate such a dialogue," said a joint statement from the AU and IGAD.
The regional leaders are set to meet in the Kenyan capital Nairobi for further talks to find a solution to the escalating violence in South Sudan.
The country has been reeling under intensified violence in the past few days as rival army factions launch attacks against each other. Kiir, an ethnic Dinka, has been accusing Machar, who hails from the Nuer tribe, of attempting a coup against the government leading to the clashes, which are believed to have claimed at least 1,000 lives so far.
Concerns over Economy
Even as peace moves are afoot, armed groups from both sides have stepped up their offensive in many parts of the landlocked middle African country.
While government forces are trying to retake the town of Bentiu, the capital of Unity State, from the rebels, fresh fighting has broken out in Malakal, the capital of the Upper Nile state. Both provinces have numerous oil wells and concerns have arisen over a breakdown in the country's oil-driven economy.
"Some oil wells are in the hands of rebel soldiers loyal to former vice president Riek Machar and we fear they may cause damage to the facilities and the environment," South Sudan's minister of petroleum Stephen Dhieu Dau told Reuters.