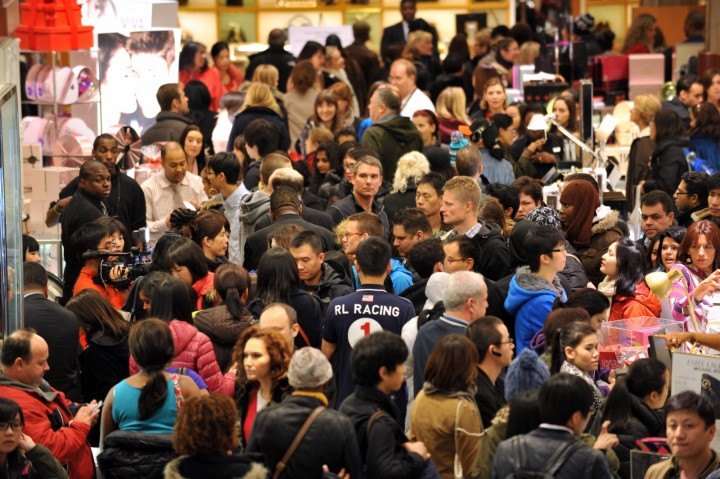 Black Friday may be over, but there are still glimmers of hope for desperate bargain hunters looking to buy cheap electrical goods and gadgets online. Welcome to Black Saturday.
High Street shops are bracing for another day of chaos after Friday's dramatic scenes, with many big name brands continuing Black Friday deals and discounts throughout the weekend. Asda, Tesco, Carphone Warehouse, John Lewis, Adidas and many other retailers are all offering bigger discounts in an attempt to shift extra stock left over or held back from Black Friday's deals.
But the savviest shoppers will avoid leaving the house altogether to go shopping on Saturday, after a frenzy in a number of shops across the country on Friday morning led to three arrests in Manchester and an incident in which a woman was hit by a falling television.
Shopping chaos reigned as deals sent buyers into overdrive, with many stores in London, Glasgow and Manchester being shut down early by police in an attempt to curb overcrowding. Videos posted to social media sites on Friday showed eager shoppers fighting their way in to Asda in Wembley in the hope of getting their hands on a limited range of cheap TVs.
In an effort to do Black Friday all over again, Asda launched a number of new deals on products on Saturday at 8am, including a 32in TV for £89, as well as discounts on tablets and games consoles. The Xbox One Call of Duty bundle, which includes Call of Duty: Advanced Warfare, Sunset Overdrive and a three-month membership of Xbox Live Gold is for sale for £329. Unfortunately none of Asda's discounted items are available to buy online on Saturday.
Black Saturday's best online deals
Touting 'Black Friday Reloaded' on Saturday morning, Amazon are selling the Kindle Fire HDX tablet for £119 – a discount of £150 on all 16GB, 32GB and 64GB storage options.
The online shopping website is also selling DVD boxsets with up to 58% off and the Olympus OM-D E-M5 top-of-the-range camera for less than £700, meaning buyers will save 36% off the original listed price.
Carphone Warehouse have slashed prices on all iPhones by up to £200 for online buyers this weekend.
The iPhone 6 Plus 64GB is for sale for just £39.50 upfront cost when signing up for a monthly tariff of £39.50 per month. The iPhone 5c 32GB in Yellow is available with no upfront cost – a saving of £100 – when signing up to a £18.50 per month plan. A SIM free iPhone 5s 16GB is now just £399, meaning savings of £100. All Carphone Warehouse iPhone deals end 11.59pm on Sunday.
Ebay.co.uk is offering deals as part of its 'Wow Weekend' this weekend. Bargain hunters can buy an unlocked iPhone 6 Plus 16GB for £529.99.
The 3DS XL console in bright pink is for sale for £179.99 and a Bush 40in full HD TV with built-in player is up for £224.99.
Mattress Online is offering Black Saturday buyers up to 65% off all mattresses bought online. A Silent Night kingsize mattress is just £179.85 this weekend.