After his fake social media post about travelling by private jet, Bow Wow has been the butt of jokes and memes on the internet.
It now seems that the rapper has not learned his lesson from the mocking #BowWowChallenge and has again been bragging about helping famous singers, such as Chris Brown, get their foothold on the showbiz rung.
"They wouldn't even know half these guys that they love today if it wasn't for [Scream] as a platform," the controversial singer, whose real name is Shad Moss, said during a radio interview on 11 May.
The Let Me Hold You hitmaker was live on Instagram during an on-air radio conversation and shrugged off the 'private-jet' backlash by claiming he has helped artists such as Ciara, and the Loyal singer by giving them their first gigs during his infamous Scream Tour in early 2000.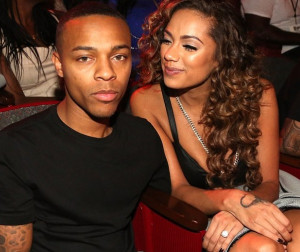 "We put Trey Songz on his first tour ever. I put Omarion on his first tour ever. I put Chris Brown on his first tour ever, which was the Scream tour. Ciara. First tour ever was that," he said during the Instagram live.
Bow Wow claimed that, in early 2000, he gave singers – who are now huge names – the chance to hit the big time. He humbly chose not to take credit for their success and said he is 'happy' to see them succeed. "I can't say they owe me anything. But I love to put people in positions to watch them succeed."
Though the rapper has deleted the video from his official account, @balleralert shared it on the image sharing site along with a screenshot of Brown's comment which reads: "Somebody take bow phone".
The Bad Boy rapper has been in the midst of controversies. Last month he got into trouble for making an obscene remark against the First Lady of the United States, Melania Trump in a now deleted tweet (but you can view it here).