There is nothing I would have liked more than to have run as Ukip leader myself, but a small handful of people at the top of Ukip have put paid to that. The party rulebook has been abused to suspend me, and so I am out of the race.
Yes, head office has been swamped with letters and emails members have written to the party Chairman, our National Executive Committee and Nigel Farage. Branches have passed motions calling for me to be allowed to stand. 2,700 people signed a petition. Yet all these appeals have fallen on deaf ears. The powers that be have remained unmoved.
I have to face facts: my name isn't going to be on the ballot paper.
I have naturally asked myself time and time again: why I should stay in a party with a leadership that has done its best over the past 14 months to freeze me out? The answer is simple: our members. Apart from a few trolls on social media, the vast majority of Ukip members are good, decent, honest folk, who are as shocked as I am at the way I have been treated. They have made me more determined than ever not to give up onUkip, but to fight on and help Ukip to become bigger and better.
Winning the referendum gives us the chance to be the patriotic, 'can do' party that encourages the country to make the most of Brexit. This is also our chance to build on the success of our General Election manifesto and put some wheels under it.
In the past two to three years, in partnership with people like Patrick O'Flynn, I've sought to broaden UKIP's agenda to appeal to a wider electorate. For instance, we focused our tax-cutting affairs away from the super-rich and towards ordinary working people; and we've come a long way towards making the party more female-friendly. We need to continue in this vein and not slip backwards into becoming a hard-right British 'Tea Party,' of the kind that idolises Donald Trump and is overwhelmingly male-dominated. We need to look less the 'rugby club on tour' moniker we have oft been saddled with, and more like a credible party that has broad appeal.
Critically, we need internal reform. Our new leader must stand up to the old guard at the top who have, intentionally or not, held the party back by putting their own interests first. Ukip prides itself on calling for more democracy in politics; now we need more democracy in Ukip.
We need a leader who is a team player. Too often in Ukip, talent hasn't been nurtured but pushed aside. If we are going to ditch our 'one-man band' image, this must stop. We need a leadership team; more input from grassroots members; much more input from the regions; and much more practical support to professionalise Ukip so it can win seats both locally and nationally.
I feel strongly too that Ukip's new leader needs to look completely different. We need someone who represents a clean break with the past, someone who can kill stone dead our sometimes 'toxic' image.
So who is the best candidate for the job? I think it is Councillor Lisa Duffy, and so I am backing her to be the next leader of UKIP.
The media lobby in Westminster might have had to Google Lisa when I announced my support for her this morning, but almost everyone in Ukip knows her. In the twelve years she's been a dedicated member of Ukip, she's earned the respect of thousands of members for the work she's done as both a councillor and a former party director running local and national elections and by-elections, including those that saw Ukip win its first two elected MPs.
We need to continue in this vein and not slip backwards into becoming a hard right British 'tea-party,' of the kind that idolises Donald Trump and is overwhelmingly male-dominated.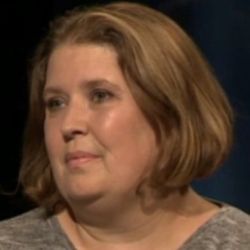 Lisa is always relentlessly focused on real people. She deals on a daily basis with their real lives as a councillor. And I know she wants real change. She is just what we need.
She has won elections standing as a UKIP candidate on a first past the post system, and so she represents the future we have to create to win: the honest, community-based, grassroots, pavement politics that will get us into parliament and into government.
She gets a big tick in my box for being a team player who will create a strong leadership team. She's not the kind of woman who'll surround herself with 'yes men', but someone who will bring a more consensual and united tone to the Ukip leadership.
Lisa and I share many policy positions. Like me, she champions the NHS, an issue on which Ukip's former leadership has been disappointingly equivocal in the past. Lisa will leave the country in no doubt about her pride in and commitment to our world-class public health service.
We also agree that it's important for Ukip to develop an integration policy as well as an immigration policy, and set out a positive vision for British Islam. She shares my belief that no one from any community should have fewer rights or opportunities because of their gender, faith or ethnicity. We're both ready to start talking about integration as much as we've talked about immigration.
Will she represent that clean and vital break with the past? Absolutely. Never knowingly seen in a velvet-collared coat, she's a woman who can't possibly be compared to Nigel, and she'll be a very different kind of leader.
Lisa will build a strong, united party; create first-class policies; strengthen our infrastructure; and turn Ukip into an efficient seat-winning machine. She's for the determination, the ability, and the leadership qualities to turn her vision for Ukip into reality.
Britain needs Ukip more than ever, and Ukip needs Lisa Duffy if we're going to do our best for Britain.
---
Suzanne Evans is Ukip Parliamentary spokesperson. and board member of @vote_leave
---