An Israeli military court had started the trial against a 17-year-old Palestinian girl who was arrested for attacking two soldiers. Ahed Tamimi, has earned international attention after a video of slapping and kicking the two soldiers went viral after her mother streaming it live on Facebook.
The girl was arrested in December 2017 and has been detained ever since. On 13 February, she was seen entering the courtroom at the Ofer military prison near Ramallah for preliminary trial hearings. The closed-door trial is based on 12 charges including those of aggravated assault and incitement.
"I don't think this is in the interest of the minor" military judge Lt Col Menachem Lieberman said before having the courtroom cleared of everyone but her family and lawyers.
However, Gaby Lasky, who is defending Ahed, believes the close-door trial is meant to curb support for her client. "What I think is that the court doesn't think it's good for the court to have all of you inside of it so you cannot carry on watching her trial," she told reporters.
The attack in question took place when the suspect was 16 years old and she brought in her 17<sup>th birthday while in custody. If charged as an adult, she could face 10 years in prison.
Ahed and her family reside in West Bank town of Nabi Saleh, which has over the years seen continuous conflict between anti-occupation protestors and a nearby Israeli settlement. As IBTimes UK had previously reported, Ahed, a familiar face in the protests, was angered after learning that her 15-year-old cousin Mohammed Tamimi had been seriously injured after being hit in the head by a soldier's rubber bullet.
Bassem Tamimi, Ahed's father said the attack took place during a stone-throwing protest. His daughter was reportedly upset when she approached the two soldiers and began slapping and kicking them. The two uniformed men did not retaliate but attempted to defend themselves from the assault.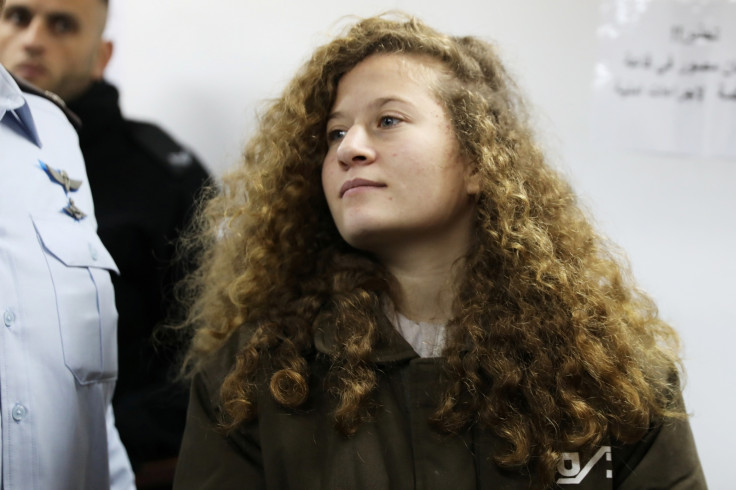 The case has triggered a debate between those who see the girl as an icon of resistance and others who perceive her simply as an attention-seeking youth. Petra Marquardt-Bigman is a German-Israeli researcher wrote a scathing op-ed in the Haaretz, describing the Tamimi family as espousing a "seething Jew-hatred and the enthusiastic support for terrorism".
Defense Minister Avigdor Liberman also praised the move to keep the girl detained along with her mother Neriman Tamimi. "Everyone involved, not only the girl but also her parents and those around them will not escape from what they deserve," he said in December. "Whoever goes wild during the day, will be arrested at night. This is also an important message."
Human rights groups have protested the minor's imprisonment and demanded she be released for the period of her trial.
"Under the Convention on the Rights of the Child, to which Israel is a state party, the arrest, detention or imprisonment of a child must be used only as a measure of last resort and for the shortest appropriate period of time," Amnesty International said in a statement.
"By refusing to release Ahed Tamimi since her arrest on 19 December, the Israeli authorities have shown nothing but contempt for their obligations under international law to protect children," Magdalena Mughrabi, deputy director of AI's Middle East and Africa chapters, said. "Nothing she has done can justify her continued detention and the long, aggressive interrogation sessions she has been forced to endure during the first two weeks of her detention.
The blonde-haired, blue-eyed girl was most recently given a special tribute courtesy Irish artist Jim Fitzpatrick, the man responsible for the iconic black and red Che Guevara poster.
Fitzpatrick shared a new freely downloadable image on his website of Ahed holding up the Palestinian flag. In the right-hand corner, the logo for DC Comics character Wonder Woman is featured with the line, "There is a real Wonder Woman".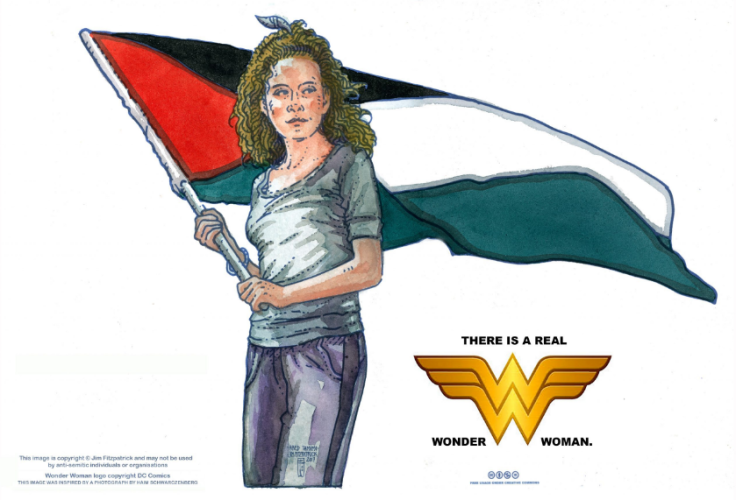 Speaking to Newsweek, the artist said he was moved by the courage and strength of the young girl.
"Ahed Tamimi, to me, signifies nobility in the face of oppression. This is a kid, a child," he told the news website. "When I was 15, I think I would have been petrified. Wherever she's getting her courage from, there's a resonance of it echoing across the world. I'm just a part of it."
Referring to calls for her execution, Fitzpatrick said her extended detention was appalling. "What's [behind it] is that old thing from the Talmud, 'Whoever saves one life saves the world entire.' I'm afraid they're going to kill her. And that's why I'm doing what I'm doing," he added.
Ahed's case was adjourned until March and is expected to continue for months, during which may be forced to stay in custody.