Bill Clinton apparently failed to keep his roving eye under control and was caught by Hillary. The former US president was accused of checking out Ivanka Trump during her father's inauguration ceremony.
The hilarious footage, released on YouTube, purportedly shows Clinton looking in the opposite direction of what was happening on stage, and being more interested in staring at Donald Trump's stunning daughter, who was dressed in a chic white trouser suit. Although exactly where Clinton was looking isn't known for certain and some social media users were quick to defend him, saying: "How ridiculous could be looking at anything!!!"
Bill Clinton is seen nodding and biting down on his lip as Hillary catches him in the act. She cannot help but show her irritation by glaring at him.
The video shows him appearing sheepish about something, as he quickly looks back at his wife like a kid caught red-handed.
She is then seen taking a deep breath before turning her attention back to the official proceedings.
Jay Warner tweeted: "Bill gets caught checking out Ivanka Trump… never change Bill, never change."
Dr Chan Challis added: "If you find Bill at the bottom of Potomac tomorrow, we'll know why. #Respect".
Twitter user, named Poliphilosophy, said: "Bill Clinton ain't nothing but a hound dog."
It was no doubt a double blow to the former US secretary of state, who was already disappointed at losing the White House to Trump.
One YouTube user sarcastically commented about the Clintons that "It was a fitting ending… It really is."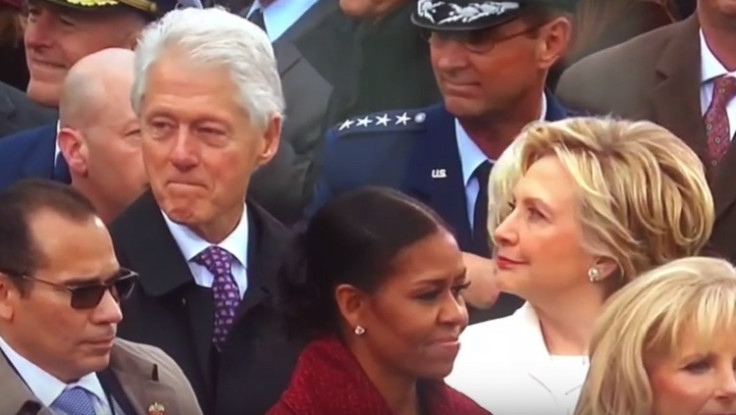 No one will ever forget Bill Clinton's biggest indiscretion – his 18-month affair with White House intern Monika Lewinsky – that almost brought his presidency to an end.
Despite lying under oath about having sexual relationship with Lewinsky, he was later forced to admit it to the world's press.
Clinton continued, however, to serve the remainder of his office until 20 January 2001, after being acquitted of charges of perjury and obstruction of justice, following his impeachment trial.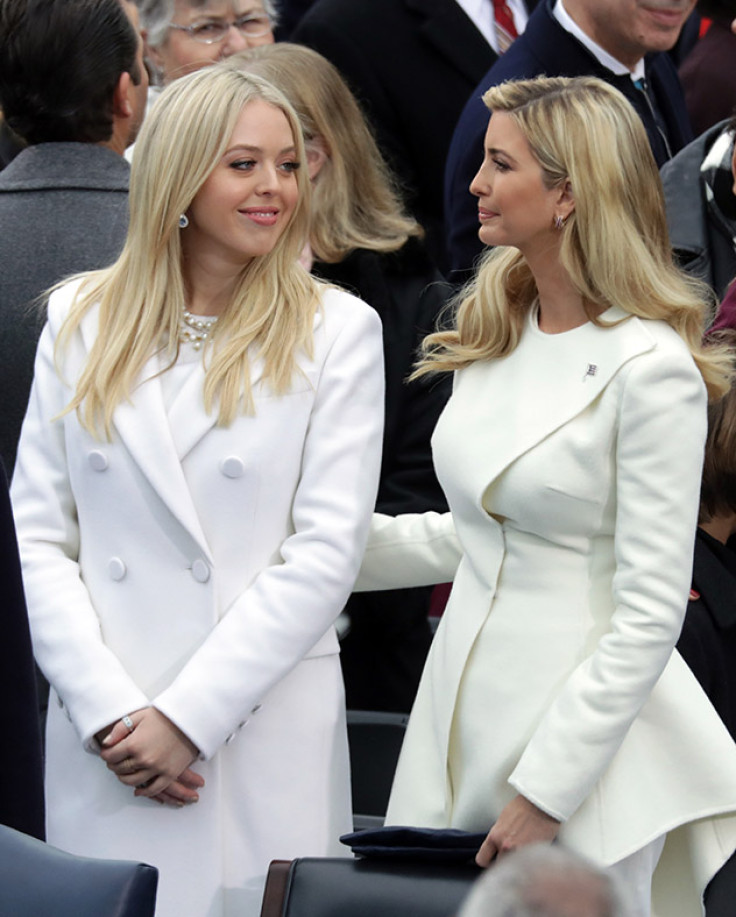 Ivanka Trump, who looked stunning in a glittery peach ball gown during the inaugural ball last night, and paid an integral part in her father's presidential campaign, once described her father as "colour blind and gender neutral".
The 35-year-old who is Trump's eldest daughter and is a wife, mother and entrepreneur in her own right, told the Sunday Times he influenced his five children to have a "strong ethical compass".
"He showed us how to be resilient, how to deal with challenges and how to strive for excellence in all that we do," she said. "He taught us that there's nothing that we cannot accomplish if we marry vision and passion with an enduring work ethic."